2013 Yamaha PZ50RTDW Phazer RTX Options, Equipment, and Prices
Select 2013 Yamaha PZ50RTDW Phazer RTX Options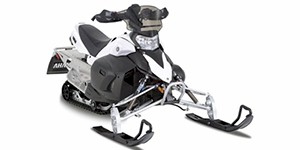 Fast Facts
Featuring a fierce performance sled look, the 2013 Yamaha Phazer snowmobile line is an entry-level choice for navigating tough, snowy terrain. Built on a light yet rugged FX chassis, chromoly tube construction is used to shape the 2013 Yamaha Phazer. Propelled by a two-cylinder, 499 cc four-stroke engine, the 2013 Yamaha Phazer benefits with the responsive performance of fuel injection. Three trim levels of the 2013 Yamaha Phazer is available with each contributing distinctly to a discipline. For general trail riding the 2013 Yamaha Phazer GT will prove more than appropriate. Front 40-millimeter GYTR dual-clicker shocks and Dual Shock rear suspension is mounted to the 2013 Yamaha Phazer GT. The 2013 Yamaha Phazer GT drives a 121-inch Camoplast Hacksaw track. Featuring a more adjustable suspension and a Camoplast Ripsaw track, the 2013 Yamaha Phazer RXT is suited for riders looking for more aggression the from the machine. For operating up mountains, the 2013 Yamaha Phazer MXT includes a 144-inch Camoplast Maverick track and a ProMountain 144 rear suspension. All 2013 Yamaha Phazer snowmobiles are delivered in a new White/Black color scheme.
Yamaha Note
VINTAGE - 1954 - 1960 Due to the rarity of these years and models of Yamaha, pricing data is still being collected.
2013 Note
In 2013 only wet weight was reported.