2013 Ural Patrol With Sidecar Options, Equipment, and Prices.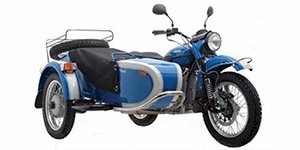 Select 2013 Ural Patrol With Sidecar Options
An adventurous, street legal vehicle, the 2013 Ural Patrol with an all-terrain sidecar motorcycle designed for those unafraid to tempt rugged trails. A highlighted feature on the 2013 Ural Patrol is an On Demand two-wheel drive system handing riders some serious off road travel. Front and rear suspension on the 2013 Ural Patrol comprises of Sachs hydraulic shocks. Aluminum, 19-inch steel spoke wheels feature lightweight yet durable construction in order to withstand moderate bumps. Powered by an air-cooled, boxer-style two-cylinder engine, the 2013 Ural Patrol is engineered to be a tough, long-lasting powerplant. Propelling the two-wheel drive capable Ural Patrol with 40 horsepower and 38 foot-pounds of torque, the 749 cc engine allows the sidecar motorcycle to reach 65 miles per hour. A four-speed transmission with reverse is mounted between the 2013 Ural Patrol's powerplant and driveshaft. The 2013 Ural Patrol exterior appearance can be covered with four color schemes to choice from. Two-tone exterior coloring ensembles featuring a Black/White and Orange/Silver add a racy dynamic to the 2013 Ural Patrol.
Read more
Read less
There are no options available for this vehicle.