2013 Suzuki GSX13000RAZL3 Hayabusa Limited Options, Equipment, and Prices
Select 2013 Suzuki GSX13000RAZL3 Hayabusa Limited Options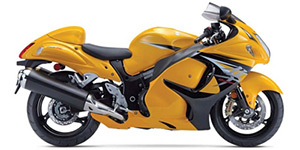 Fast Facts
Mixing performance with art, the 2013 Suzuki Hayabusa™ is among one of the more provocative production motorcycles on the road. Constructed on a twin-spar aluminum frame, the aerodynamic body of the 2013 Suzuki Hayabusa™ reveal a distinctive single-seat vehicle. Stacked twin headlights serve as function as well as aesthetically pleasing. Body panel colors available on the 2013 Suzuki Hayabusa™ include Glass Sparkle Black, Metallic Oort Gray/Pearl Glacier White and a basic Metallic Oort Gray. The 2013 Suzuki Hayabusa™ ride quality is supplied by KYB inverted cartridge front suspension and an aluminum alloy swingarm rear suspension. For 2013, the Suzuki Hayabusa™ adds improvements to its braking system. Firstly, the motorcycle has received an anti-lock braking system for more controlled stopping. Secondly, Brembo Monobloc brake calipers is now part of the 2013 Suzuki Hayabusa™ featuring larger pistons compared to the 2012 model. Engine power for the 2013 Suzuki Hayabusa™ is derived from a fuel-injected, 1,340 cc four-cylinder powerplant. An engine featuring lightweight aluminum pistons, Iridium spark plugs and Twin Swirl Combustion Chambers, the Suzuki Hayabusa™ possesses incredible power.
Suzuki Note
VINTAGE - 1937 - 1969 Due to the rarity of these years and models of Suzuki, pricing data is still being collected.
2013 Note
In 2013 only curb weight was reported.