2013 Kawasaki KX65ADF Options, Equipment, and Prices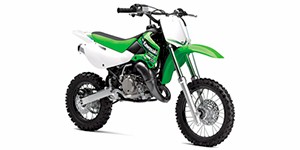 Select 2013 Kawasaki KX65ADF Options
A range of motocross motorcycles, the 2013 Kawasaki KX™ series provides recreational and competition quality products for various riding ages. Powered by a two-stroke, 64cc engine, the entry-level 2013 Kawasaki KX™ 65 motocross bike is a lightweight vehicle designed to introduce children to dirt riding. The next step up is the 2013 Kawasaki KX™ 85 sporting a larger 84 cc engine for older, more experienced riders. Suited for teenage riders looking to enhance their skills, the 2013 Kawasaki KX™ 100 powered by a 99cc powerplant is an amateur racing supported motocross bike. Providing four-stroke engine power to from a 249cc unit, the 2013 Kawasaki KX™ 250F has been upgraded with a narrower frame and a plug-and-plug adjustable Engine Control Unit. A professional motocross tuned motorcycle, the 2013 Kawasaki KX™ 450F is a well-equipped dirt bike powered by a 449cc four-stroke engine with digital fuel injection. Featuring a KYB Pneumatic Spring Fork, factory launch control and a close-ratio five-speed transmission, the 2013 Kawasaki KX™ 450F is a high-ranking favorite for motocross riders. 2013 Kawasaki KX™ 450F incorporates several improvements including a new aluminum swing arm and longer handlebar grips. All 2013 Kawasaki KX™ motocross bikes incorporate rear suspension components supplied by Uni-Trak, full disc brakes and a Lime green paint scheme.
Read more
Read less
Note:
VINTAGE - 1949 - 1962 Due to the rarity of these years and models of Kawasaki, pricing data is still being collected.

Read more
Read less
There are no options available for this vehicle.