2013 KTM 500 EXC Options, Equipment, and Prices.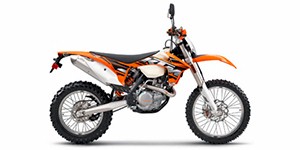 Select 2013 KTM 500 EXC Options
Available in two models, the 2013 KTM EXC is an enduro motorcycle developed with great emphasis on off-roading performance. Constructed on lightweight but tough chromoly steel frames, the 2013 KTM EXC has the stamina to endure stressful trails. WP Suspension components offer an adjustable ride quality for the 2013 KTM EXC motorcycles for peak performance on dirt or pavement. Despite a design that allows the 2013 KTM EXC series to gracefully trek through dirt and over rocks, the motorcycle line is street-legal. Supplied by Giant, the 2013 KTM EXC motorcycle's wheels featuring CNC-machined hubs are mated with MAXXIS dual sport tires. Powered by a 349.7 cubic centimeter displacement single-cylinder, four-stroke engine, the compact 2013 KTM 350 EXC delivers fuel-injected performance. Fitted with a larger 510.4 cubic centimeter displacement engine, the 2013 KTM 500 EXC is a high-performing enduro motorcycle. A kick starter and electric starter are included on both the 2013 KTM 350 EXC-F and the 500 EXC.
Read more
Read less
There are no options available for this vehicle.