2013 KTM 300 XC-W Options, Equipment, and Prices.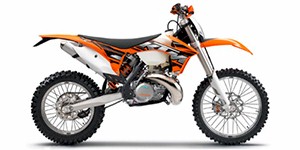 Select 2013 KTM 300 XC-W Options
A class of enduro motorcycles, the 2013 KTM XC product range utilizes two-stroke and four-stroke engines. Featuring a lightweight chromoly steel tubular frame as well as adjustable WP Suspension components on the front and rear wheels, the 2013 KTM XC line-up boasts formidable trail handling abilities. Providing the responsive power of a two-stroke engine, the 2013 KTM XC provides displacement sizes ranging from 143.6 cubic centimeters to 293 cubic centimeters. While the 2013 KTM 150 XC is only offered with a kick starter, the two-stroke powered 250 XC and 300 XC has an electric starter. Four-stroke versions of the KTM XC offer strong performance from a double overhead cam powerplant with Keihin electronic fuel injection. In addition to the base 2013 KTM XC and the XC-F models, the XC-W enduro motorcycles equipped with an upgraded suspension and different gear ratios. The 2013 KTM 250 XC-W and the 300 XC-W models also allows easy engine tuning for a tailored riding experience.
Read more
Read less
There are no options available for this vehicle.