2013 Husqvarna TXC310 Options, Equipment, and Prices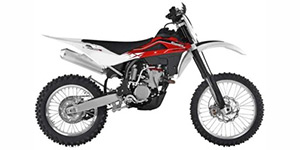 Select 2013 Husqvarna TXC310 Options
An assortment of cross country motorcycles, the 2013 Husqvarna TXC is a sleek, purpose-built machine. Constructed on a chromium molybdenum frame, the 2013 Husqvarna TXC line of motorcycles features impressive handling thanks to disc braking, Michelin tires and a Kabaya suspension system. For 2013, the Husqvarna TXC receives numerous refinements. Cosmetically, the 2013 Husqvarna TXC adds new graphics as well as a handlebar protector. Defined by different engine displacements, the 2013 Husqvarna TXC line can be ordered as the 250R or 310R model. On the 2013 Husqvarna TXC 250R, a 249.5 cc single-cylinder engine provides usable power with the aid of a Keihin-sourced fuel injection system. The fuel injection system and a four-valve cylinder head are new for the 2013 model year Husqvarna TXC 250R. Also receiving refinement of improved engine technology this year, the 2013 Husqvarna TXC 310R features the additional momentum of a 302.4 cc powerplant. The 2013 Husqvarna TXC motorcycles are suited for a wide range of recreational and even competition.
Read more
Read less
Note:
VINTAGE - 1903 - 1964 Due to the rarity of these years and models of Husqvarna, pricing data is still being collected (see auction results section).

Read more
Read less
There are no options available for this vehicle.