2013 Husqvarna TR650 Terra Options, Equipment, and Prices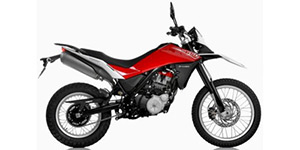 Select 2013 Husqvarna TR650 Terra Options
Providing street-oriented motorcycles, the 2013 Husqvarna TR line offer riders a lightweight, performance-themed vehicle. Constructed on a tubular steel frame, the 2013 Husqvarna TR is supported on a Sachs-supplied suspension. A 652 cc, single-cylinder, four-stroke engine included on the 2013 Husqvarna TR generates 58 horsepower. Magneti Marelli electronic fuel injection, dry sump oiling system and a five-speed constant mesh transmission are included with the 2013 Husqvarna TR's powerplant for additional motoring refinement. Two trim levels define the 2013 Husqvarna TR motorcycles called the 650 Terra and 650 Strada. Presenting 17-inch and 18-inch wheels, the 2013 Husqvarna TR 650 Terra offers a primarily red color while the TR 650 Strada model features a black exterior. Anti-lock braking system is standard on the TR 650 Strata model and optional on the TR 650 Terra model.
Read more
Read less
Note:
VINTAGE - 1903 - 1964 Due to the rarity of these years and models of Husqvarna, pricing data is still being collected (see auction results section).

Read more
Read less
There are no options available for this vehicle.