2013 Husaberg FE250 Options, Equipment, and Prices.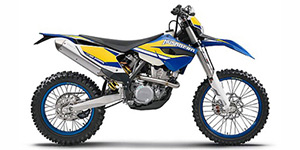 Select 2013 Husaberg FE250 Options
A line of four-stroke engined dirt bikes, the 2013 Husaberg FE is an athletic off-road vehicle ideal for recreation or competition. Constructed on a double-cradle chrome-molybdenum steel frame, the 2013 Husaberg FE model of motorcycles enjoys lightweight yet strong resistance to trail riding. High-strength, injection-moulded plastic providing the outer appearance of the 2013 Husaberg FE assures lasting durability. Three engine options are available on the 2013 Husaberg FE. Starting with a water-cooled, 248.60 cubic centimeter displacement, single-cylinder powerplant, the 2013 Husaberg FE 250 features two oil pumps and an electric starter. For increased power from a 349.7 cubic centimeter engine, the 2013 Husaberg FE 350 model features impressive performance when companioned with the motorcycle's weight. The top-of-the-line model 2013 Husaberg FE 501 is propelled by a high-end 510 cubic centimeter, single-cylinder engine that includes the use of aluminum alloy for the casing. An adjustable PDS suspension system and Brembo brakes is equipped on all 2013 Husaberg FE motorcycles.
Read more
Read less
There are no options available for this vehicle.