2013 Honda XR650LD Options, Equipment, and Prices
Select 2013 Honda XR650LD Options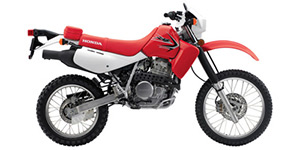 Fast Facts
Designed for off-roading, the 2013 Honda XR™ motorcycle delivers more to riders than the typical dirt bike. Built on a steel frame, a sealed battery compartment and larger wheels built into the 2013 Honda XR™ insures the motorcycle is ready for a full day of trekking over dirt or mud. A suspension system featuring components from Showa allows various degrees of adjustably to be incorporated into the 2013 Honda XR™. Controlled stopping power derived from front and rear disc brakes is also included on the 2013 Honda XR™. A 644 cc air-cooled, single-cylinder engine features four-stroke technology that meets CARB and EPA emission standards. Power for the 2013 Honda XR™ is funneled through a five-speed transmission. Besides the trail-capable physique of the 2013 Honda XR™, a number of touches present the motorcycle as more than a weekend warrior machine. Electric, push-button starter and passenger-ready seating is included on all 2013 Honda XR™ vehicles. Street legal equipment such as a horn, turn signals, license plate holder and light as well as mirrors allows the rider of a 2013 Honda XR™ to experience more flexibility off the trail.
Honda Note
VINTAGE - 1948-1958 Due to the rarity of these years and models of Honda, pricing data is still being collected.
PERSONAL WATERCRAFT - No longer in production.
2013 Note
All Goldwing prices include premium audio pkg, comfort pkg, and TPMS.
In 2013 only curb weight was reported.