2013 CFMOTO Cruz (Electronic Fuel Injection) Options, Equipment, and Prices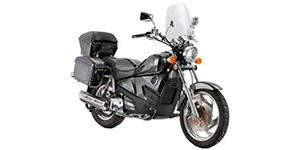 Select 2013 CFMOTO Cruz (Electronic Fuel Injection) Options
A motorcycle designed for practical city traveling, the 2013 CFMOTO CityScape is a modern and economical motorcycle. An electronically fuel-injected, single-cylinder 244 cc engine powers the 2013 CFMOTO CityScape. Producing 14.75 horsepower and 12.9 pounds feet of torque, the four-stroke engine found on the 2013 CFMOTO CityScape is connected to a continuously variable transmission. Thanks to the gearbox that requires no shifting when the vehicle is up to speed, the 2013 CFMOTO CityScape allows the rider to focus only on steering the motorcycle. The rider of the 2013 CFMOTO CityScape will also appreciate the tour pack and hard side bags presented as standard equipment when it comes to running errands around the city or even for weekend trips. Accompanying the rider on any traveling is the 2013 CFMOTO CityScape's sound system with USB adapter.
Read more
Read less
Note:
MOTORCYCLES/ATVS/UTILITY - Due to limited resale market, we are unable to determine used sales.

Read more
Read less
There are no options available for this vehicle.