2013 CFMOTO CF650NK Options, Equipment, and Prices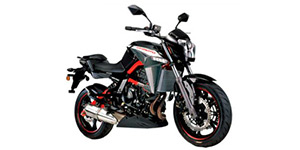 Select 2013 CFMOTO CF650NK Options
An all-new budget-priced sport bike for the United States marketplace, the 2013 CFMOTO 650 line delivers impressive power to the road. Fitted with a Ducati supplied electronic fuel injection system, the engine of the 2013 CFMOTO 650 series of motorcycles depend on a liquid-cooled, 649.3 cc two-cylinder powerplant. Generating 60.3 horsepower and 41 pounds feet of torque, the four-stroke engine of the 2013 CFMOTO 650 features cylinders coated with a Nickel Silicon Carbide. The powerplant is matched with a six-speed transmission in order to provide a 2013 CFMOTO 650 rider a full sense of fun on two wheels. The 2013 CFMOTO 650 line-up is offered in two trim levels. The most affordable version of the 2013 CFMOTO 650 NK is a naked motorcycle available in four different colors. Providing extra body panels and a touring character, the 2013 CFMOTO 650 TK is fitted with a pair of integrated hard cases. Full disc braking, 17-inch wheels and a fuel tank lock are standard on all 2013 CFMOTO 650 TK.
Read more
Read less
Note:
MOTORCYCLES/ATVS/UTILITY - Due to limited resale market, we are unable to determine used sales.

Read more
Read less
There are no options available for this vehicle.