2013 BMW FR800GS Options, Equipment, and Prices.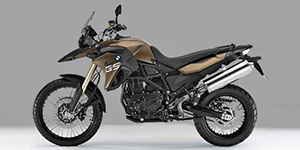 Select 2013 BMW FR800GS Options
The 2013 BMW F range of motorcycles are economy-oriented vehicles presenting impressive performance and control. Available in enduro, roadster and tour styles, the 2013 BMW F line of motorcycles share modern, German engineering as well as construction. For the Enduro fan, the 2013 BMW F 700 GS and F 800 GS models are powered by water-cooled 798 cc two-cylinder engines. The 2013 BMW F 700 GD has a top speed of 119 miles hour while the F800 GS model can be ridden to over 125 miles per hour. For riders seeking for a racier-looking two-wheeled vehicle, the 2013 BMW F 800 R delivers a lightweight, performance-focused design to customers. Preferable for longer trips, the 2013 BMW F 800 GT is a touring motorcycle with excellent highway manners that can be enhanced by the optional Electronic Suspension Adjustment system. The 2013 BMW F 800 GT can be ordered with a variety of storage accessories ideal for weekend getaways. All 2013 BMW F line motorcycles include a standard anti-lock braking system.
Read more
Read less
SPECIAL PACKAGE
Suggested
List Price
Standard Package, Factory Installed
$250
Safety Package
$595
Comfort Package
$505
Low Suspension Plus Package
$580
Premium Package, Factory Installed
$505
SUSPENSION
Electronic Suspension Adjustmemt, Factory Installed
$350
Low Suspension Option, Factory Installed
$250
EXTERIOR
Center Stand, Factory Installed
$175
SEATS
Comfort Seat, Factory Installed
$145
CONVENIENCE
Anti-Theft Alarm, Factory Installed
$395
Heated Hand Grips, Factory Installed
$250
Automatic Stability Control (ASC), Factory Installed
$400
INSTRUMENTATION
On-Board Computer, Factory Installed
$295
MOUNTS
Saddle Bag Mounts, Factory Installed
$150