2012 Suzuki GSX1300RL2 Hayabusa Options, Equipment, and Prices
Select 2012 Suzuki GSX1300RL2 Hayabusa Options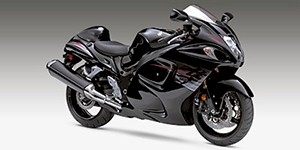 Fast Facts
A stylish sport bike, the 2012 Suzuki Hayabusa™ serves as a commanding presence on the road. With an aerodynamically focused design, the 2012 Suzuki Hayabusa™ is constructed on a twin-spar aluminum frame. Powered by a 1,340 cc, four-cylinder engine, fuel-injected powerplant on the 2012 Suzuki Hayabusa™ motorcycle provides the advantages such as titanium valves, Twin Swirl Combustion Chambers and a high efficiency cooling system. The engine power for the 2012 Suzuki Hayabusa™ is channeled through a six-speed transmission optimized for the motorcycle. Featuring a friction-reducing Diamond-Like Coating, the inverted front fork of the 2012 Suzuki Hayabusa™ combines with a lightweight aluminum alloy swingarm equipped with a fully adjustable shock absorber. Emphasizing stopping power as well as the minimization of unsprung weight, front and rear disc brakes quickly brings the 2012 Suzuki Hayabusa™ down from high speeds. The rider can select three riding modes on onboard the 2012 Suzuki Hayabusa™ thanks to the Suzuki Drive Mode Selector system. The base 2012 Suzuki Hayabusa™ comes in Glass Sparkle Black and Pearl Glacier White. Also available is a 2012 Suzuki Hayabusa Limited coated with a Candy Sonoma Red paint job.
Suzuki Note
VINTAGE - 1937 - 1969 Due to the rarity of these years and models of Suzuki, pricing data is still being collected.
2012 Note
In 2012 only curb weight was reported.