2012 KYMCO People 50 T Options, Equipment, and Prices.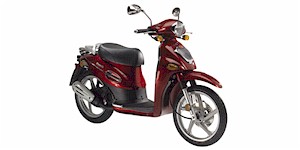 Select 2012 KYMCO People 50 T Options
A value-oriented motor scooter, the 2012 KYMCO People provides a healthy blend of style and practicality. Featuring a retro-themed appearance, the 2012 KYMCO People motor scooter's most distinctive details is five-spoke, 16-inch wheels and a full front fender. Consisting of two model choices, the 2012 KYMCO People offers a two-stroke and four-stroke air-cooled engine. On the 2012 KYMCO People 50, a 49 cc two-stroke powerplant allows fuel economy of up to 88 miles per gallon to be realized by riders. For greater performance, a four-stroke 152 cc single-cylinder engine propels the 2012 KYMCO People 150. Both models of the 2012 KYMCO People scooter are propelled through an automatic continuously variable transmission. Featuring an electric starter with a back up kickstart, the 2012 KYMCO People also includes underseat storage and a comfortable, well-padded seat. The 2012 KYMCO People is available in solid and two-tone color schemes.
Read more
Read less
There are no options available for this vehicle.