2012 KTM 250 SX-F Options, Equipment, and Prices.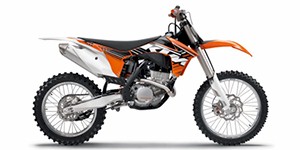 Select 2012 KTM 250 SX-F Options
Covering a wide line of competition capable motocross machines, the 2012 KTM SX line presents a vehicle for various ages and skill levels. Acquainting young riders to the sport, the low displacement 2012 KTM SX 50 Mini and the slightly larger SX 50 feature a two-stroke, 49 cc engine. Riders of the 2012 KTM SX 50 motocross bikes are introduced to competition with an automatic transmission, WP suspension as well as front and rear disc braking. For progressing up the class ladder, the 2012 KTM SX 65 and SX 85 provide a six-speed transmission as well as a rear suspension that can travel up to 11.8 inches. With greater wheel travel, the 2012 KTM 125 SX and 150 SX presents impressive class power and handling. Made for AMA competition, the 2012 KTM 150 SX features an over-bored 144 cc engine. The top two-stroke powered model in the SX line-up, the KTM 250 SX features a redesigned frame and a new shock for 2012. The entry-level SX model equipped with a four-stroke powerplant, the 2012 KTM SX 250 F provides a highly athletic performance to serious motocross racers. Powered by a single-cylinder 350 cc engine, the 2012 KTM SX 350 F's powerplant allows riders to rev up to 13,000 RPM. The top-of-the-line displacement model of the SX model line-up is the 2012 SX 450 F. While the SX 250 F and SX 350 F models feature fuel injection, the 2012 KTM SX 450 F uses a carburetor. Outfitted for peak competitive performance, the KTM SX 450 F Factory Edition is an all-new product for the 2012 model year.
Read more
Read less
There are no options available for this vehicle.