2012 KTM 200 XC-W Options, Equipment, and Prices.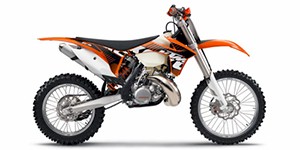 Select 2012 KTM 200 XC-W Options
Designed for cross country or off-roading personalities, the 2012 KTM XC presents a diverse amount of options for riders. Consisting of two-stroke and four-stroke engined models, every vehicle in the 2012 line-up of KTM XC motor bikes feature a tubular steel frame, capable suspension as well as full disc braking. Low displacement models of the 2012 KTM XC consist of the 150 XC and 200 XC-W models. Both the 2012 KTM 150 XC and 200 XC-W utilize a two-stroke powerplant a WP front suspension capable of 11.8 inches of wheel travel. For the XC-W models of the KTM XC, the W signifies a wide-ratio transmission. Addition two-stroke powered 2012 KTM XC 250 and XC 300 models are also available with a wide-ratio transmission. Entering into territory of KTM's four-stroke off-roading XC class, the 2012 KTM 250 XC-F wears a 48-millimeter front fork suspension as well as high-grip Dunlop Geomax tires for the 21-inch front wheel and 18-inch rear wheel. The 2012 KTM 250 XCF-W Six Days model is also offered with a lively suspension allowing up to 13.2 inches of rear wheel travel. The 2012 KTM 250 XCF-W Six Days is powered through the aid of a new fuel injection system. In the middle of the four-stroke line-up, the 2012 KTM 350 XC-F and 350 XCF-W provide effective competition or recreational off-roading pleasure. The largest displacement models of the XC line-up are the 2012 KTM 450 XC-W and 500 XC-W. The KTM 450 XC-W has been updated for 2012 while the 500 XC-W model is a new, more powerful successor to last year's 530 XC-W.
Read more
Read less
There are no options available for this vehicle.