2012 Husqvarna TE250 Options, Equipment, and Prices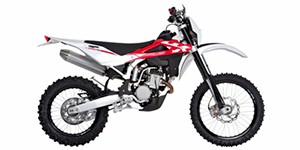 Select 2012 Husqvarna TE250 Options
A street-legal trail motorcycle, the 2012 Husqvarna TE line is a reliable and capable two-wheeled vehicle. For the 2012 model year, there are four variants of the 2012 Husqvarna TE motorcycles. Created specifically for the United States market, the Husqvarna TE250 receives a host of upgrades for 2012. The 2012 Husqvarna TE250 features a new black-colored chromoly frame and stiffer suspension settings that now includes a Kayaba shock. The electronically fuel injected 249.5 cc four-stroke engine is now attached to a Leo Vince exhaust system. Powered by a 302.5 cc dual overhead cam engine inspired from Enduro World Championship bikes, the 2012 Husqvarna TE310 enjoys the same suspension and performance upgrades as the TE250. Providing riders with 11.81 inches of wheel travel at both corners thanks to Kayaba suspension components, the 2012 Husqvarna TE449 is propelled by a 449 cc single-cylinder engine. Based on the same engine as the TE449, the 2012 Husqvarna TE511 bores the powerplant out to a 477.5 cc displacement. The 2012 Husqvarna TE449 and TE511 also tout a Coaxial Traction System providing excellent handling and performance. For ultimate durability, the 2012 Husqvarna TE range of motorcycles features graphic package created through an in-mold process.
Read more
Read less
Note:
VINTAGE - 1903 - 1964 Due to the rarity of these years and models of Husqvarna, pricing data is still being collected (see auction results section).

Read more
Read less
There are no options available for this vehicle.