2012 CFMOTO Z-6 (Electronic Fuel Injection) Options, Equipment, and Prices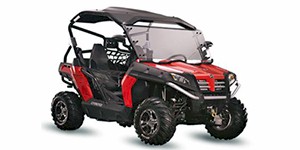 Select 2012 CFMOTO Z-6 (Electronic Fuel Injection) Options
The 2012 CFMOTO Z6 side-by-side utility vehicle is designed for sporty recreational fun or for work-related treks across challenging trails. Built on a steel chassis with a supportive roll cage, the 2012 CFMOTO Z6 is shaped by stylish plastic body panels. Featuring a fully independent suspension consisting of double A-arms on all four wheels, traction for the 2012 CFMOTO Z6 is supplied by tires rolling on 14-inch aluminum wheels. Full hydraulic disc braking of 8.7-inch rotors allows the 2012 CFMOTO Z6 to stop consistently during rough travels. Propelled using a liquid-cooled, 593.2 cc single-cylinder engine, 38 horsepower is fed into the 2012 CFMOTO Z6`s drivetrain. Channeling power through a continuously variable transmission, four-wheel drive movement for the 2012 CFMOTO Z6 is made possible with a rider-selectable mechanism. Front storage well and a winch is standard equipment on all 2012 CFMOTO Z6 utility vehicles.
Read more
Read less
Note:
MOTORCYCLES/ATVS/UTILITY - Due to limited resale market, we are unable to determine used sales.

Read more
Read less
There are no options available for this vehicle.