2012 CFMOTO X-6 (Short Wheel Base) Options, Equipment, and Prices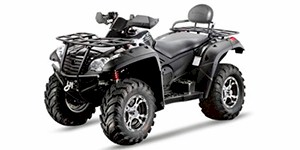 Select 2012 CFMOTO X-6 (Short Wheel Base) Options
A four-wheel drive ATV, the 2012 CFMOTO X6 provides a healthy dose of recreational utility riding for a price lower than competitors. Offered in a short and long wheelbase variety, the 2012 CFMOTO X6 is constructed on a steel frame. Riding on Maxxis tires, a fully independent suspension on the 2012 CFMOTO X6 delivers 6.7 inches of front wheel travel and 8.9 inches of rear travel. Hydraulic disc braking influences all wheels of the 2012 CFMOTO X6 for steady control. Four-wheel drive on the CFMOTO X6 is delivered through a rider selectable system choosing two or all wheels. The 2012 CFMOTO X6's engine power is derived from a liquid-cooled, 59.3.2 cc four-stroke powerplant. Generating 38 horsepower, the 2012 CFMOTO X6 channels its momentum through a continuously variable transmission. Designed to accommodate two passengers, the rear seat rider on the 2012 CFMOTO X6 is comforted with a standard backrest. Other standard features found on the 2012 CFMOTO X6 includes front/rear storage racks and a winch.
Read more
Read less
Note:
MOTORCYCLES/ATVS/UTILITY - Due to limited resale market, we are unable to determine used sales.

Read more
Read less
There are no options available for this vehicle.