2012 BMW S1000RR Options, Equipment, and Prices.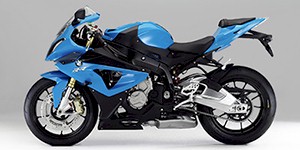 Select 2012 BMW S1000RR Options
A 193-horsepower supersport motorcycle, the BMW S line has received a massive upgrade for the 2012 model year. For 2012, the BMW S 1000 RR changes start with the revised aluminum frame. Improvements on the suspension as well as the steering of the 2012 BMW S 1000 RR has been performed allowing the rider to experience a heightened sense of control and comfort. More than ten levels of adjustment are offered on the 2012 BMW S 1000 RR new steering damper. The Anti-lock braking system and Dynamic Traction Control has also been retouched for the 2012. In terms of aerodynamics of the 2012 BMW S 1000 RR, a leaner tail section, redesigned center airbox cover and rear passenger footrests contribute to a trimmer look. New exterior color options on the 2012 BMW S 1000 RR include Bluefire, Sapphire Black Metallic and Plain Racing Red with Alpine White. One of the only aspects left unaltered on the 2012 BMW S 1000 RR is the inline-four engine. The 999 cc, electronically fuel-injected powerplant is once again producing 193 horsepower of maximum output. Unrelated to the engine but expanding the rider's ability to effectively apply power to the ground, an additional performance setting for the 2012 BMW S 1000 RR now provides Rain, Sport and Race and Slick modes. The rider will also appreciate a revised LCD engine speed display on the 2012 BMW S 1000 RR providing better readability.
Read more
Read less
SPECIAL PACKAGE
Suggested
List Price
Premium Package, Factory Installed
$945
ENGINE AND TRANSMISSION
Gear Shift Assistant, Factory Installed
$450
SUSPENSION
Race ABS, Factory Installed
$495
CONVENIENCE
Anti Theft Alarm, Factory Installed
$395
Heated Hand Grips, Factory Installed
$250
PAINT & FINISH
Alpine White / Lupin Blue Metallic / Magma Red
$750