2012 BMW K1300S Options, Equipment, and Prices.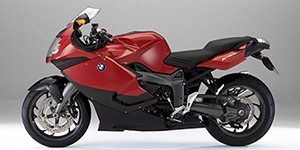 Select 2012 BMW K1300S Options
The 2012 BMW K line of motorcycles proudly asserts itself as performance and luxury machines. Constructed on an aluminum frame, the 2012 BMW K line is shaped also a modern, aerodynamic design. Powered by a four-cylinder 1,293 cc engine, the 2012 BMW K 1300 S and K 1300 S HP Package motorcycles churns out 175 horsepower alongside 103 foot-pounds of torque. Riding on a BMW Motorrad Duolever front suspension and a rear swing arm with Paralever, the 2012 BMW K 1300 S offers available Automatic Stability Control for better handling. Limited to just 750 examples, the 2012 BMW K 1300 S HP Package model features carbon fiber components, sport silencer and a paddock stand along with a numbered plaque. Providing a six-cylinder engine ideal for highway cruising, the 2012 BMW K 1300 GT and K 1300 GTL models present a lavish way to travel on two wheels. On the 2012 BMW K 1300 GT, high intensity discharge headlights and heated seats are standard amenities. Through optional ESA II electrically adjustable suspension, the ride of the 2012 K 1300 GT can be augmented for premium comfort for long travel. On the top-end 2012 BMW K 1300 GTL model, a rear top case with passenger backrest, iPod-compatible sound system and Bluetooth connectivity is added as standard equipment. All 2012 BMW K line motorcycles channels engine power through a six-speed gearbox.
Read more
Read less
SPECIAL PACKAGE
Suggested
List Price
Dynamic Package, Factory Installed
$1,440
ENGINE AND TRANSMISSION
Gear Shift Assistant, Factory Installed
$450
SUSPENSION
Electronic Suspension Adjustmemt (ESA II), Factory Installed
$900
WHEELS & TIRES
Tire Pressure Monitoring System, Factory Installed
$250
CONVENIENCE
Heated Hand Grips, Factory Installed
$250
Anti Theft Alarm, Factory Installed
$395
Automatic Stability Control (ASC), Factory Installed
$400
INSTRUMENTATION
On-Board Computer, Factory Installed
$295
STORAGE
Luggage Grid, Factory Installed
$150