2012 BMW F800ST Options, Equipment, and Prices.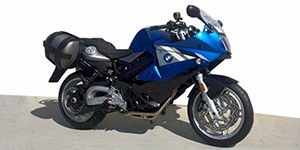 Select 2012 BMW F800ST Options
A line-up of twin-cylinder motorcycles, the 2012 BMW F model range features varying levels of character for urban or more scenic travel. Economical yet highly practical motorcycles all constructed on a tubular steel frame, the 2012 BMW F line-up starts with the F 650 GS. Featuring the security of standard anti-lock braking, the 2012 BMW F 650 GS can be ridden up to 115 miles per hour. With more of an off-road appetite than the F 650 GS, the 2012 BMW F 800 GS is enhanced with a higher top speed and a suspension permitting up to nine inches of front wheel travel. Two special edition models of the 2012 BMW F 800 GS involves either a two-tone color schemed 2012 F 800 GS Trophy or an F 800 GS Triple Black version. For a greater street bike persona, the BMW F 800 R and F 800 ST is also available on 2012. On the sleek-looking 2012 BMW F 800 ST, a touring package adds heated grips, locking saddlebags and an onboard computer as standard. On all 2012 BMW F line motorcycles, a two-cylinder, 798 cc features electronic fuel injection and digital engine management. A constant mesh six-speed gearbox is connected to the 2012 BMW F motorcycle's engine.
Read more
Read less
SPECIAL PACKAGE
Suggested
List Price
Standard Package, Factory Installed
$175
SUSPENSION
Low Suspension Option, Factory Installed
$250
WHEELS & TIRES
Tire Pressure Monitoring System, Factory Installed
$250
EXTERIOR
Center Stand, Factory Installed
$175
CONVENIENCE
Anti-Theft Alarm, Factory Installed
$395
PAINT & FINISH
Lupin Blue Metallic / Sapphire Black Metallic / Granite Grey Metallic
$650