2012 Aprilia RSV4 Factory APRC Options, Equipment, and Prices.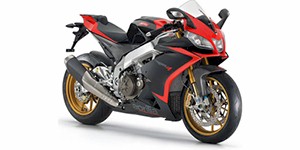 Select 2012 Aprilia RSV4 Factory APRC Options
When craving a racing-inspired superbike for the street, the 2012 Aprilia RSV4 line transfers a considerable amount of the Italian motorcycle builder's motorsport experience. Weighing no more than 395 pounds, the 2012 Aprilia RSV4 is produced on an aluminum frame surrounded by an aerodynamic shape. Supplied by Sachs, the 42-millimeter upside down front fork and a piggyback rear suspension boasts an array of adjustments to properly dial in the 2012 Aprilia RSV4's ride. The 2012 Aprilia RSV4's performance is summoned from a 999.6 cc four-cylinder engine. The 65-degree V-shaped engine of the 2012 Aprilia RSV4 features electronic fuel injection and a Magneti Marelli control unit. Ride-by-Wire equipped on the 2012 Aprilia RSV4 offers three rider-selectable performance maps. The Aprilia Performance Ride Control (APRC) system is an array of handling features designed to make the 2012 RSV4 perform at the peak of two-wheeled dynamics. Traction control, stability control, wheelie control and launch control are all furnished under the 2012 Aprilia RSV4 motorcycle's APRC technology package. The ARRC system is also associated with the Quick Shift transmission control for the six-speed gearbox. In addition to the Aprilia RSV4 R, the 2012 model year also includes the availability of the RSV4 Factory SE. Upgrading the suspension and steering damper to Ohlins components, the 2012 Aprilia RSV4 Factory SE is created as a race ready package. A Black Flame paint scheme and forged aluminum wheels complete the distinguishing
Read more
Read less
There are no options available for this vehicle.