2011 BMW R1200GS Options, Equipment, and Prices.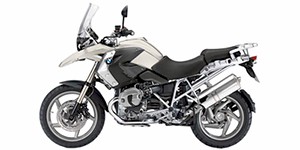 Select 2011 BMW R1200GS Options
An assorted line-up of motorcycles from BMW, the 2011 R series is an exhibition of the German brand's two-cylinder engined products. The entire 2011 BMW R line receives power from a fuel-injected 1,170 cc flat-twin engine. Generating 110 horsepower, the powerplant shared among the 2011 BMW R line-up is mated to a six-speed transmission. Granting practicality and class, the 2011 BMW R1200R and R1200R Classic models reside in the shape of a standard street motorcycle. Disc brakes on the front and rear wheels as well as 17-inch wheels are standard on the 2011 BMW R1200R. The 2011 BMW R1200R Classic is configured to be more retro-themed with a two-tone paint job and wire spoke wheels. For venturing off the road, the 2011 BMW 1200GS features a capable Telelever and Paralever suspension system delivering wheel travel up to 7.9 inches. For 2011, an all-new Triple Black version of the 2011 BMW R1200GS is offered with unique exterior trim. For greater off-road capability, the 2011 BMW R1200GS Adventure is equipped with a longer travel suspension and engine guards. The 2011 BMW R1200GS Adventure also comes standard with an anti-lock braking system. Offered as a sport touring motorcycle, the 2011 BMW R1200RT can be outfitted as a high-end highway explorer. Standard features on the 2011 BMW R1200RT include hard saddlebags, adjustable windshield and anti-lock disc brakes. The 2011 BMW R line can be heavily optioned vehicle with features such as an electronically adjustable suspension available at an extra cost.
Read more
Read less
SUSPENSION
Suggested
List Price
Electronic Suspension Adjustmemt (ESA), Factory Installed
$800
Low Suspension, Factory Installed
$250
WHEELS & TIRES
Cross Spoke Wheels, Factory Installed
$500
Tire Pressure Monitoring (TPM), Factory Installed
$250
BRAKES
Integral ABS II, Factory Installed
$1,100
EXTERIOR
Hand Protection, Factory Installed
$100
CONVENIENCE
Heated Hand Grips, Factory Installed
$250
Anti-theft Alarm, Factory Installed
$395
Automatic Stability Control (ASC), Factory Installed
$400
INSTRUMENTATION
On Board Computer, Factory Installed
$295
MOUNTS
Saddle Bag Mounts, Factory Installed
$200