2011 BMW F800GS Options, Equipment, and Prices.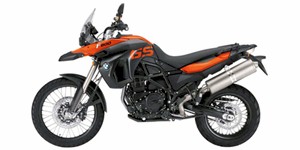 Select 2011 BMW F800GS Options
Provided in four major styles for 2011, the BMW F line of features middleweight motorcycles that can eagerly trek across pavement, dirt or, in some cases, competitive arenas. A value-oriented model best suited for everyday riding on-road, the 2011 BMW F650GS is powered by a fuel-injected, 798 cc two-cylinder engine. Front and rear disc brakes are standard while anti-lock braking is an option on the 2011 BMW F650GS. Weighing just 13 pounds more than the F650GS, the 2011 BMW F800R is another street-loving variant of the F line. The 2011 BMW F800R is a new addition to the North American marketplace providing an 87-horsepower, two-cylinder 798 cc engine to sport bike seekers. The 2011 BMW F800R quickly gained a reputation as a stunt motorcycle in Europe. Wearing an aerodynamically efficient front fairing and sporting a small windshield, the 2011 BMW F800ST is easily adaptable as a touring motorcycle through an optional hard case. Billed as an adventure motorcycle, the 2011 BMW F800GS has impressive power for the street and a capable off-road suspension. Wheel travel for the 2011 BMW F800GS is rated at 9 inches for the front and 8.5 inches at the rear.
Read more
Read less
SPECIAL PACKAGE
Suggested
List Price
Standard Package, Factory Installed
$1,505
BRAKES
ABS, Factory Installed
$900
EXTERIOR
Center Stand, Factory Installed
$175
CONVENIENCE
Anti-Theft Alarm, Factory Installed
$395
Heated Hand Grips, Factory Installed
$250
INSTRUMENTATION
On-Board Computer, Factory Installed
$295