2011 Aprilia Sportcity 125 Options, Equipment, and Prices.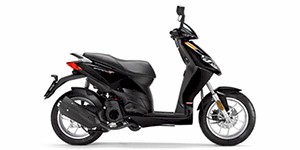 Select 2011 Aprilia Sportcity 125 Options
An economical choice for experiencing Aprilia, the SportCity is the most affordable vehicle in the Italian motorcycle builder's 2011 line-up. Stylishly presented on a single cradle frame constructed using high strength steel tubing, the 2011 Aprilia SportCity features 14-inch light alloy wheels and front disc braking. The body panels of the Aprilia SportCity 125 are offered in three color options for 2011. The 2011 Aprilia SportCity 125 is propelled by a forced-air cooled, four-stroke 125 cc engine. The carbureted single-cylinder powerplant generates 11 horsepower and is paired with a V-belt automatic transmission. In addition to the smooth, near-effortless gearbox performance, the 2011 Aprilia SportCity 125 also delivers the rider the benefit of electric starting. Capable of fitting two occupants, the seat of the 2011 Aprilia SportCity can be lifted to expose underseat storage space large enough for a full-face helmet.
Read more
Read less
There are no options available for this vehicle.