2011 Aprilia RXV 450 Options, Equipment, and Prices.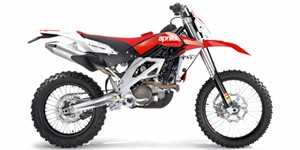 Select 2011 Aprilia RXV 450 Options
Fulfilling both the requirements for an off-road enduro bike, the 2011 Aprilia RXV line delivers plenty of toughness and power for exploring rough terrain. Built on an aluminum and chrome-molybdenum steel frame, the 2011 Aprilia RXV also features an all-new swingarm consisting of lighter hydroformed components. Fitted with full disc brakes, the rear caliper of the 2011 Aprilia RXV has been lightened. Fully prepared to take on off-road trails for recreation or competition, the 2011 Aprilia RXV is fitted with a suspension system consisting of a front 45-millimeter fork and a rear monoshock. Metzeler tires are mounted to aluminum alloy wheels featuring a black anodized coating. Engine power for the 2011 Aprilia RXV is derived from fuel-injected, four-stroke V-twin powerplants. With two models of the RXV line-up to choose from, the 2011 Aprilia RXV 450 is a 251-pound motorcycle propelled by a 449 cc engine while the RXV 550 is equipped with a 549 cc power unit. Both the 2011 Aprilia RVX 450 and RVX 550 channel engine performance through a five-speed transmission. While tailored for off-road riding, the 2011 Aprilia RXV can be legal ridden on streets in the United States.
Read more
Read less
There are no options available for this vehicle.