2010 Honda GL18HPNAMA Goldwing (ABS) (**) Options, Equipment, and Prices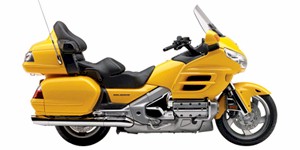 Select 2010 Honda GL18HPNAMA Goldwing (ABS) (**) Options
Note:
VINTAGE - 1948-1958 Due to the rarity of these years and models of Honda, pricing data is still being collected.
PERSONAL WATERCRAFT - No longer in production.
All Goldwing prices include premium audio pkg.
In 2010 only curb weight was reported.
(**) These prices also include xm radio & navi pkg.

Read more
Read less
EXTERIOR
Suggested
List Price
Rear Spoiler With Brake Light
$300
Front Fender Ornaments
$53
Chrome Sidestand
$66
Chrome Front Fender Rail
$138
Chrome Saddlebag Scuff Covers (Set Of 2)
$141
Windshield Air Deflectors for Standard Windshield
$199
Windshield Air Deflectors for Tall Windshield
$203
LIGHTS
Halogen Foglight Kit
$282
LED Foglight Kit
$430
GLASS
Tall Vented Windshield
$220
AUDIO & COMMUNICATION
6-Disc CD Changer Unit
$700
Deluxe Headset (Full Face)
$219
Deluxe Headset (Open Face)
$219
40 Channel CB Radio Kit
$800
CB Antenna Kit
$138
CONVENIENCE
12-Volt DC Accessory Socket Kit
$37
Chrome Heated Grips
$230
STORAGE
Chrome Trunk Rack
$134
Inner Trunk Pouch
$25
Saddlebag Cooler
$60
Nylon Saddlebag / Trunk Liner Set
$117
Deluxe Saddlebag / Trunk Liner Set
$196
Cycle Cover
$140
MOUNTS
CD Changer Attachment Kit
$300