New 2015 GMC Savana Passenger Prices
GMC has not redesigned the Savana Passenger Van in eons, but this van wasn't made to turn heads; it was made to haul large groups of people to and from destinations. Choose from two wheelbases (135" and 155") as well as six different engine types. With the stock model you'll get 16" steel wheels, swing-out side doors (60/40) that are upgradable to sliding doors, a standard two-speaker stereo system and vinyl upholstery. Upgraded models offer cloth interior, optional GPS system with backup camera, upgraded engine and powered seats, as well remote start and a few other goodies. Powered by a beefy 4.3-liter V6 engine that makes 195 horsepower at 260 pound-feet of torque, expect to fill-up often because this van only gets a combined 16 mpg for its EPA rating. Still, being able to transport 15 passengers all at once is near to impossible in just about any other vehicle on the market today, save for a bus.
Read more
Read less
2015 model year changes
View changes

+
For 2014, the GMC Savana is largely unchanged, though an optional 6.0L Vortec V8 now runs on compressed natural gas.
Competitive comparison
View advantages

+
Can be configured for work or families; seats up to 15; strong towing capacity
Special features for 2015
View special features

+
Sometimes, only a full-size van will do. Whether you need to haul a dozen or more people or tow 9,500 pounds of equipment, the GMC Savana's power, towing capacity and interior space ensure it's the van for the job. Most of the Savana's non-diesel engines can use E85 ethanol fuel, while a new fuel-system option provides the capability to run on compressed natural gas.
Select a new 2015 GMC Savana Passenger trim level
LS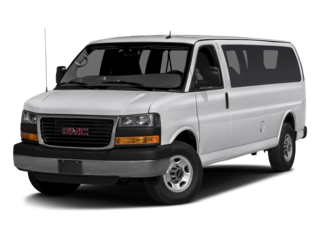 LT