New 2015 Ferrari 458 Italia Prices
The Ferrari 458 Italia comes in one trim with seating for two. The lightweight chassis and frame make it one of the lightest, fastest cars on the market. A glass-framed engine turns heads, while the premium leather interior with sports stitching and signature badging will make you feel right at home. The twin wishbone/multi-link setup of the adjustable suspension system combine with an electronic rear differential to give you the best traction. The carbon fiber brakes are designed for racing and absorbing high amounts of heat and friction, providing ample stopping. Inside you will find a crafty instrument cluster that that houses your GPS, audio system and Bluetooth. Choose from the premium leather, suede or even carbon-fiber enhanced upholstery. Adjustable traction and stability control are at your fingertips on the steering wheel. Adjustable, deployable spoilers add even more flare. The Side Slip angle Control (SSC) system combines with Michelin Pilot Sport Cup2 tires to give you road-hugging control unlike any other. Under the hood is a 4.5-liter V8 engine that delivers a whopping 562 horsepower at 9,000 rmp, setting a new record for naturally aspirated engines.
Read more
Read less
2015 model year changes
View changes

+
After the introduction last year of the exclusive 458 Speciale, Ferrari has followed it up with a convertible edition, called the "458 Speciale Aperta." The Speciale Aperta gets the same uprated, 597-hp powerplant as the regular Speciale as well as the same version of the vert sophisticated stability control system.
Competitive comparison
View advantages

+
Aggressive styling; extraordinary power and handling; world-leading technology; standard 7-speed transmission
Special features for 2015
View special features

+
The 458's base price starts right around $230,000, which places it among the most expensive performance cars available in North America. While the Lamborghini Gallardo and Porsche S Turbo compete in terms of performance, style and price, the Ferrari brings extensive racing heritage and the newest in fuel-efficiency technology. A multi-displacement system, active aerodynamics and a clever alternator that only charges the battery when the engine is not under load are among the technologies Ferrari has employed to increase vehicle efficiency. The 458 is an extremely capable track-ready car, but it also features a luxurious leather interior with all of today's necessary technologies, which can be driven comfortably to work. With the addition of the 458 Spider, with its clever retractable hardtop, sunshine-lovers now have an Italia to call their own.
Select a new 2015 Ferrari 458 Italia trim level
Base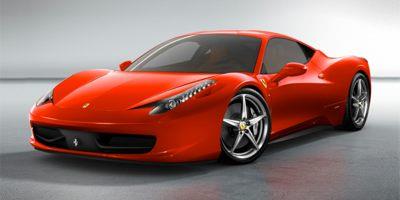 Speciale