Bentley Flying Spur Deals, Incentives and Rebates
Few other luxury sedans can hope to keep up to par withthe allure and gaudiness of the Bentley Flying Spur, and few others will evercost you as much, either. This car comes in one standard trim level and offersa cavalcade of desirable amenities. Flashy 19" wheels, air suspension that'sadjustable, bi-xenon headlights that auto-adjust, LED running lights, LEDtaillights, folding powered mirrors, Breitling clock on the dashboard, parkingsensors (front and rear), quad-zone climate control (automatic), massagingpowered front seats, rear sunshade that's powered, 8" touchscreen commandconsole with voice control, Bluetooth/USB/iPod integration and an eight-speakeraudio system top the list of key amenities.  Upgrade to the Mulliner package and get 21" wheels,chromed bumpers with wings, quilted and perforated hide leather interior, realwood interior trim and leather hand stitched headliner, amongst countless otherupgrade options. The car comes standard with a powered sunroof, but addedceramic racing brakes will cost you more. Bentley offers a wide array ofcustomization options for buyers, including rolling Wi-Fi, dual touchscreendisplays, three-spoke steering wheel and even flip-down eating trays in theback. Don't forget to consider upgrading the audio system to the ultra-premium 13-speakerNaim surround sound system, too. The standard twin-turbocharged 6.0-liter W12engine makes a staggering 616 horsepower and 590 pound-feet of torque, plentyof zip to take you off the line on the way to your executive office.
Read more
Read less
2015 model year changes
View changes

+
The Flying Spur has been redesigned completely for 2014. It's got all new sheetmetal, it's lighter and it's more powerful and its more expensive than the previous version made in 2012.
Competitive comparison
View advantages

+
Extraordinary luxury; comfort-oriented ride; extraordinary powertrain; all-wheel drive; customization options
Special features for 2015
View special features

+
When speaking of cars in the $200k range, value might seem an unlikely shopping criteria. However, Bentley's Flying Spur is considered 'entry-level' in the ultra-luxury sedan segment, so it gives tremendous value, and a big step up from such lower-priced competitors like the BMW 7-series, the Mercedes-Benz S-Class and the Maserati Quattroporte. The next step up in Bentley's lineup, the Mulsanne, will cost additional $100,000 over that of the Flying Spur just to get started. This segment includes the Rolls-Royce Ghost and the Mercedes-Maybach S600, but only the Flying Spur provides the option to get Bentley's tradition of extreme luxury, total customization, an incredible powertrain and one of the most comfortable rides available anywhere.
Updated 2015 Bentley Flying Spur Deals
V8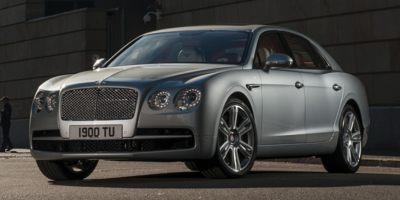 W12