New 2013 Rolls-Royce Ghost Prices
Carried over for 2013, the Rolls Royce Phantom is a hand-made full-size luxury sedan powered by a 6.75-liter V12 engine that produces 453 hp and 531 lb-ft torque, for a 0-60 time of 5.7 seconds. The Phantom comes equipped with a 6-speed automatic transmission that is paired with a RWD drivetrain. An aluminum space frame enables fuel mileage within an EPA estimated range of 11 mpg city and 18 mpg highway. Features include hand-stitched soft leather, premium wood veneer, 21-inch alloy wheels, rear entertainment system that folds flat into the back of the front seats, rear glass cabinet, retractable hood ornament and an in-door umbrella. The Phantom is backed by a 4-year/unlimited mile warranty.
Read more
Read less
2013 model year changes
View changes

+
The Ghost isn't short on luxury, but Rolls-Royce has continued to add features to the ultra-luxury sedan. Better quality leather and wood enhance the interior, while the stereo now features speakers hidden in the headliner. A new feature allows owners to open the trunk with a wave of their foot underneath the rear bumper, which proves helpful when carrying objects requiring both hands. New forged alloy wheels are also available as an option on the 2013 Rolls-Royce Ghost.
Competitive comparison
View advantages

+
Quiet, dignified character; strong acceleration; surprisingly nimble handling; hand-finished details and workmanship
Special features for 2013
View special features

+
With a price starting at around $250,000, the Rolls-Royce Ghost competes with the likes of the Bentley Continental Flying Spur and the Aston Martin Rapide. While the more expensive Phantom is offered in a full family of body styles, including a Coupe and 'Drophead Coupe' convertible, the Ghost is only offered as a sedan. The Ghost is one of the longest cars on the market, yet it can feel surprisingly nimble for such a large car; it doesn't feel much heavier than the BMW 7-Series or Mercedes-Benz S-Class in the corners, but its true heft translates to excellent road-holding on the highway. The exclusivity of the Rolls Royce nameplate is of course one of the biggest selling points--as is the 'bespoke' process of specifying and ordering one's own custom-tailored interior, trims and special features.
Select a new 2013 Rolls-Royce Ghost trim level
Base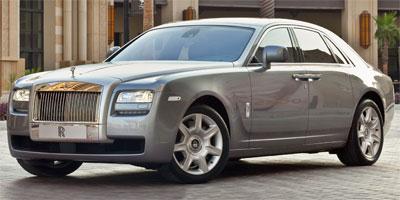 EWB