2012 Subaru Impreza Wagon WRX Reviews and Ratings
Wagon 5D WRX Premium AWD
When shopping for a car, how important is vehicle performance?
NADAguides Consumer Review
Be the first to review this 2012 Subaru Impreza Wagon WRX.
Please complete all star ratings before submitting.
Type your review and click the Submit button
to post your comments
600 of 600 character remain
Thank you for submitting your review of the 2012 Subaru Impreza Wagon WRX
---
Expert Reviews ( 2 )
2012 Subaru Impreza Wagon WRX
New Car Test Drive
Introduction
The Subaru Impreza WRX is a hoot and a half to drive and the WRX STI is two hoots. An evolution of World Rally Championship cars, the WRX is reasonably practical for everyday use. Loosely based on Subaru's Impreza compact, the WRX models are economical to operate in light of their performance and, more than ever, make excellent cars for commuters who like a little spice in their daily drive.
WRX models are available in four-door sedan and 5-Door hatchback styles.
The current-generation WRX was launched as a 2008 model. There were suspension and drivetrain revisions for 2011. 2012 WRX models get a more sophisticated navigation system with a 6.1-inch touch screen display, voice control, and other advanced features.
The 2012 WRX and WRX STI are in fact derived from the previous-generation Impreza, which Subaru built for the 2008-2011 model years. (The Subaru Impreza 2.0 is all-new for 2012.) But with their wider track, bulging fenders, and prominent spoilers, there's no mistaking a WRX or STI for an ordinary Impreza of any vintage. And so you won't mistake a 2012 WRX for a 2011, Subaru has deleted some bright trim the sedan's trunk lid and added silver highlights to the headlight bezels.
Despite its racy appearance and serious performance, the WRX is reasonably refined and easy to live with during the typical commute. All models come with iPod control and Bluetooth. High-grade audio and even leather seating are available.
The WRX and STI achieved cult status among driving enthusiasts and boy racers, but more than ever that image is too narrow and confining. These cars have decent room in the back seat and good cargo capacity. Their all-wheel-drive system can legitimately be considered a safety and foul-weather advantage, even if, with the powerful, turbocharged engines in the WRX, it's marketed as a performance enhancement, a role it also fills.
These are drivers' cars: no automatic transmission is offered. Yet buyers seeking a smaller car with lots of safety features should like the WRX. All models come with all-wheel drive, electronic stability control, a sophisticated anti-lock brake system and good crash-test performance; a good set of winter tires make them near unstoppable in bad weather.
The WRX sedan and hatch come well equipped, with nice seats, automatic climate control, a good stereo and more horsepower than all but a couple cars in this size/price class. The WRX is powered by a 2.5-liter, 265-horsepower turbocharged four-cylinder, arranged in Subaru's familiar horizontally opposed, or flat-four, configuration. The WRX offers a bang for the buck that surpasses many more expensive sports sedans.
The WRX STI is a substantially upgraded performance version. STI stands for Subaru Technica International, the high-performance division that made the WRX famous through considerable success in the World Rally Championship. Nearly every major mechanical system is unique to the STI: 6-speed manual transmission, special suspension and brakes, unique interior appointments and a high-tech, manually adjustable all-wheel-drive system. Yet the STI's centerpiece is a higher-tech version of the 2.5-liter four, generating 305 horsepower. Its quarter-mile acceleration times match those delivered by some muscle and exotic sports cars.
While the STI offers increased performance and driver involvement relative the WRX, few feel shortchanged in the WRX. Subaru's claim is that buyers like both and the choice frequently comes down to price: The STI is about $9000 more than the WRX and offers more performance for the extra coin.
To be sure, the WRX costs more than your typical front-wheel-drive compact, and the performance and all-wheel drive come with a mileage penalty. Still, we think the WRX models are a good deal, offering lots of performance for the dollar in a car that's easy to live with every day. Primary competitors for the WRX and WRX/STI are the front-drive Mazdaspeed 3 and Volkswagen GTI, and all-wheel drive Mitsubishi Lancer Ralliart and Evolution. A new WRX should be not far off, however.
Model Lineup
The 2012 Subaru Impreza WRX ($25,595) comes in sedan and a 5-Door versions powered by a 265-hp turbocharged 2.5-liter four-cylinder engine with 5-speed manual transmission. The WRX comes with fabric upholstery (checkered carbon black with red stitching); automatic climate control; power windows/locks/mirrors; AM/FM/XM/Sirius/CD/MP3/iPod audio with USB port, auxiliary input jack, and Bluetooth calling and audio streaming; cruise control, electroluminescent gauges, quad tailpipes, and 17-inch alloy wheels with summer performance tires. The hatchback adds a rear wiper; roof spoiler; clear-lens taillights; and a cover, light and tie-downs for the cargo area.
WRX Premium ($28,095) sedan and hatchback add heated front seats, heated mirrors, wiper de-icer, power moonroof, trunk spoiler for the sedan, and fog lights. The Navigation Package ($1,000), revised for 2012, features a 6.1-inch LCD touch-screen, voice control, iTunes tagging, SMS text messaging, and XM Satellite Radio with XM Nav Traffic, plus all the connectivity features of the standard stereo. WRX Limited ($29,095) adds leather upholstery and HID low-beam headlamps, and is also available with the Navigation option.
The WRX STI sedan ($34,095) and 5-Door ($36,095) are equipped similarly to WRX Premium grade, but without the moonroof, and with foglights on the hatchback only. The extra money adds mainly high-performance mechanicals, starting with the 305-hp 2.5-liter engine, 6-speed manual, more sophisticated all-wheel drive system, upgraded chassis components, and 18-inch cast-alloy wheels. The 5-Door adds a cargo cover, tie-downs, cargo light, rear wiper, and 18-inch forged BBS wheels. STI Limited sedan ($37,445) adds the BBS wheels, fog lights, moonroof, and comes with leather upholstery. Navigation is optional ($1000) on all STI models.
Dealer-installed accessories are numerous, ranging from wild spoilers and footwell illumination to more practical short-throw shifters, gauge packages, brake pads and performance exhaust systems. Many dealer-installed parts feature full factory warranty coverage.
Safety features include dual-stage front airbags, front passenger side-impact airbags and curtain-style head airbags. The WRX has achieved five stars for front impacts, five stars for front passengers in side impacts, and four stars in rollover tests from the National Highway Traffic Safety Administration. Active safety features include Vehicle Dynamics Control stability electronics and four-channel, four-sensor anti-lock brakes (ABS) with electronic brake-force distribution (EBD) and Brake Assist.
Walkaround
There's no mistaking that the 2012 WRX and STI mean business, with flared nostrils, flared wheel arches and generally more flair than any other Subaru. The bodywork may look as busy as a racecar's without the decals, but all those scoops, vents, curves and spoilers are there for engineering reasons, not cosmetics.
In side view, the most prominent bit of design is a sharp crease that extends from the front wheel arch and runs just above the door handles all the way to the rear. It helps create the impression of a wedge, and emphasizes the aggressive attitude of the whole car. We appreciate the flared fenders employed to cover wide tires, in contrast to the pontoon rear fenders that decorate some recent Mercedes models purely as a retro styling exercise.
Distinguishing a WRX from a WRX STI can be tricky, but it's easiest from the rear of the sedan. The WRX sedan has either no rear spoiler (base version), or a lip spoiler along the trailing edge of the trunk (Premium and Limited); in contrast, the STI sedan's rear spoiler is a wing standing well off the trunk's surface. Whereas WRX and STI hatchbacks share an identical spoiler atop the rear window. Ah. But the WRX has 235/45R17 tires versus the 245/40R18 rubber on STI. Spotters may also notice the STI brake calipers. STI hatchbacks and STI Limited sedans roll on forged BBS wheels, but the base STI sedan's new five-double-spoke cast aluminum rims are actually more distinctive. At least the fender badge reads WRX or STI as appropriate.
A low, wide front end treatment sets off both cars, and integrates the foglights on models that have them. Some versions have HID low-beam headlamps but bi-xenon units are not available; perhaps Subaru expects owners to add their own bank of driving lights. All sedans use conventional taillights while hatchbacks get clear-lens arrangements with some LED elements that help them stand out.
Those new five-twin-spoke, cast-alloy wheels, exclusive to the base STI sedan, are the biggest visual change for 2012; all other versions, including the STI Limited sedan, keep their 2011 rims. Very sharp-eyed enthusiasts might notice that the previously satin-silver bar over the sedan's rear license plate is now body color on 2012 models, while the headlight bezels on all models now sport silver liners.
The four-door sedan, developed specifically for the United States, is more than six inches longer than the five-door hatchback. The four-door has the edge in covered trunk space and about 3 mph higher top speed, the hatchback a minor advantage in rear-seat headroom comfort and is slightly lighter in STI guise.
American buyers overwhelmingly prefer sedans to hatchbacks but the latter are making a comeback. In the case of the WRX and STI, we will take the hatch, however, and not just for its practical benefits like a rear wiper, better visibility, easier parking and the ability to carry awkward loads. We'd say it's the more handsome car. Its roofline runs in a single, elegant nearly-French curve from the base of the windshield to that spoiler at the top of the rear glass. Also, its rear overhang is considerably shorter than the sedan's and the STI sedan's wing is downright invitational to law enforcement. Shorter overhangs are generally better for handling, in addition to other benefits.
WRX and STI have an aluminum hood, which reduces weight in front and helps distribute the cars mass more evenly over the front and rear wheels. Both cars feature the latest evolution of what Subaru calls its Ring Frame Reinforced body design. Think of RFR as a safety cell in roughly a cube shape around the passenger compartment, made of stronger, hydro-formed steel sections. The idea is more strength and rigidity without an undue increase in weight, and it may help explain the excellent ratings in NHTSA crash tests. The first objective of RFR is better occupant protection, but the structural improvements pay dividends in many respects, from more responsive handling to improved smoothness in just about every aspect of the car's operation.
Interior
While basic interior design of the WRX and STI could be called understated, or even subdued; flashy details such as aluminum alloy covers for the foot pedals, red stitching on the seats and steering wheel, and embroidered WRX logos on the seatbacks remind occupants that they are sitting in a performance car; just case the howl of the free-revving turbocharged engine isn't enough. The STI model even serves up black Alcantara upholstery with red stitching, for an even bolder presentation.
A central tachometer dominates the gauge cluster, which conveys data in a straightforward, functional manner. Even the base stereo incorporates all the latest digital bells and whistles, including satellite radio, Bluetooth audio streaming, iPod control and USB and auxiliary inputs.
If anything seems out of place it's the available leather upholstery and moonroof. Both may find favor with owners seeking some luxury with their performance, though we prefer our rally cars as-is. A moonroof adds weight at the highest point on the car, to a small extent working against the low center of gravity that aids handling, and the cloth seats grip better for keeping you in place and don't have the surface temperature extremes of leather.
The WRX and STI do benefit from lots of glass and low window sills, giving a light and airy feeling that belies the compact label. Head and legroom in front are generous and the sporty front seats leave more rear seat legroom than the numbers imply. Four six-footers won't tax it, and most enthusiasts will have plenty of headroom for a helmet.
The expanse of glass combines with narrow windshield pillars to provide excellent outward visibility in virtually any direction. Wiper coverage and strength is up to muddy rally standards, well beyond daily driving, and on most models the area where the wipers park is electrically heated so you needn't wait for the defrost to thaw them before sweeping the snow off.
The front bucket seats in the WRX are upholstered with a soft, black-checkered fabric, double stitched in the fashion of a luxury car, and they provide a good compromise between support and comfort. There's enough side bolstering top and bottom to keep occupants snug during fairly aggressive driving, but there's also plenty of give in the cushions.
The seats in the STI are more like aftermarket performance seats, which means harder and more heavily bolstered. They're even better for hard driving, but the snugger fit leaves less squirm room during longer, more relaxed travel, and they demand more energy to climb in and out of. The seats come in black Alcantara with red stitching. The integral headrests may require a helmeted driver to have their head further forward, or backrest more reclined, than they are accustomed to.
Overall, the WRX driving position is excellent. Seat adjustments are simple, but they allow people of various sizes to get properly situated. Most drivers will be able to reach all controls, including those for adjusting side mirrors, without lifting head or shoulders from the seatback. A suitably contoured tilt/telescoping steering wheel does the same for gauge vision and stalk controls, while the adjacent shifter and handbrake are right where you want them. One minor gripe regarding the armrests: They're positioned such that each elbow rests at a slightly different height. Then again, you'll seldom use both simultaneously.
Gauges are easy to read and illuminated in dark amber. The trim is a metallic silver plastic. You'll find more attractively grained plastics and maybe richer looking trim materials and carpet in this price range, but nothing in the WRX looks cheap enough to kill the deal. That's at least partly because the dashboard layout is so straightforward, effective and easy to clean the dust off of.
The size and shape of the dash is roughly symmetrical on both the driver and passenger sides, with a big, outreaching center stack of controls and displays in the middle. The four dash vents are fully adjustable and large enough to move plenty of air.
An LCD sits under its own hood at the top of the center stack, with temperature indicator, time and other information. At the bottom sit three big climate-control knobs: one each for temperature, airflow direction and fan speed, easy to grab with barely a peripheral glance, operating with a nice tactile sensation that conveys the amount of adjustment. In between are the standard audio controls or the optional navigation screen. Both are good sized and easy to manipulate. While the audio knobs aren't as big as those for the air conditioning, volume, source and tuning can also be adjusted with buttons on the steering wheel spokes.
The new six-speaker navigation system offered on the WRX Premium, WRX Limited, and STI is accessed through a 6.1-inch LCD touch-screen, and includes not only voice control but iPod control capability, iTunes tagging, SMS text messaging, and XM Satellite Radio with XM NavTraffic (if, of course, you pay the additional cost of the subscriptions.) Updated map data can be downloaded to a personal computer and the transferred to the vehicle though a secure SD card.
Cargo capacity in the sedan is fairly good. With 11.3 cubic feet of trunk space, it falls toward the lower end of its size class, a bit less than what's found in the less-expensive Honda Civic Si sedan. Still, the WRX does have all-wheel drive and the rear seatback splits and folds forward. With the 60-percent portion laid flat, there's enough room to slide two golf bags in through the trunk, and still leave room for a third passenger.
Cargo space in the five-door hatch is much better. With 19 cubic feet, rear seat up, there's a lot more space than what's available in the typical small sedan's trunk if you don't need the rear window view. The hatchback also allows taller objects to be contained within the car. When the rear seat is folded cargo capacity expands to 44.4 cubic feet, with easy access from the rear side doors to help push things in and out.
Cubby storage is average. The glove box is deep, holding more stuff than most, and there's a lined bin in front of the gearshift for phones, openers or glasses. There's a pair of cupholders in the center console, just right of the handbrake that are up to the car's handling abilities. Another cupholder in each front door pocket is large enough for a 24-ounce bottle. The box in the center console has jacks for MP3 players and a power point.
Driving Impressions
While the WRX delivers inviting, balanced driving performance it's also relatively refined and easy to live with on a daily basis. All-wheel drive built-in from the start long ago made it a favorite where the road is white a good portion of the year, and the performance aspects have made it popular in climes where all-wheel drive is unneeded.
The wide body treatment makes the WRX look more substantial and threatening than the old-generation Impreza on which it is based, but adds less than 30 pounds to the vehicle's curb weight. Added traction from such wide tires may require a change to your start-line launch technique. The WRX can be driven moderately with ease and really comes on steam as the rev counter nears 3000. With 265 hp and 244 lb-ft of torque the 2.5-liter engine is plenty potent, and the all-wheel drive allows you to fully exploit it; a front-wheel drive Mazdaspeed 3 has more power and notably more torque but can't use it all until third gear.
Subaru engines are all horizontally opposed; as in a Porsche or original Volkswagen Beetle the cylinders lay flat 180 degrees apart rather than the conventional four cylinders lined up in a row. This makes the engine low, compact and light, all aids to vehicle dynamics. It also means a slightly lumpy idle sound, little power right off idle (you need to slip the clutch a little), a droning exhaust around 1500 rpm you'll notice only in creeping traffic, and it's hard to sometimes imagine a $35,000 car still sounds a bit like a 40-year-old Bug.
The WRX uses a five-speed manual transmission exclusively. It has nicely spaced gear ratios and a short-throw shifter, but it's a gear short of much of the competition and the shifter is a bit rubbery causing us to not get a gear we wanted occasionally; fortunately we never got the wrong gear either. Subaru's performance division offers plenty of shifting upgrades that would add precision and effort for crisper, more precise gear changes. A Hill-Holder feature keeps the car from rolling backward when the brake pedal is released to engage the gas on incline starts.
Suspension is dialed in nicely on the WRX, with nicely weighted, accurate steering crisply pointing the car, good grip, and compliant ride quality that lets you know the road surface but doesn't beat it into you; it's a relatively easy car in which to approach the limits and aids driver confidence. But all WRX and STI models come with three-season tires and even all-wheel drive won't overcome their uselessness them in the snow.
Although grip is commendable what makes the WRX such a nice driver is balance. The weight is better split front/rear than most cars in this class, but the steering, brakes, handling and engine are ideally mated to the others. It's never a case where there's too much power for the brakes or steering, or so much grip it feels underpowered. And the mechanical noises it makes…turbocharger whistle, gear whine and so on all add to the fun or fade into the background when you're just cruising from A to B.
On another level is the STI. Think of this as a purpose-built, class-spec rally car with air conditioning and a radio but lacking a roll-cage and five-point seatbelts the government says you can't have in a street car.
Although the same size engine has slightly lower compression and only one-half-psi (14.7 vs 14.2) more peak turbocharger boost pressure than the WRX it employs more sophisticated components to add 40 hp and 46 lb-ft of torque. Combine that with a six-speed manual that has shorter gearing than the WRX, and the (roughly) 165-pound heavier STI is substantially quicker. Imagine first gear, three second gears in a row, and a couple for cruising along the highway or pushing top speed. Although the STI sedan is 11 pounds heavier than the hatch, top speed is higher because of less aero drag. With few opportunities for 150+mph in North America, we'll stick with the lighter hatch.
An STI is a quick car. Perhaps not as fast from 125 mph like a big V8 muscle car or V12 GT car but for the twist-and-punch of a mountain pass, autocross course, off-highway rally or urban commute it's plenty potent. And the STI's six-speed manual shifter felt much more accurate than the WRX's five-speed. Again, upgrades are available.
Beneath the STI are few parts shared with the WRX: transmission, all-wheel drive, suspension arms and antiroll bars, brakes, and even the wheel bolt pattern are upgraded. The springs in the latest model are even stiffer than in earlier versions but still deliver the compliance needed for bashing along dirt roads or surviving commutes. It's actually a pair of relatively inexpensive rod-end bushings in the front suspension that pay the biggest dividends because they keep the front wheels stable, translating to easier shock and spring tuning and less steering correction mid-corner.
Like the WRX, the STI is also fairly easy to drive quickly. At its handling limits, the STI has a slight inclination to understeer, or to keep going in a straighter line. Yet that tendency is less than in the typical front-drive car, and the all-wheel-drive system allows the driver to get the front end to tuck into a curve by adding a little (not a lot) more gas. The STI stays planted under rough, abrupt or heavy-handed inputs on its controls but get the speed and steering angle right and you can keep it there while powering out of the bend. Whether braking hard into a curve, or panic-braking with a sudden twist of the steering to avoid an accident, the anti-skid electronics work to keep the car's weight balanced and the tires on that fine line between maximum grip and slide. The STI's multi-setting stability control helps take care of the beginner at a club track day without strangling the pace, and it allows exceptionally skilled drivers to turn all the electronic aids off.
On both paved and unpaved closed courses, we found we could overdrive corners in a big way and easily maintain control (if not the briskest pace). Enter a corner a bit too fast and the worse thing to come of it is a poor entry to the next corner. But if you know the course, the STI's controls let you adjust for it. The center differential that apportions output front and rear has a choice of automatic modes ideal for most drivers and most conditions…those where you don't know what weather, road, or traffic have in store for you. The manual setting allows you to vary the amount of front/rear lock and displays it as a bar-graph in the instrument panel. Fewer bars equal less lock, for good turn in but understeer if you apply too much power in the corner; more bars for more lock and the front wheels go where you point them and with this acceleration you want to make sure they're pointed where you want to go.
SI-Drive is the other console control that sets accelerator response. Push down for Intelligent to maximize economy and make the smoothest drive (like rain or snow) because the pedal has to travel more to get the same power output.. Sport is the happy medium for response and drivability, or rotate the knob to Sport# (sharp) for the quickest reaction to your right foot. This is best reserved for open roads or tracks where you'll ask for lots of power at any given moment. Regardless of how you get going, the big Brembo brakes, with ventilated iron discs that stand up to off-pavement abuse, merely shave off speed or stop immediately with equal aplomb. The antilock system is also very good, probably a direct result of Subaru's rally experience finding traction where little exists.
Summary
The Subaru Impreza WRX and WRX STi are fun, fast and solid, with standard all-wheel drive and overall performance that's rare in their class. They're also practical, with decent room in the back seat and good cargo capacity, and they've achieved excellent scores in NHTSA crash tests. Ongoing refinements haven't significantly diluted the character and enthusiasm that have made the WRX so appealing over the years, but they have raised the bar on comfort and quality. The WRX and STI cost more than many cars of comparable size, and they give up some fuel economy for the performance, but those who appreciate this car's strengths probably won't mind.
J.P. Vettraino filed this report to NewCarTestDrive.com from Detroit; with Mitch McCullough reporting from Vancouver Island, British Columbia, G.R. Whale reporting from the Colorado Rockies.
Model as tested
Subaru WRX STI 5-Door w Nav ($37,095)
Basic Warranty
3 years/36,000 miles
Assembled in
Ota Gunma, Japan
Destination charge
750
Gas guzzler tax
N/A
Base Price
25595
Price as tested
37845
Options as tested
none
Model Line Overview
Model lineup
Subaru WRX four-door sedan or five-door hatchback ($25,595); WRX Premium sedan or hatchback ($28,095); WRX Limited sedan or hatchback ($29,095); STI sedan ($34,095), STI hatchback ($36,095), STI Limited sedan ($37,445)
Safety equipment (standard)
dual-stage front-impact airbags with position sensors for driver and front passenger, seat-mounted front-passenger side airbags, curtain-style head protection airbags for all outboard seats, antilock brakes (ABS), Vehicle Dynamic Control (VDC), tire pressure monitor, all-wheel drive
Safety equipment (optional)
N/A
Engines
2.5-liter dohc 16v turbocharged intercooled H4
Transmissions
6-speed manual
Specifications as Tested
leather and alcantara upholstery with six-way manual adjustment for driver and four-way adjustment for front passenger; automatic climate control; AM/FM/Sirius/CD stereo with iPod/USB/aux inputs and Bluetooth; power windows and door locks with remote entry; power heated mirrors; tilt/telescope leather-wrapped steering wheel with audio controls; cruise control; split/folding rear seat; two 12-volt power points; cargo-area cover, light and tie-downs; variable-intermittent wipers with de-ice; rear-window wipe/wash; auto-off HID headlights; fog lights; clear-lens LED taillights; 18 x 8.5-inch BBS alloy wheels; Navigation Package includes 6.1-inch screen, Bluetooth telephony, XM Satellite Radio
Engine & Transmission
Engine
2.5-liter dohc 16v turbocharged intercooled H4
Drivetrain type
all-wheel drive
Horsepower (hp @ rpm)
305 @ 6000
Transmission
EPA fuel economy, city/hwy
17/23
Torque (lb.-ft. @ rpm)
N/A
Suspension
Brakes, front/rear
vented disc/vented disc with four-channel, four-sensor ABS, electronic brakeforce distribution (EBD), Brake Assist
Suspension, front
independent, lower L arms with inverted struts and stabilizer bar
Tires
245/40R18
Suspension, rear
independent, double-wishbone with coil springs and stabilizer bar
Accomodations
Seating capacity
5
Head/hip/leg room, middle
N/A
Head/hip/leg room, front
40.3/53.4/43.5
Head/hip/leg room, rear
37.6/53.3/33.5
Measurements
Fuel capacity
N/A
Trunk volume
44.4
Wheelbase
103.3
Length/width/height
173.8/70.7/58.1
Turning circle
36.1
Payload
N/A
Towing capacity
N/A
Track, front/rear
60.2/60.6
Ground clearance
5.9
Curb weight
3373
2012 Subaru Impreza Wagon WRX
NADAguides Test Drive Review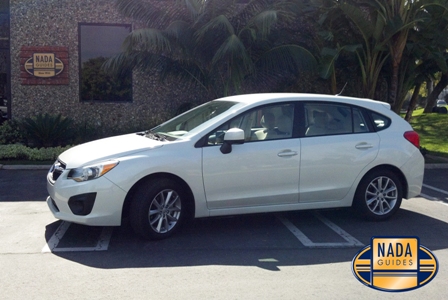 The
2012 Subaru Impreza AWD 2.0i Premium
5-door is a compact hatchback completely updated for the current model year. Car enthusiasts pay extra attention when the Impreza is overhauled due to it being the shell for the more performance oriented WRX and STI trim levels. That being said, the new Impreza makes significant changes inside and out, including a curbside weight loss of 160 pounds, a smaller more fuel efficient engine, and a restyled exterior.
Staying faithful to Subaru design, the Impreza boasts a sporty and capable look. An intimidating front grille and sweeping headlights, paired with the curvature of the hatch trim, gives an immediate sense of rugged utility. Exterior materials, specifically panels, fit tightly giving the vehicle a sturdy feeling. The 16-inch aluminum-alloy wheels add a nice accent, however drivers may be disappointed by the lack of color variety; exterior colors are entirely comprised of black, blue, red, and grey variants.
Drivers will find the 2012 Impreza fitted with a smaller engine than its predecessor; 2.0-liter 4-cylinder BOXER® engine that produces 148 hp/145 lb-ft of torque. That being said the cars performance does not suffer and although the 4-cylinder engine lacks big power, the Impreza is capable and peppy. A perk of the smaller engine is the jump in fuel mileage to an EPA estimated 36 mpg highway. The standard 5-speed transmission offers mostly seamless shifts with a hint of rev sensitivity. Symmetrical AWD and 4-wheel independent suspension make for a smooth ride, obedient steering, and tight cornering. Great braking distance and lack of lean give the car a stable feel. A few minor drawbacks include a turning radius that could be improved, lots of engine noise, and although the car fits well into small spaces it lacks parking assistance in the form of a backup camera or distance indicator.
Quality seeps from the exterior of the vehicle into the interior with high-grade plastics and metallic accents that give the cockpit an enhanced look. Accessibility is made easy thanks to the 4-door trim and although four passengers can be seated comfortably the roomy interior allows for an extra passenger to be crammed in. Automatic climate control and an interactive center are absent from the vehicle, that being said all available interior controls are basic and intuitive. The driver's seat is tailored for comfort thanks to appropriately spaced pedals, two way seat adjustments, an unobstructed instrument panel, and perfectly sized steering wheel. Interior fabric has a favorable cost to quality ratio and the interior switch/window engineering evokes a long lasting feeling. One of the perks of opting for the hatchback trim is more than enough trunk space for hauling boxes or groceries but this comes with a price; the hatch angle (side beam) causes minor blind spots.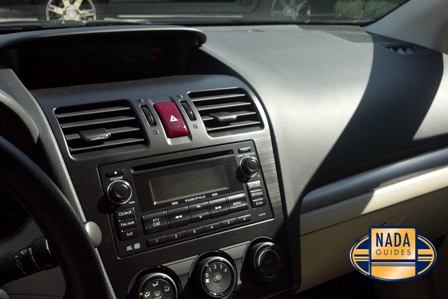 Drivers can focus on the road thanks to Bluetooth® hands-free phone capabilities and steering wheel mounted audio controls. Convenience is presented in the form of keyless entry, front heated seats, driving mode that allows for traction control to be disabled, and a gas door lever under the driver's seat. The "Premium" trim comes with a standard sound system and remote trunk open.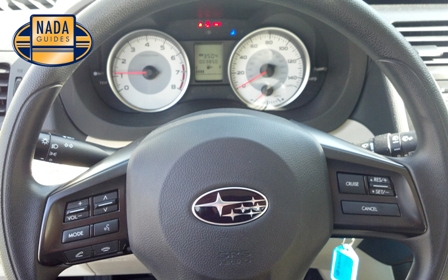 Overall the 2012 Subaru Impreza AWD 2.0i Premium 5-door is a solid car with a light price tag. Given that the vehicle is not fully loaded some drivers may want to opt for higher trim levels or travel the performance route (WRX or STI) but if you are looking for a solid, safe, and fuel efficient vehicle then look no further. The Impreza starts at an MSRP of $17,995 and goes up to $22,395 for the Limited trim.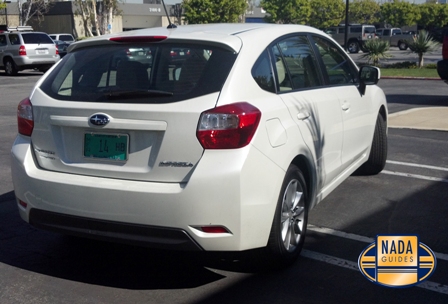 ---
Overall Quality - Mechanical
Powertrain Quality - Mechanical
Body & Interior Quality - Mechanical
Features & Accessories Quality - Mechanical
Powertrain Quality - Design
Body & Interior Quality - Design
Features & Accessories Quality - Design
---
Overall Dependability
3 / 5
Body & Interior Dependability
Feature & Accessory Dependability
Search Local Cars for Sale
Vehicle History Report
Get answers to buy with confidence
Check for accidents
Confirm the reported mileage
Purchase multiple reports and save
Car Buying and Selling Resources
---
* The J.D. Power Ratings are calculated based on the range between the car manufacturer or car model with the highest score and the car manufacturer or car model with the lowest score. J.D. Power generates a rating of a five, four, three, or two. If there is insufficient data to calculate a rating, "Not Available" is used in its place.
J.D. Power Ratings may not include all information used to determine J.D. Power awards, visit the Car Ratings page to learn more about awards and ratings.