2012 Land Rover Range Rover Evoque Reviews and Ratings
Utility 4D Prestige 4WD
When shopping for a car, how important is vehicle safety?
Consumer Reviews
Own this vehicle? How would you rate it?
Please complete all star ratings before submitting.
Type your review and click the Submit button
to post your comments
600 of 600 character remain
Thank you for submitting your review of the 2012 Land Rover Range Rover Evoque
Customer Review
Be the first to review this 2012 Land Rover Range Rover Evoque.
View All Car Reviews
Expert Reviews ( 2 )
2012 Land Rover Range Rover Evoque
T.J. Cobb
Introduction
The new 2012 Range Rover Evoque is a different kind of Land Rover, aimed at urbanites who want luxury, sport-utility usefulness, and reasonable fuel economy in a compact package. The new Evoque wraps it all in a refreshingly different exterior design.

A growing segment of the market, the compact luxury SUV class is currently dominated by German offerings: BMW X3, Mercedes-Benz GLK, and Audi Q5. All three are bigger than this new Range Rover. Not quite 172 inches long, on a 104.8-inch wheelbase, the Evoque gives away six inches in length to the GLK, more than 10 inches to the Audi and the BMW. Evoque is closer in size to the new BMW X1 (not yet on sale in the U.S.), as well as the Acura RDX.

But while it's shorter than its key competitors, it's distinctly wider, at 77.4 inches, which is 3.3 inches wider than a BMW X3. This enhances elbow room inside. Its width and low roofline, the lowest in the class, contributes to the Evoque's athletic look and aggressive stance.

Though smaller than its key German rivals, the Evoque delivers cargo versatility with a hatchback design. Fold the rear seatbacks forward and cargo capacity expands exponentially, though to be accurate the Evoque's max cargo number, 51 cubic feet, is lower than that of the three Germans.

The Evoque's interior measures up well in terms of roominess for four passengers. All the vehicles in this class are rated for five passengers, but none of them provide anything approaching comfort for a center rear seat occupant. The Evoque's interior appointments are arguably more upscale than the others, even in base trim. That's why Land Rover applied its upscale Range Rover badge to the model.

The snappy styling descends almost undiluted from the concept vehicle Land Rover unveiled at the 2008 Detroit auto show. The show car was a three-door hatchback, a body style that made it all the way to production, and one not offered by any of the Germans.

There's also a more practical five-door model. It's essentially the same size as the three-door version, and Land Rover expects that it will account for about 80 percent of the Evoque's U.S. sales.

Beyond the visual distinction, the Evoque differs from its competitors in three key areas. The first is under the hood. Other Range Rovers are propelled by V8 engines. The Evoque employs a 2.0-liter turbocharged four-cylinder adapted from Ford's Ecotec 2.0-liter, allied with a 6-speed automatic transmission. The engine is rated for 240 horsepower and 250 pound-feet of torque. A four-cylinder engine is a first for Range Rover. Even the Land Rover LR2, the entry-level product for the brand, has a six-cylinder engine, as do most of the competing models from Audi, BMW, and Mercedes-Benz.

On the other hand, the Evoque's tidy dimensions pay off with low curb weight (by class standards), which adds up to a respectable power-to-weight ratio and respectable fuel economy ratings: 18 mpg city, 28 mpg highway, according to the EPA.

The second area where the Evoque stands out from its Germanic rivals is when the pavement ends and there's no more road. With a sophisticated full-time four-wheel drive system, good ground clearance, and a short wheelbase, the Evoque can tackle some pretty tough off-road terrain.

That sustains Land Rover's tradition of exceptional go-anywhere proficiency, an area of performance that's absent in the pedigrees of its competitors, which have no off-road pretensions whatsoever.

The final distinction reflects the parent company's confidence in the Evoque's unique proposition. It comes to the market with the highest price tag in its class.
Model Lineup
The 2012 Range Rover Evoque model lineup is distinguished by a series of unique designations. The lineup begins with the Pure Plus models, escalates to the Pure Premium trim level, and then to the Dynamic Premium. These designations are shared by both body styles.

The Evoque Pure Plus five-door ($41,145) and Pure Plus three-door coupe ($44,995) are very well equipped, including leather, a rear-view camera, a very good audio system, tilt-telescope steering, antilock braking, adaptive headlamps, traction control, and, of course, full-time four-wheel drive.

The Evoque Pure Premium ($47,995) and Pure Premium coupe ($49,395) add a navigation system, 17-speaker audio with CD changer, luggage rails, adaptive xenon headlamps, and a five-camera system that shows what's going on 360 degrees around the vehicle.

The Evoque Dynamic Premium ($51,495) and Dynamic Premium coupe ($52,895) upgrades with fancier trim, interior color options, greater seat adjustability, and other details.

The Evoque Prestige Premium five-door ($51,595) upgrades to higher trim and offers the option of a new automatic damping system ($1500), the only stand-alone option on the Evoque pricing chart. Called MagneRide, it instantly adjusts suspension damping to road conditions, employing a system of shock absorber technology pioneered by Cadillac. (All New Car Test Drive prices are Manufacturer's Suggested Retail Prices, which do not include destination charge and may change at any time without notice.)
Walkaround
The new Evoque is the smallest Range Rover ever, and as noted it's the smallest vehicle in its class. This, plus the sloping roof, does restrict interior volume compared to key competitors. On the other hand, diminutive dimensions are a plus in urban environments, as well as in rugged terrain.

The Evoque three-door coupe and five-door bodies are nearly identical in dimensions. They ride on the same 104.8-inch wheelbase. They are the same overall length, 171.5 inches. They are the same width: 83.7 inches including the mirrors, 77.4 inches with the mirrors folded. Measuring 64.4 inches tall, the five-door models are 1.2 inches taller than the coupes at 63.2 inches.

The Evoque's sassy exterior design began with the LRX, a three-door concept unveiled at the 2008 North American International Automobile Show in Detroit. It was intended primarily as a statement by the company's new design chief, Gerry McGovern, and production possibilities were very much a wait-and-see proposition.

With its back-slanting roofline, rising beltline, and short overhangs, the LRX looked a little like a large scale Mini Cooper, an impression fortified by the option of contrasting roof colors, a design distinction the Mini has used effectively.

But uniformly enthusiastic response by show-goers quickly moved the LRX out of the dream car category into production reality.

Based on the compact Land Rover LR2 platform, the two models share the same 108.4-inch wheelbase. But at 171.4 inches long, the Evoque is shorter than the LR2, its sloping roofline is some four to five inches lower, and it's distinctly wider, 77.4 inches versus 75.1.

That combination, relatively low roofline, wide stance, not much vehicle extending beyond the axles at either end, gives the Evoque an eager, sporty look that's unique in this class.

The minimum ground clearance, 8.5 inches, is at the front axle; rear axle clearance adds an inch, and the Evoque can safely ford water up to 19.7 inches deep without inhaling any of it.

The downside to the Evoque's dramatic styling is at the rear of the vehicle. The sloping roofline and ascending beltline conspire to compromise rearward vision, and sightlines in the rear quarters are limited.

On the other hand, if style wasn't important, we'd all be driving cars that look like the old Checker Marathon taxicabs. For someone who wants a compact luxury crossover that's a departure from the rectilinear mainstream, the Evoque merits a longer look.

A plethora of color combinations with two tones and different roof colors is available.
Interior
Consistent with other Range Rovers, the Evoque is handsomely appointed and attractively designed, with excellent materials and exemplary fit and finish.

An 8-inch info screen dominates the dashboard, the control layout has no mysteries, and there's the by-now expected array of telematics. We found the navigation system exceptionally easy to use. And the five-camera system that shows what's going on 360 degrees around the vehicle is very handy in tight places.

None of the foregoing is surprising. The surprising part is interior roominess. That sloping roof might suggest limited rear seat headroom, but that's not the case, even in the three-door coupe. The Evoque has 39.7 inches of headroom in the back seats, while the Coupe has 38.2 inches. Passengers over six-foot-two might find their hair brushing the ceiling, but leg room is plentiful and the Evoque's brawny width creates plenty of room, front and rear, to squirm around on longish trips. The Evoque has 40.3 inches of headroom in the front seats, the Evoque Coupe has 39.1 inches of front-seat headroom.

As noted earlier, the only caveat is the center rear seating position. The Evoque has places for five, but its center rear seat is a spot you'd reserve for people you didn't like. It's comfortable for four, not five.

Diminutive dimensions do have one other drawback, and that's cargo capacity. The Evoque five-door offers 20 cubic feet of stowage with the rear seats up, 51 cubic feet with the rear seats folded flat, less than any of the German competition. For contrast, the Mercedes GLK, the next size up, offers 23 cubic feet behind the rear seats, 55 cubic feet with the seats folded down. The Evoque Coupe offers 47.6 cubic feet of cargo space with the rear seats folded. Evoque has 20.3 cubic feet of cargo space behind the rear seats, the Coupe has 19.4 cubic feet.
Driving Impressions
The Evoque's turbo four pulls smoothly, with very little throttle lag. The 6-speed automatic, which includes paddles shifters for manual operation, kicks down quickly for passing, and if the acceleration isn't exactly neck-snapping, it's respectable. Land Rover predicts 0 to 60 mph in about 7 seconds, which is certainly enough to keep up with urban traffic.

The turbocharger builds boost quickly, and it takes some practice to achieve smooth launches. We also found that it's not too difficult to confuse the computer controlling the 6-speed automatic; its electronic brain seems to balk at abrupt changes in throttle position. These are traits that become transparent to an owner over time, but there's room for improvement here nevertheless.

Suspension tuning is firm, and that trait, combined with a relatively low center of gravity (for a vehicle in this class), gives the Evoque a lively sense of agility without any apparent sacrifice in comfort. Directional changes are brisk, body roll is limited, brake feel is firm, and the words "car-like driving experience" seem to have more relevance here than with any other contender in this crossover class.

If there's any flaw in the Evoque's credentials as an urban warrior it's a limited view out the rear window, as well as in the rear quarters. Driver sightlines are critical in city driving, and the Evoque's could be better. Chalk that shortcoming up to style.

In really rough stuff, the Evoque's Range Rover credentials shine. The four-wheel-drive system employs a Haldex center differential that automatically apportions front-rear engine torque according to grip, no locking differentials, totally transparent, and very effective.

With its short front and rear overhangs (i.e., not much vehicle protruding beyond the front or rear axles), the Evoque's only all-terrain limits are its ground clearance, making its off-road limits very high indeed, in sharp contrast to its competitors.

If there's any soft spot in the Evoque's dynamic credentials, it's at the wheel. Range Rover has adopted a new electric-assist steering system that varies effort as a function of speed. It's quick, just 2.5 turns lock-to-lock, but it's also lacking in road feel. That's not a good combination. But it's another of those little quirks that owners adapt to over time.
Summary
The Evoque is a refreshing change of pace in the premium compact utility segment, with a high fun-to-drive index, off-road capability that leaves its principal competitors in the dust (or mud), good fuel economy, handsome interior design and first-rate materials, supportive seats, and, its trump card, head-turning good looks. The big question is whether those heads will continue to be turned after prospective buyers get a look at the bottom line on the window sticker.
Model as tested
Range Rover Evoque Prestige Premium ($51,545)
Basic Warranty
4 years/50,000 miles
Assembled in
United Kingdom
Destination charge
850
Gas guzzler tax
N/A
Base Price
41145
Price as tested
54145
Options as tested
Climate Control package ($1000) with heated front seats, heated windshield and washer jets, heated steering wheel; satellite radio ($750)
Model Line Overview
Model lineup
Range Rover Evoque Pure Plus five-door ($41,145); Pure Plus three-door coupe ($44,995); Pure Premium five-door ($47,995); Pure Premium coupe ($49,395); Dynamic Premium five-door ($51,495); Dynamic Premium coupe ($52,895); Prestige Premium five-door ($51,595)
Safety equipment (standard)
dual stage front airbags, front side airbags, side curtain airbags, rear seat child seat anchors, front seat belts with automatic tensioning system, electronic stability control, traction control, ABS, Electronic Brake-force Distribution, Brake Assist, tire-pressure monitoring system, all-wheel drive, hill start assist, roll stability control, rear camera
Safety equipment (optional)
N/A
Engines
2.0-liter DOHC 16-valve direct injection turbocharged four-cylinder
Transmissions
6-speed automatic
Specifications as Tested
automatic climate control, leather front seats, navigation system, five-camera 360-degree surround system, adaptive xenon headlamps, auto high beam assist, 17-speaker surround sound audio, rear camera system with hitch assist and trailer stability assist, ambient lighting, power tailgate, Bluetooth connectivity, 8-inch touch-screen info center and voice control, tilt-telescope steering, 19-inch aluminum alloy wheels, puddle lamps, glass panoramic sunroof
Engine & Transmission
Engine
2.0-liter DOHC 16-valve direct injection turbocharged four-cylinder
Drivetrain type
four-wheel drive
Horsepower (hp @ rpm)
240 @ 5500
Transmission
EPA fuel economy, city/hwy
19/28
Torque (lb.-ft. @ rpm)
N/A
Suspension
Brakes, front/rear
vented disc/disc with ABS, EBD, Brake Assist
Suspension, front
MacPherson struts, lower control arms, antiroll bar
Tires
235/55R19
Suspension, rear
MacPherson struts with lateral and longitudinal links, antiroll bar
Accomodations
Seating capacity
5
Head/hip/leg room, middle
N/A
Head/hip/leg room, front
40.3/na/na
Head/hip/leg room, rear
39.7/na/na
Measurements
Fuel capacity
N/A
Trunk volume
51
Wheelbase
104.8
Length/width/height
171.5/64.4/77.4
Turning circle
37.1
Payload
N/A
Towing capacity
N/A
Track, front/rear
63.9/na
Ground clearance
8.4
Curb weight
3902
2012 Land Rover Range Rover Evoque
NADAguides Test Drive Review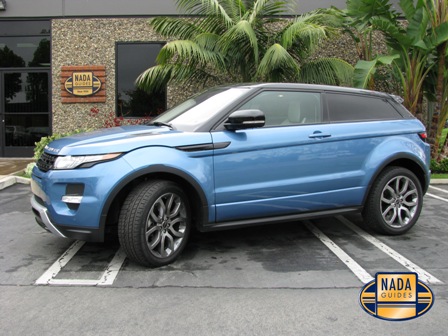 A cornerstone in Land Rovers future development of the Range Rover line, the 2012 Range Rover Evoque Coupe is an all new compact crossover available in both coupe and standard trim levels. Departing from conventional off-road design, the Evoque utilizes a uni-body construction to improve handling and ride quality, appealing to buyers who drive primarily on road. One major flaw is that the unique design in the rear of the vehicle creates a variety of blind spots. The rear windows are very small and don't allow for maximum visibility and although the Evoque is equipped with the Blind Spot Monitoring System, the windows could stand to be bigger so the driver feels more at ease.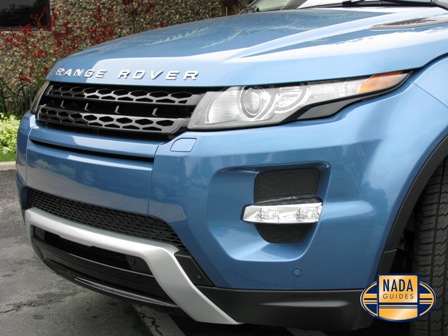 The exterior of the vehicle is fierce with narrow, wrapping headlights, side vents, black grille, sport exhaust tips, and a spoiler extension. Colors include black, grey, white, silver, and shades of blue/red. 20-inch shadow chrome alloy wheels and tight panels give the car a beefy appearance. Overall exterior materials are durable and well put together resulting in a sleek/sporty look.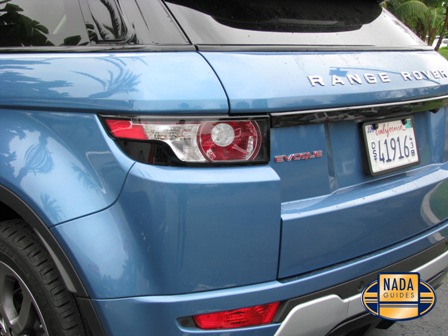 Under the hood drivers will find a 2.0-liter turbocharged direct injected 4-cylinder engine, paired to a 6-speed automatic transmission with paddle shifters, which yields 240 hp and 250 lb-ft of torque. The turbocharger is void of real lag and offers a great boost that maintains power nicely. This added power does not come without a cost; the Evoque's fuel mileage takes a hit with an EPA estimated 18 mpg city and 28 mpg highway. Performance specifications are impressive with a 0-60 time of 7.1 seconds and a top speed of 135 mph. Power-assisted 4 wheel disc brakes with 4-channel, all-terrain anti-lock braking system for on and off-road safety produces smooth braking, without abrupt stopping.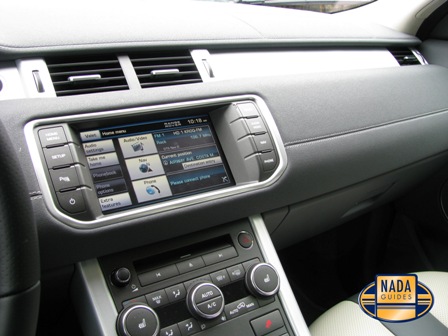 Attention to detail is employed with the interior layout. Buttons are flat which makes their appearance subtle, although the climate control buttons could be a bit simplified, they are little busy in comparison to the overall design. The advanced retractable rotary gearshift eliminates the clutter of an actual gearshift. A central layout provides ease of access and superior ergonomics. Interior quality of materials is excellent due to Lunar Perforated Grained Leather with Ivory contrast stitching (other choices include Ebony and Pimento, Ebony and Cirrus, and Lunar and Savannah). All colors and materials of the interior run throughout the car - on the door panels, rear seats, carpet and headlining (additional option). Comfort for driver and passenger is addressed with heated seats, power adjustable seats with memory (both driver and passenger), and dual zone automatic climate control system. The leather-wrapped tilt telescope steering wheel is very comfortable and easy to adjust up, down, away or towards the driver. Grip is smooth and with tilt telescope there is little to no obstruction of the dashboard.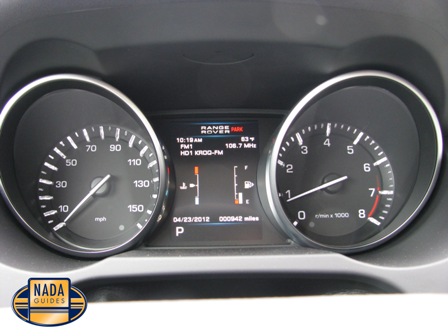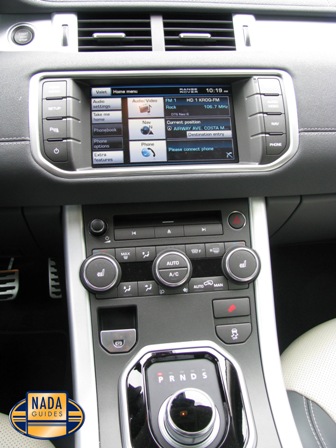 Considering the size of the vehicle, legroom is not too bad but it is more plentiful for front passengers than rear passengers (as expected with any coupe body style). The backseat of the Evoque is relatively small, good-sized adults may not fit comfortably in the rear seats (issues are not solely due to legroom but headroom is limited as well because of the downward slant of the roof). Two doors are extremely inconvenient for most vehicles, but especially for a crossover/SUV vehicle like the Evoque, making back seat accessibility somewhat of a challenge. That being said trunk space is decent, with the seats folded down there is more versatility for carrying larger cargo. All vehicle tools and settings are very easy to use. Everything is labeled appropriately reducing confusion and frustration.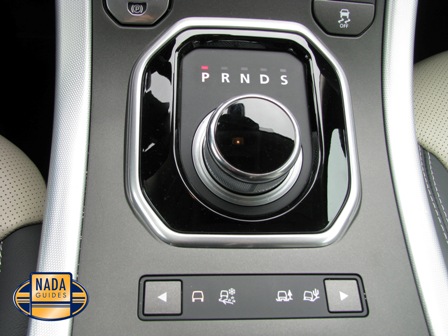 Parking is a breeze with the help of the Front and Rear Parking Aid system. Audible alarms sound when the sensors are triggered by an object within a specific distance from the vehicle and when the vehicle is in reverse, the audible alarms and rear view camera can be utilized as parking aids. EPAS (Electronic Power Assisted Steering) provides accurate and consistent steering capabilities no matter what the conditions are (at lower speeds, the steering is light and responsive, at higher speeds, the steering is firmer making the driver feel at ease). Features include heated windshield, washer jets and steering wheel, Retractable Rotary Gearshift that pops-up when the engine is started, and lowers down when the engine is shut off, interior illumination (shades of blue, ice white, pure red) in door handles, storage compartments under the center console, Bluetooth capable, Passive Keyless Entry - Key in pocket/purse will unlock the door once you place your hand on the door handle, push-button start, 8 inch touch screen with HDD Navigation System, Meridian Surround Sound System 825 Watt 17 speaker system - USB and Auxiliary input connections available, and a Powered Electrical Tailgate (open and close).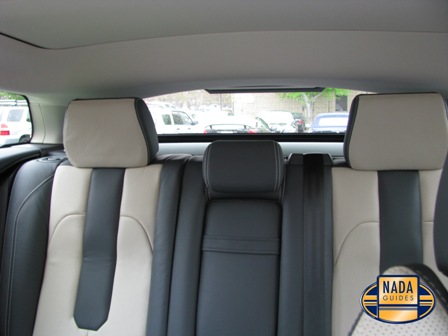 The Evoque has great ride quality with a fairly quiet cabin. Terrain Response system with Adaptive Dynamics allows the driver to select the setting that matches the terrain in which they are driving in: snow, mud, sand. This system allows the traction of the vehicle to adjust to the road condition making on-road and off-road driving easy for the driver. The Evoque may be heavy and sturdy but quick and nimble, all while keeping the driver at ease and feeling safe with absolutely no sway. Overall a unique crossover vehicle that is fun to drive the Evoque does lack in versatility. Fun for driving around town, but a long road trip is sure to raise protest from rear passengers. The turbocharged engine provides a boost of power that makes the ride thrilling and with the ability to wade into 19.7 inches of water adventure is right around the corner.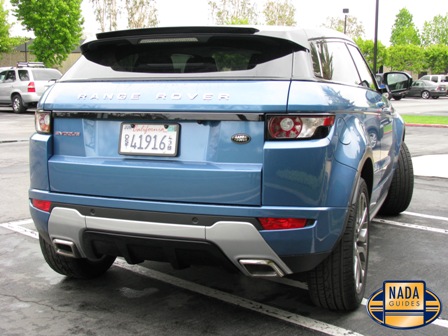 Search Local Cars for Sale
Vehicle History Report
Get answers to buy with confidence
Check for accidents
Confirm the reported mileage
Purchase multiple reports and save
Car Buying and Selling Resources