2012 Ford Edge Reviews and Ratings
Wagon 4D SE AWD
When shopping for a car, how important is vehicle safety?
Consumer Reviews
Own this vehicle? How would you rate it?
Please complete all star ratings before submitting.
Type your review and click the Submit button
to post your comments
600 of 600 character remain
Thank you for submitting your review of the 2012 Ford Edge
Customer Review
Be the first to review this 2012 Ford Edge.
View All Car Reviews
Expert Reviews ( 2 )
2012 Ford Edge
New Car Test Drive
Introduction
The Ford Edge is a balanced, versatile five-passenger vehicle that works for a lot of buyers in a lot of ways, and the 2012 models offer several new features that expand its appeal further.

The 2012 Ford Edge is now available with a 2.0-liter turbocharged four-cylinder engine called EcoBoost that achieves an EPA-estimated 30 miles per gallon Highway.

The 2012 Edge is quieter inside than last year's models thanks to new sound-deadening foam in the fenders and roof pillars and a thicker windshield. Also new for 2012 are subtle aerodynamic tweaks to all the models: re-shaped side mirrors and a new spoiler at the top of the liftgate. Launched as a 2007 model, Edge was re-styled and substantially improved for 2011.

The Ford Edge has been selling in strong numbers, and there's no mystery behind its success. With a blend of sedan and sport-utility attributes, Edge defines the idea of a so-called crossover vehicle. It mixes the ride and handling characteristics of a mid-size sedan with the high seating, commanding view and passenger/cargo flexibility of a conventional sport-utility vehicle. From there, Edge adds layers of appeal in a lot of different ways. For starters, it offers plenty of choices, in models, engines, drive configurations and features.

The 3.5-liter V6 that comes standard is smooth, solid and responsive. The slightly larger 3.7-liter V6 in the Edge Sport delivers the most horsepower and torque in the line, and more oomph than you'll find in a crossover anywhere south of full luxury brands. The new 2.0 EcoBoost delivers more than adequate power with its impressive fuel economy. Based on EPA ratings, all Edge variants deliver excellent fuel mileage compared with similarly configured competitors.

The Edge is not pretty, but it does look contemporary and, well, edgy. Its visual presence is defined by a long wheelbase and short overhangs past the tires at each end. Styling updates for 2011 minimized its barrel-shaped, toy-like impact and have given the Edge a more serious look. You probably won't notice the aerodynamic tweaks made to the 2012 Edge. EcoBoost models get special aerodynamic aids aimed at reducing drag.

A wide choice of models starts with the base Edge SE, which comes with all the essentials and plenty of niceties without overly complicated controls. The Edge Limited model approaches luxury grade with its leather upholstery, while the Edge Sport includes sporty paddle shifters for semi-manual shifting and piano-black trim.

Inside, the Edge presents the finish and ambience of a good sedan with nearly all the bells and whistles, including available premium audio, navigation and rear-seat DVD entertainment. The optional MyFordTouch voice/touch control interface will appeal to some buyers and has undergone its first round of refinement and improvement for 2012, but we found it cumbersome and annoying. Navigation and a rearview camera are useful options, though Ford doesn't have the best navigation systems.

Edge can be transformed from five-seat people hauler to cargo carrier with a few quick adjustments. It can carry an eight-foot ladder or bundles of lumber inside, and still seat two. Properly equipped, Edge can tow a substantial 3,500 pounds.

All-wheel drive is available on all models except the base SE. The AWD is a valuable addition in the right climate, but it takes a measurable toll on fuel economy.
Model Lineup
The 2012 Ford Edge is available with either a turbocharged four-cylinder engine or one of two V6s, in both front- and all-wheel drive. All models feature a 6-speed automatic transmission.

Edge SE ($27,550) comes with a 285-horsepower 3.5-liter V6 and front-wheel drive. It's equipped with air conditioning, single-CD audio with auxiliary input, a full complement of power features, Ford's MyKey parental control, rear privacy glass, projector beam headlights, and 17-inch alloy wheels. The 240-hp 2.0-liter EcoBoost four-cylinder ($995) is optional. The SE Equipment Package 101A ($800) includes a numbered security pad for door entry, satellite radio, rear obstacle sensing, automatic headlights, an auto-dimming rearview mirror, a compass, and a rear cargo management system.

Edge SEL ($31,080) adds more standard equipment, including dual-zone automatic climate control with particulate filter, a leather-wrapped steering wheel with cruise control and redundant audio controls, Ford's Sync voice-control system, a rear obstacle warning system, and 18-inch wheels with slightly wider tires. All-wheel drive ($1,995) is optional. The SEL Equipment Group 205A ($2,250) includes leather seating, MyFordTouch, rearview camera and ambient lighting.

Edge Limited ($34,935) upgrades with leather upholstery, heated front seats, rearview camera, a Sony audio upgrade with CD changer, MyFordTouch control interface, and chrome wheels.

Edge Sport ($37,110) is equipped like the Limited but with racier black exterior and interior trim, a 305-hp 3.7-liter V6, steering-wheel paddle shifters, and 22-inch wheels.

Options include a voice-activated navigation system ($795), a panoramic glass sunroof ($1,595), dual-screen rear seat DVD system ($1,995), and a power liftgate ($495).

Safety features on all Edge variants start with dual-threshold front airbags, front-passenger side impact airbags and head-protection curtains for all outboard seats. Standard active safety features include antilock brakes, Ford's ActiveTrack stability system with rollover mitigation, and a tire-pressure monitor. The Insurance Institute for Highway Safety rates the Edge a Top Safety Pick. The optional rearview camera and rear obstacle warning system can help alert the driver to a child behind the vehicle when backing up, the Vision Package adds a blind-sport warning system with cross-traffic alert, and all-wheel drive can improve handling stability in adverse conditions.
Walkaround
Ford Edge has come to define the idea of a so-called crossover vehicle, in concept and appearance. It clearly blends the more planted look of a traditional station wagon with the taller roof and seating position of a conventional sport-utility vehicle.

The Edge had a substantial overhaul in both content and styling for 2011, introducing a new grille, bumpers, lights, hood and fenders. For 2012, the changes are more subtle, and intended to improve aerodynamic efficiency.

By its exterior dimensions, the Edge is a bit odd in the current market place, because it doesn't align closely with many of its obvious competitors. It's substantially shorter in length than the Dodge Journey, Mazda CX-9, or Ford Explorer. The Edge has a much longer wheelbase than the Kia Sorrento. Overall, it comes closest in size to the Chevy Equinox crossover SUV. Edge is four inches shorter in overall length than the mid-size Toyota Camry and rides on a wheelbase that is a couple of inches longer.

The long wheelbase and short overhangs past its wheels define the appearance of the Edge as much as anything, creating a vehicle that looks like a toy. The cosmetic changes for 2011 introduced stronger creases throughout, minimizing the rolling-barrel quality and giving it a substantially more serious look.

The aerodynamic improvements for 2012 start with re-shaped side mirrors and a new spoiler at the top of the liftgate.

Models equipped with the 2.0-liter EcoBoost four-cylinder engine get more aerodynamic enhancements, including side-door rocker moldings and active grille shutters. If more air is required to cool the engine, the active grille shutters automatically open. If no airflow is needed, the shutters close, reducing aerodynamic drag and helping improve fuel economy.

Another efficiency for 2012 is low rolling resistance tires on models with 18-inch wheels (the majority sold). These tires have slightly harder rubber than conventional tires and require less energy to get and stay rolling. Ford says a 10 percent decrease in rolling resistance can translate to a 2 percent increase in fuel economy. Less rolling resistance means slightly less maximum cornering grip, however.

The Edge Sport stands out from the other models. The differences start with a tuxedo-black grille and a larger front spoiler, carry through 22-inch wheels and tires that look like rubber washers stretched around the rims, and end with larger, oval-shaped exhaust tips under the rear bumper.
Interior
Ford Edge defines the idea of a crossover vehicle inside as well as out. There's room for five sitting up high, in comfortable, sedan-style surroundings, but with a few quick adjustments there's SUV-like space for bulky cargo. The finish and materials have improved steadily since the Edge was introduced for 2007 and now approach luxury grade.

And the Edge is quieter inside than ever. Changes for 2012 focus on reducing noise in the cabin, starting with expandable foam baffles tucked into the fenders and roof pillars, and a thicker acoustically laminated windshield.

The Edge Sport is distinguished by aluminum foot pedals and black piano-finish trim, as opposed to wood-grain in the Edge Limited. The Sport is also the only model with shift paddles behind the steering wheel to manually operate the 6-speed automatic transmission.

The driver sits high, with a commanding view forward. The front seats are generally comfortable and large enough for big folk, reasonably well contoured and decently supportive. For 2012, a 10-way power driver's seat comes standard on all but the base SE model. The same seat is optional for the passenger side.

Edge comes with one of two different gauge and switch packages. The SE and SEL have a more conventional analog instrument cluster in front of the driver, a single 4.2-inch LCD information display at the top of the center stack of switches, and conventional climate and audio knobs and buttons below. The standard instrument package isn't flashy, but it's straightforward, easy to understand and very effective. The standard package is available with Ford's SYNC system, which allows phones and other devices to be connected wirelessly and controlled by voice commands.

Limited and Sport models come with a different instrument panel with a much larger central display, a flat panel of touch switches below that, and a pair of five-way thumb switches mounted on the steering wheel spokes. These elements comprise MyFordTouch (MFT).

MyFordTouch is an evolution of the Ford SYNC system. It puts two 4.2-inch LED displays in front of the driver, on either side of a big central speedometer, and another 8-inch LCD at the top of the center stack with its own color-coded graphics. In total, MyFordTouch controls and displays climate settings, audio adjustments, programming of automatic door locks, telephone operation, navigation, and SYNC Services (something like OnStar), a boggling array of other choices, including turn-by-turn directions, sports scores, fuel prices, movie listings, dining options, even horoscopes.

Climate and audio settings can be adjusted in four separate ways: by voice command, by the thumb buttons on the steering wheel, by touching the display screen, or by using the touch buttons in the switch stack below. Actually, the buttons are more like touch areas, without a mechanical button to operate. It's a little bewildering at first, mostly in terms deciding which of the four options to use for the intended adjustment, or in locating the touch points where the hard switch actually works, should you prefer to do it the old-fashioned way. The driver must use a carefully pointed fingertip to find the spot where the switch operates, not always easy when bouncing down the road.

Ford updated its MyFordTouch software for 2012, creating more distinct graphics and easier-to-use menus than those in the original MFT scheme. All future updates will be available for free download and installation via a USB thumb drive, and the 2012 updates are available for upgrading 2011 models.

In other words, MyFordTouch is improving. With a bit of time and familiarity, the various operations get easier. In some cases MFT can be fun to use in a high-tech way. Still, a lot of buyers will be a lot happier with the base system. The problem is that a lot of the bells and whistles offered on the Edge are only available if you take MyFordTouch.

Storage space for small items is good. There's a big, deep box in the center console, a good-sized glove box, bins molded at the bottom of the door panels and pockets on the front seatbacks. In total, there are eight cup or bottle holders and four 12-volt power points.

The rear seats have plenty of room, with the same high, clear view that's afforded in front. The rear seatbacks recline to the passenger's taste, and backs and bottom are decently contoured on the outside of what is essentially a bench. The Edge will work nicely for a family of four with two members in their mid-teens, but five is a crowd due to the small rear-center seat.

Cargo space is generous, with 32.2 cubic feet of volume behind the rear seat, and 68.9 cubic feet with the second seat folded flat. The rear seatback is split and folds easily. An optional fold-flat front seat helps accommodate long items. Folding the front-passenger and right-rear seatbacks forward provides space for an eight-foot step ladder or a load of two-by-fours inside the vehicle, with room left for the driver plus a passenger behind the driver. The lift-in height is just about right, and a power-operated tailgate is available.

Edge's stylishly curved exterior takes a small toll on interior space, however. Measured by absolute cargo volume, it ranks mid-pack among mid-size crossovers and SUVs. Toyota Venza and Kia Sorrento have bit more cargo room (maximum 70.1 and 72.5 cubic feet, respectively), and Ford's smaller Escape comes very close (67.2 cubic feet).
Driving Impressions
The Ford Edge fits the crossover theme right down to the way it drives. Its ride, handling and general dynamic behavior are much more like that in the typical sedan than in any truck. Yet the Edge offers the commanding view and longer in-traffic sight lines that one expects in a pickup or sport-utility vehicle.

Edge delivers better fuel economy than truck-based SUVs. By EPA ratings, it ranks near the top among comparable crossovers such as the Dodge Journey and Toyota Venza, regardless of engine or drive configuration.

The fuel-economy leader in the Edge lineup is the 2.0-liter EcoBoost four-cylinder engine. The 2.0-liter EcoBoost is one of the most sophisticated engines in Ford's lineup. With an advanced turbocharging setup, fully variable valve timing and extra-efficient direct injection, EcoBoost packs significant wallop for its size. With a peak of 240 horsepower, the 2.0 EcoBoost makes 45 fewer horsepower than Edge's standard 3.5-liter V6, or just 15 percent less. Yet the four-cylinder is nearly 50 percent smaller than the V6 by displacement.

Ford pitches the EcoBoost as the best of all worlds, with the power of a V6 and the economy of a four-cylinder. The marketing claims are true, sort of. If an engine is running at full throttle and producing 240 hp, it's using essentially the same amount of energy (or gasoline) whether it has six, four or two cylinders. So if a driver uses full throttle and all 240 horsepower a lot of the time, actual fuel economy gains with the EcoBoost will be much less significant.

But that doesn't mean there are no fuel savings. The four-cylinder will use less fuel than the V6 when it's idling, coasting down and sometimes when cruising at a steady pace, and if the driver is more judicious with the throttle in daily driving, the EcoBoost engine should deliver substantial fuel economy gains. EcoBoost earns an EPA rating of 21/30 mpg City/Highway, which Ford claims is higher than any crossover or SUV in its size class.

We liked the 2.0 EcoBoost Edge. While its EPA Highway ratings are 4 mpg higher than those for the standard V6, the four-cylinder turbo actually generates more peak torque (270 pound-feet compared to 253). And it's torque that translates into acceleration, particularly when starting at lower speeds. The EcoBoost seems just as quick as the standard V6, probably quicker in short bursts of acceleration, or changes of 20 mph or so. There's a notable rush when you floor it. The four-cylinder is also reasonably smooth, and we wouldn't expect the typical buyer to be pining for more power with the EcoBoost engine. Fuel savings over the life of the car should more than compensate for the additional $1,000 up-front cost of the EcoBoost option.

The 3.5-liter V6 is much stronger and more pleasing than the pre-2011 Edge engine. The V6 sounds strong in the lower gears, throaty and authoritative, but the Edge cabin is very quiet cruising in top gear, and conversation is easy in all quarters. If the V6 has an advantage over the EcoBoost four, it lies in an extra bit of smoothness, or perhaps a less-frenetic quality or an impression that it's not working quite as hard as the four-cylinder.

The Edge Sport's larger, 3.7-liter V6 delivers the most horsepower and torque available in the line. We reckon the Edge Sport is one of the quickest, most substantially powered crossovers available, short of the much more expensive V8s from luxury brands.

The 6-speed automatic transmission comes with an ordinary shifter on the base Edge SE, with a SelectShift manual-control shifter on the SEL and Limited models, and with SelectShift and wheel-mounted paddle shifters on the Sport. Shifted manually, the automatic has a crisp, positive feel. In full automatic mode, it shifts smoothly, and it's generally quick to respond at cruising speeds. If you need more acceleration when you're puttering along at 40, the Edge drops down a gear quickly when you press the gas pedal, and sometimes two gears if you floor it.

The problem, if there is one, is the automatic's general unwillingness to select or stay in first gear. This is generally because the engineers who designed its control program were trying to maximize fuel economy in all circumstances, but it has its drawbacks. If you're creeping through a parking lot toward the exit, for example, the transmission will already have shifted up into second. And if you see an opportunity to pull into traffic as you approach the street, stepping on the gas before you come to a full stop, the Edge's transmission won't shift back down into first, unless you completely floor the pedal, and then is doesn't downshift as quickly as we would like; if it downshifts, you'll get a stutter and then a very abrupt launch; if it doesn't downshift, you'll accelerate more slowly than you were expecting.

Otherwise, the Edge is always pleasant to drive, and generally responsive to the steering wheel. In aggressive maneuvers, it feels more top heavy than a sedan, with more lag time as the mass of the body catches up to what the tires and suspension are doing. Regardless, the Edge is more than responsive enough for typical family duty, and it travels comfortably smooth in all circumstances. There's nothing we'd call rough or truckish in its overall ride quality.

The Sport model's large wheels and low-profile tires improve steering response and they probably add more cornering grip, but they also extract a toll in terms of harshness, particularly when they are slamming over ruts and divots on bumpy roads. We like the Edge Sport, but it may be too firm for most buyers.

Ford has fixed what we thought was less than stellar brake feel in early Edge models. Almost everything in the braking system has been upgraded, and the feel at the pedal, where it counts, is vastly improved. The deceleration starts much earlier in the pedal travel, and the braking force is stronger and more linear than it was before. All the mushiness and indecision has been engineered out.

All-wheel drive is available on V6 models. Front-wheel drive is standard. The electronically controlled all-wheel-drive system operates full time, delivering most of the power to the front wheels most of the time, but sending torque to the rear wheels as needed to help balance traction. The AWD is a valuable tool, particularly in the Snow Belt, and we recommend it to owners who drive in wintry conditions. It can keep the Edge moving forward uninterrupted on snow-coated surfaces, with barely a slip or jog.

All-wheel drive comes with a notable fuel-mileage penalty: 1 mpg City and 2 mpg Highway with both V6 engines, according to EPA. That translates to hundreds of gallons of gas and thousands of dollars over the life of the vehicle, not to mention nearly $2000 up front buying the AWD in the first place. In California, Texas, Florida or large swathes of the South, we'd recommend the front-wheel drive.

Towing capacity may be another draw for crossover buyers, and the Edge does well in that category. Surprisingly, given its more powerful engine, the Edge Sport doesn't do as well as the SEL or Limited for towing. The Sport's maximum tow rating is 2,000 pounds, partly due to those low-profile tires. Properly equipped, the SEL and Limited can tow up to 3,500 pounds, and there's a trailer-sway control system tied into the traction and stability electronics. Trailer-sway control makes towing less nerve-wracking.
Summary
There's a reason Ford's Edge is a best seller among crossover vehicles. It defines what a crossover is supposed to be, mixing the smooth comfort and driving behavior of a solid sedan with the high seating, flexibility and cargo hauling space of a sport-utility vehicle. The Edge is stylishly edgy, and it offers a lot of choices in trim, features, and engines. Plus, there's a choice of front- or all-wheel drive. The 2.0 EcoBoost four-cylinder engine delivers more than sufficient power and the best EPA mileage ratings in the class. The V6 engines allow towing capacity up to 3500 pounds.

Jim McCraw reported from Nashville, Tennessee; with J.P. Vettraino reporting from Detroit.
Model as tested
Ford Edge SEL ($31,080)
Basic Warranty
3 years/36,000 miles
Assembled in
Oakville, Ontario, Canada
Destination charge
825
Gas guzzler tax
N/A
Base Price
27550
Price as tested
36430
Options as tested
EcoBoost 240-hp turbocharged I4 engine ($995); Equipment Group 205A ($2,250) includes leather seating, MyFordTouch control system, rearview camera, and ambient lighting; voice activated navigation system ($795); Vision Package ($485) includes blind-spot warning with cross-traffic alert
Model Line Overview
Model lineup
Ford Edge SE ($27,550); Edge SEL ($31,080); Limited ($34,935); Sport ($37,110)
Safety equipment (standard)
front-impact airbags, front passenger side-impact airbags, full-cabin head protection curtains, antilock brakes (ABS), AdvanceTrak electronic stability control (ESC) with rollover stability protection, tire-pressure monitor, SOS crash alert
Safety equipment (optional)
N/A
Engines
2.0-liter dual overhead cam turbocharged inline-4
Transmissions
6-speed automatic
Specifications as Tested
fabric upholstery, 10-way power adjustable driver's seat, dual-zone automatic climate control with particulate filter, AM-FM stereo with single CD, XM satellite radio hardware, auxiliary input, Sync voice control and 4.2-inch LCD display, power windows, mirrors and locks, cruise control, leather-wrapped tilt/telescope steering wheel with audio controls, auto-dimming rearview mirror, MyKey parental control, center console with storage box, overhead map lights, illuminated vanity mirrors, eight cup or bottle holders, four 12-volt power points, 60/40 fold-flat rear seat, cargo light, rear cargo management system and net, carpeted floor mats, rear privacy glass, automatic halogen projector-beam headlights, no-cap fuel filler, 18-inch painted alloy wheels
Engine & Transmission
Engine
2.0-liter dual overhead cam turbocharged inline-4
Drivetrain type
front-wheel drive
Horsepower (hp @ rpm)
240 @ 5500
Transmission
EPA fuel economy, city/hwy
21/30
Torque (lb.-ft. @ rpm)
N/A
Suspension
Brakes, front/rear
vented disc/disc with ABS, electronic brakeforce distribution
Suspension, front
independent MacPherson strut, stabilizer bar
Tires
P245/60HR18
Suspension, rear
independent trailing arm with coil springs, stabilizer bar
Accomodations
Seating capacity
5
Head/hip/leg room, middle
N/A
Head/hip/leg room, front
40.0/58.9/40.7
Head/hip/leg room, rear
39.3/58.7/39.6
Measurements
Fuel capacity
N/A
Trunk volume
68.9
Wheelbase
111.2
Length/width/height
184.2/76.0/67.0
Turning circle
39.3
Payload
N/A
Towing capacity
3500
Track, front/rear
65.4/65.2
Ground clearance
7.9
Curb weight
3998
2012 Ford Edge
NADAguides Test Drive Review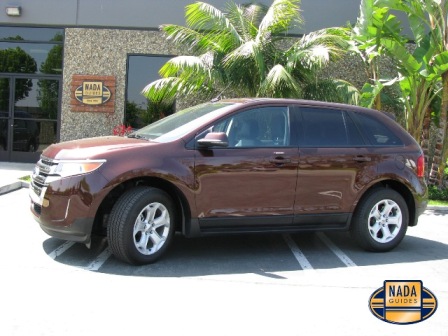 The
2012 Ford Edge SEL FWD
is a mid-size SUV that was first introduced in the United States in 2006. The Edge is built on the Ford CD3 platform; shared with the Ford Fusion, Mercury Milan, Lincoln MKZ, and Mazda CX-9. The 2011 model year underwent a mild redesign that carried over into the current model. Size is no issue for the Edge, the SUV is easy to maneuver (even in smaller parking spaces) and the weight is well-balanced giving all driving situations a sense of security. Swerving is virtually non-existent and control is easily maintained at all speeds. The Edge has a turning diameter, curb to curb, of 39.3 feet (a pretty good turning radius for a vehicle of this size).
All exterior panels are tight with slightly visible lines for a clean finish and the use of heavy duty materials make for a very durable, tough feel. Sportiness is accentuated through bold accents (chrome finishes and a black grille) and polished aluminum wheels (up to 22-inch) with black spokes. Narrow, high intensity headlamps wrap around the sides of the vehicle, granting the Edge a sleek look.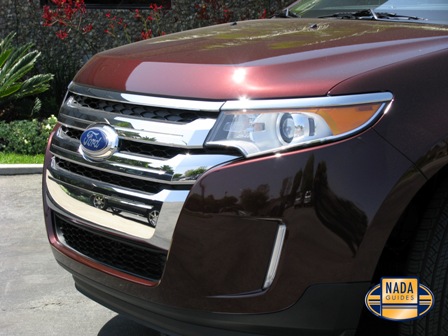 The Edge is equipped with a 2.0-liter 4-cylinder twin-turbocharged direct injected EcoBoost™ engine that produces 240 hp and 270 lb-ft of torque. Sufficient power and a 6-Speed SelectShift Automatic transmission makes for smooth acceleration, with no jolting, and responsive handling. Fuel mileage falls within an EPA estimated range of 21 mpg city to 30 mpg highway. Braking is both firm and active, with reasonable timing and distance.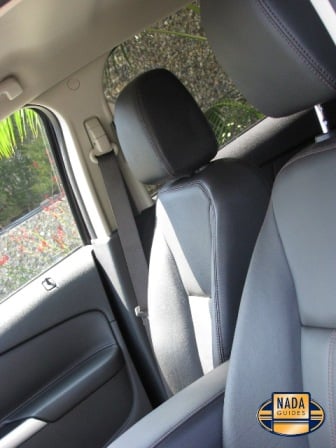 Interior engineering is well-crafted and stylish. All interior materials are clearly made from high-quality products built to last and the leather materials are firm but plush. The overall design is smooth and everything is laid out evenly and cleanly, eliminating clutter. The four door layout provides ease of access to the backseat for passengers, and adults will be more than comfortable in the second row with 39.6 inches of legroom and 39.3 inches of headroom. Comfort is taken above and beyond by dual zone climate control, heated seats, and 10-way power seating. Drivers will find themselves at home behind the wheel due to tilt/telescope steering wheel adjustments, solid leather grip, and conveniently placed steering wheel controls (cruise control, audio controls, instrument display options, and VOICE control). Interior features are practical in regards to placement, within reach and incredibly intuitive, including navigation, hands-free phone setup, and voice command. Second row seating folds down to 40/60, allowing for plenty of cargo space, but when all seats are upright trunk space can be a bit limiting.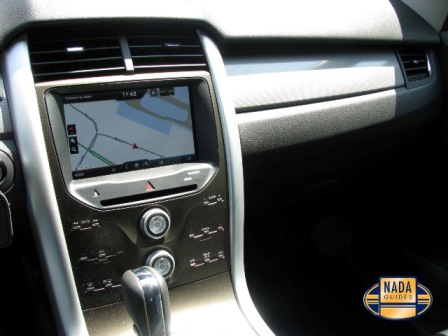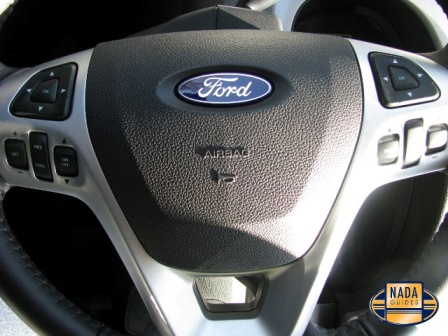 Features include a central 8" screen with rear backup camera coverage, reverse warning system, Blind Spot Information System with cross-traffic alert, LED side mirror turn signals, audio/video input jacks, heated front seats, keyless entry, vehicle health report, navigation with real time traffic, SIRIUS satellite radio, 6-speaker audio, Microsoft SYNC®, MYFORD TOUCH® and a power lift gate.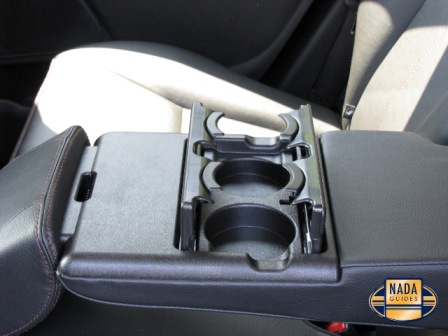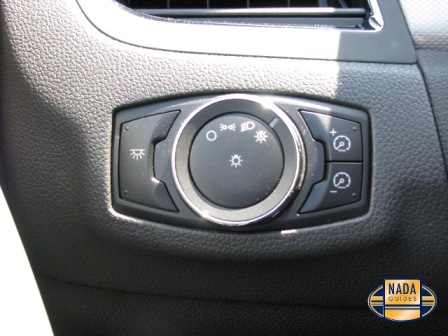 Overall the
2012 Ford Edge SEL FWD
is a superior blend of comfort, style, and sportiness. Cabin noise is minimal and the ride is similar to smaller cars due to front independent suspension (with stabilizer bar) and rear independent multi-link suspension (also with stabilizer bar). Something to note is the minor blind spot due in part to the back seat headrests; only a slight drawback. Overall the vehicle provides a very desirable ride in all situations; day-to-day driving and long road trips.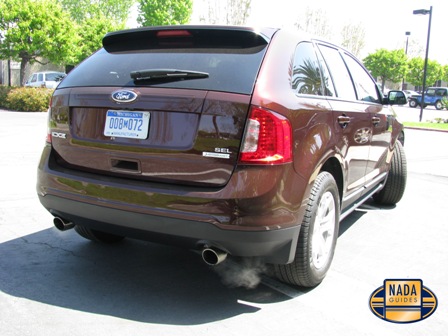 Search Local Cars for Sale
Vehicle History Report
Get answers to buy with confidence
Check for accidents
Confirm the reported mileage
Purchase multiple reports and save
Car Buying and Selling Resources