2012 Chevrolet Camaro Reviews and Ratings
Coupe 2D ZL1 (V8, 6 Spd /AT)
When shopping for a car, how important is vehicle safety?
Consumer Reviews
Own this vehicle? How would you rate it?
Please complete all star ratings before submitting.
Type your review and click the Submit button
to post your comments
600 of 600 character remain
Thank you for submitting your review of the 2012 Chevrolet Camaro
Customer Review
Be the first to review this 2012 Chevrolet Camaro.
View All Car Reviews
Expert Reviews ( 2 )
2012 Chevrolet Camaro
Sam Moses
Introduction
It's the 45th year of Camaro, an icon from the day it was born as a 1967 model. To commemorate, there's a 2012 Camaro SS 45th Anniversary edition with a powerful V8. The standard V6 has been upgraded for 2012, and a new ZL1 is available.

Camaro convertibles are equipped like the coupes but feature a soft top fitted with acoustical foam in the headliner to minimize noise with the top up. This latest-generation Camaro was designed from the outset to include convertible models, and reinforcements were added in four key areas to increase rigidity.

2012 Camaro LS and Camaro LT models come with a 3.6-liter V6 engine that's been revamped with many improvements. For 2012, there's a new cylinder head design with integrated exhaust manifolds, improved intake ports, larger intake valves, longer-duration camshafts, a composite intake manifold, new fuel pump, optimized-flow fuel injectors, cylinder block enhancements, stronger and lighter connecting rods, and finally a cleaned up camshaft cap and throttle body. This new engine makes 323 horsepower, 11 more than before, and it weighs 20.5 pounds less.

The revised V6 delivers better fuel mileage for the 2012 Camaro LS; the 2LS model, which uses a tall 2.92 rear axle ratio, gets an EPA-estimated 19/30 miles per gallon City/Highway. In terms of power, the V6 can pretty much pass for a V8, a bonus for the price. The V6 on 2012 models revs to 7200 rpm, which is 200 rpm sweeter than before. The V6 offers a choice between 6-speed manual transmission and 6-speed automatic (with semi-manual shifting).

Camaro SS uses the 6.2-liter Corvette V8, making 400 horsepower with a 6-speed automatic or 426 horsepower with a Tremec 6-speed manual gearbox (same as Corvette). The SS uses firmer shocks, springs and anti-roll bars than the V6 models, but the ride doesn't suffer for it. A limited-slip rear differential is included to reduce wheel spin when trying to put all that power down. With the optional 6-speed TAPshift manual automatic transmission, the SS uses a slightly different 6.2-liter V8, with Active Fuel Management. It makes only 400 horsepower and 410 pound-feet of torque.

The 2012 Camaro SS 45th Anniversary edition comes in black (Carbon Flash Metallic), with retro reddish-orange stripes on the bulging hood and deck, new 20-inch painted aluminum wheels, and special interior trim with 45th anniversary badging.

Stealing the headlines is the uber high-performance 2012 Camaro ZL1, making 580 horsepower by adding a supercharger to its 6.2-liter V8. It can accelerate from zero to 60 in 3.0 seconds and hit 184 mph, according to Chevrolet. While testing at the Nurburgring, the Camaro ZL1 set a lap record, beating the Porsche 911 GT3. At $55k the ZL1 is cheap, given its level of performance. GM is proving something to the likes of Porsche, Audi, BMW, Mercedes, and Maserati.

We found the handling, ride and brakes to be excellent in both the Camaro LT with the V6 and the Camaro SS with the big V8, although the SS suspension is stiffer and its 20-inch tires are firmer. The chassis structure is rigid, helping make turn-in precise for a car this size; grip is secure, and damping is solid and supple. We never encountered a harsh moment with the ride, in either model, during a full day of hard driving east of San Diego in both of them, and later a full week in the Pacific Northwest with a 426 horsepower Camaro SS with the 6-speed. We found the handling balance of the Camaro SS excellent.

As for the brakes, the Camaro LT stops superbly. The Camaro SS uses four-piston Brembo brakes, but because it's 200 pounds heavier, the stopping distance isn't much shorter. However, the Brembos with four-piston calipers make the brakes on the SS more resistant to fade, important on race tracks and mountain roads where the brakes are being used repeatedly.

The automatic transmission does what you tell it to do when using the TAPshift manual feature, nothing more. We love that. But the 6-speed manual transmission with the V6 is the most all-around usable sporty combination. We like the manual with the V6 because 426 horsepower is overkill on the street. The gearbox is solid but not quite slick, and the throws are shorter than some. The 6-speed shifts nicely, including easily down into first gear for hairpin turns.

Inside, the cabin is quiet, so 80 mph feels more like 70. Interior materials are good, but the instrumentation is disappointing, with GM still trying to be retro rather than clean with gauges. The bucket seats are comfortable, with decent bolstering. The front seat slides 8.5 inches and the steering wheel tilts and telescopes, so drivers of all sizes will fit, most notably Camaro's many female buyers. The standard cloth upholstery is good, with excellent leather available in black, gray, beige, and two-tone Inferno Orange. The windows are small, with high doorsills for safety, and the A-pillars wide, so it makes the cockpit feel a bit like a cave. Visibility through the windshield is compromised by the long hood and raked windshield, although careful location of the driver's seat helps. Rear visibility over the driver's shoulder isn't very good, but then it's impossible to make it good with a roofline this sporty. Rear seat legroom measures a meager 29.9 inches, so you'll want to avoid sitting back there.
Model Lineup
Camaro LS ($23,200) comes with the 3.6-liter V6 and 6-speed manual transmission. Not a bare-bones model, the Camaro LS comes with cloth upholstery, manually operated air conditioning, power windows, power locks, power mirrors, cruise control, telescopic steering wheel, six-speaker AM/FM/XM/CD/MP3 sound system, Bluetooth, OnStar with turn-by-turn route guidance for six months, limited slip differential, 18-inch steel wheels. (Prices are Manufacturer's Suggested Retail Prices and do not include the destination charge.) The 2LS ($1,200) comes with the 6-speed automatic transmission with TapShift manual controls on the steering wheel and a 2.92:1 axle ratio and rear spoiler.

Camaro LT ($25,200) upgrades with sport cloth seats, six-way power front seats, foglamps and integral front fascia, and 18-inch painted aluminum wheels. The 2LT ($28,350) includes leather upholstery and 9-speaker Boston Acoustics sound system, Head Up display, rearview camera, 19-inch aluminum wheels, and the gauge cluster with oil temp, oil pressure, volts, and transmission fluid temperature.

Camaro SS ($31,850) features the 6.2-liter V8, a Tremec 6-speed manual gearbox (same as Corvette) with limited slip differential, and the Sport cloth seats. The SS has special exterior trim, a beefier suspension, 20-inch painted aluminum wheels, and four-piston Brembo disc brakes. The 2SS ($3,600) upgrades to leather-appointed seats, heated front seats, rearview camera, multi-function auxiliary gauges, head-up display, Bluetooth, PDIM wireless auxiliary device control, Universal home remote, steering wheel-mounted controls, auto-dimming mirror, heated mirrors. There's a new optional suspension package for the SS models, called FE4. The 45th Anniversary package ($1,375) includes the retro hood and deck stripes, HID headlamps with integrated LED halo rings, 20-inch aluminum wheels, and interior trim with accent stitching and anniversary logos.

Camaro ZL1 adds a supercharger to the 6.2-liter V8 to get a mind-bending 580 horsepower and 556 foot-pounds of torque, with traction control and magnetic ride control.

Camaro LT Convertible ($30,100) and Camaro SS Convertible ($37,900) are equipped similarly to the coupes. Nine production exterior colors are available, with tops in black or tan.

Safety equipment on all Camaros includes electronic stability control with traction control, anti-lock brakes, frontal airbags, front side airbags, airbag curtains, and tire pressure monitor. A rearview camera is optional.
Walkaround
This latest-generation Camaro, completely redesigned for 2010, captures the look of the original '67, though it's bigger in every dimension: longer, wider and taller.

Viewed head-on, classic 1969 Camaro headlights appear. Behind the shark nose with black mesh grille, up on the long aluminum hood, there is a suggestive power bulge for the V8 engine. It's the long hood and shark nose that catch your eye and trigger your longing. The SS has an additional wide and thin black simulated intake on the nose.

Slight twin humps on the roof are visible at the top of the steeply raked 67-degree windshield that helps produce a 0.37 Cd in the LS and LT, and 0.35 Cd in the SS.

Viewed from the rear, and especially from above, the lines suggest the 1963 fastback split-window Corvette. That classic Corvette made a strong impression on the Camaro's young designer, Sang Yup Lee, who came to the U.S. from Korea as a boy and grew up in the California car culture.

Styling gills located just forward of the rear wheels add a nice touch to the Camaro. Even though the power dome hood and cooling gills are not functional, they all work as touches of style and don't come across as phony.

The shapely strong hips stand out, like the long hood, an edgy element the designer is most proud of, because they took so much work. He said it took 113 tries to get the one-piece sheetmetal right, from the doors and pinched beltline rearward. There's no indifferent craftsmanship with this car, that's for sure.

The rigid B-pillar is blacked-out, thus creating a clean outline for the side glass, blending into a handsome hardtop roofline. The short rear deck climbs upward and looks hot. The twin taillights look like blinking red sunglasses in each corner, under the small lip of a rear spoiler.

The convertible chassis is reinforced to stiffen the body structure, with a cross brace under the hood to connect the front shock towers, a transmission brace, an underbody tunnel brace, and underbody V-shaped braces front and rear. This helps the convertible ride and handle more like the coupe. Chevrolet says the convertible chassis is rigid enough that the suspension didn't need to be changed from the coupe, and that the Camaro convertible has more torsional stiffness than the BMW 3 Series convertible.

Designers and engineers erased the appearance of ribs in the convertible top, by using composite rather than aluminum knuckles, extending the material below the beltline, and revising the stitch lines. The result is a top that appears smooth, taut and carefully tailored, while retaining the sleek roofline of the coupe.
Interior
The cabin is oriented more around style than function.

The standard cloth bucket seats are good, although the bolstering isn't fully there for hard cornering. It's a tough compromise to make, given the spectrum of Camaro buyers. The low bolsters make getting in and out of the Camaro easier. Excellent leather upholstery is available in black, gray, beige and two-tone Inferno Orange, and interior materials are good. The front seat slides 8.5 inches and the steering wheel tilts and telescopes, so drivers of all sizes will fit. The stitched leather wrap on the steering wheel is nice, and the wheel itself has been changed for 2012.

The instrumentation graphics have been revised for 2012, and the new instruments are better. A recessed speedometer and tachometer are set in square housings, a nod to the classic Camaro interior. Between those two big gauges is a driver information center controlled via a stalk on the steering column.

The climate control buttons on the center stack appear to have been designed for looks, and thus aren't as functional as they could or should be. An optional console-mounted gauge package includes oil pressure, oil temperature, volts and transmission fluid temperature. The information is good, although the location down by the driver's knee makes it difficult to see while driving.

The windows are small and the A-pillars are wide, so it makes the cabin feel a bit cave-like. Visibility through the windshield is compromised by the long hood and raked windshield, although careful location of the driver's seat helps. Rear visibility over the driver's shoulder isn't very good, but then it's impossible to make it good with a roofline this sporty.

The trunk is deep but the opening isn't large and it's almost flat. This compromise is worth it for the handsome rear deck. There's a pass-through to the trunk behind the rear seat, which isn't easy to crawl into, and feels like a pit.

Rear-seat legroom measures 29.9 inches, a distinction, as few cars today break below that 30-inch mark. You'll want to avoid riding in the back seat.

The convertible top is made of thick, durable canvas. An acoustical headliner material is designed to provide a quiet, coupe-like ride when the top is up, and the soft top incorporates a glass rear window and rear window defogger. The power folding convertible top retracts in about 20 seconds. It folds in a simple Z-pattern and latches with a single handle located at the center of the windshield header. The transmission doesn't have to be in Park for the top to be activated, allowing fast lowering while stopped at a red light, or when it starts raining in a dead-stop traffic jam.
Driving Impressions
The Camaro chassis is engineered well. The rigid structure makes the turn-in precise for a car this size; the grip is secure, and the damping is solid and supple, with both the V6 (FE2 suspension) and firmer V8 (FE3). The front suspension uses struts, and the rear is an independent multi-link that's rubber isolated.

The Camaro is a hefty car, 3860 pounds for the V8 and 3800 for the V6, so the handling couldn't be called nimble, just secure and satisfying. The new Mustang is nearly 300 pounds lighter, and feels it.

We never encountered a harsh moment with the ride, in either the LT or the SS. We spent week in a 426-hp SS in the Pacific Northwest, and before that one day driving east of San Diego, where we had the chief designer, Canadian Gene Stafanyshyn, riding shotgun and giving us the backstory. He's the guy you can thank for the true programming of the TAPshift manual automatic transmission. It does what you tell it to do, nothing more. We love that. Stafanyshyn said he too hates manual automatic transmissions that shift on their own.

One especially nice thing about the transmission is that when you're in sixth gear on the freeway and lightly accelerate, it won't kick down when it doesn't need to. It uses its sufficient torque.

The Camaro LT with its 3.6-liter V6 shines. We said it was the future in 2010, and we must have been right because now, two years later, other manufacturers (most notably Ford) have powerful and efficient new V6 engines. The Chevy V6 sounds sweet and gets 30 miles per gallon highway with the 6-speed automatic and optional 2.92 rear axle ratio. With the standard 3.27 gear, it accelerates from 0-60 mph in 5.9 seconds, and will do the quarter mile in 14.4 seconds, which is quick in anyone's book.

The LT will also stop from 60 mph in a superb 106 feet, as measured by Motor Trend magazine, or 128 feet according to GM. Surprisingly, the SS with its four-piston Brembo brakes doesn't do much better, but the Brembos can be used harder without fade. And the vented rotors are huge, 14 inches front and 14.4 inches rear on the SS, compared to the LT's matching fronts and 11.8-inch rears.

The V6 LT with a 6-speed manual gearbox is the most versatile sporty engine-transmission matchup. The gearbox is smooth if not buttery, and easily shifts down into first gear for hairpin turns. Chevrolet says the throws are short, yet there's a Hurst short-throw shifter available as a dealer option. We'll take it. We tested it in the Shelby Mustang, and it made a world of difference.

Two 6.2-liter V8 engines are offered in Camaro SS models: the 426-horsepower LS3 is paired with manual gearboxes, while the 400-horsepower L99 comes in cars with automatics. Both engines are derived from the engine that debuted on the 2008 Corvette, with an aluminum block with cast iron cylinder liners, and aluminum heads. The L99 features the Active Fuel Management System, which saves fuel by shutting down half of the engine's cylinders during certain light-load driving conditions, such as highway cruising.

The Camaro SS is humongous fast, so if you're driving it hard, you're deep into the danger zone with the law or you're on a race track. Its throaty exhaust turns heads. The SS with the manual transmission and 426-horsepower engine revs to 6600 rpm, while the automatic with its 400 horsepower only revs to an underachieving 6000.

It's hard to say who wins the perennial muscle-car battle between the Camaro, Mustang GT, and Dodge Challenger; those with a favorite aren't likely to change their minds. But a battle of the stats gives the Mustang the edge, with its beautiful new 32-valve 5.0-liter engine. We think it's more enjoyable to drive, too. The Mustang wins the pounds-per-horsepower battle, 8.7 to 9.1 (412/3580 vs. 426/3860), but the Camaro SS still wins in the quarter-mile, 13.0 to 13.2. Not that two tenths of a second makes any difference in how much you enjoy your car.
Summary
The Chevrolet Camaro offers all the classic benefits of a Camaro: striking lines, powerful engines, great transmissions, superb handling and ride, good V6 gas mileage, great prices. Interior visibility is limited, pinched because of the car's shape. And the back seats are not for adults. The front seats are good, but the retro-wannabe instrumentation will leave you flat if you're looking for function. In short, drivers who have wanted a Camaro will not be disappointed.

NewCarTestDrive.com correspondent Sam Moses drove the Camaro coupe and convertible models near San Diego and in the Pacific Northwest.
Model as tested
Chevrolet Camaro 2SS Coupe ($35,450)
Basic Warranty
3 years/36,000 miles
Assembled in
Oshawa, Ontario
Destination charge
900
Gas guzzler tax
N/A
Base Price
23200
Price as tested
37725
Options as tested
45th Anniversary package including stripes, HID headlamps with LED halo rings, 20-inch aluminum wheels painted Midnight Silver, interior with accent stitching ($1375)
Model Line Overview
Model lineup
Chevrolet Camaro LS ($23,200); LT Coupe (425,200), LT Convertible ($30,100); SS Coupe ($31,850), SS Convertible ($37,900); ZL1
Safety equipment (standard)
dual-stage frontal airbags, side-impact airbags in front, airbag curtains, tire pressure monitor, anti-lock brakes, electronic stability control with traction control
Safety equipment (optional)
N/A
Engines
6.2-liter V8
Transmissions
6-speed manual
Specifications as Tested
heated leather seats, heated mirrors, Boston Acoustics 9-speaker 245-watt audio system, Bluetooth and USB port, remote starting, console mounted gauges, Head-Up display, rearview camera, OnStar Directions and Connections for 6 months, foglamps, halogen headlamps
Engine & Transmission
Engine
6.2-liter V8
Drivetrain type
rear-wheel drive
Horsepower (hp @ rpm)
426 @ 5900
Transmission
EPA fuel economy, city/hwy
16/24
Torque (lb.-ft. @ rpm)
N/A
Suspension
Brakes, front/rear
Brembo disc/disc w ABS, Brake Assist
Suspension, front
independent, strut
Tires
245/45ZR20 front, 275/40ZR20 rear
Suspension, rear
independent, multi-link
Accomodations
Seating capacity
4
Head/hip/leg room, middle
N/A
Head/hip/leg room, front
37.4/na/42.4
Head/hip/leg room, rear
35.3/na/29.9
Measurements
Fuel capacity
N/A
Trunk volume
11.3
Wheelbase
112.3
Length/width/height
190.4/75.5/54.2
Turning circle
37.7
Payload
N/A
Towing capacity
N/A
Track, front/rear
63.7/63.7
Ground clearance
N/A
Curb weight
3860
2012 Chevrolet Camaro
NADAguides Test Drive Review
Originally designed to compete with the
Ford Mustang
, the
Chevrolet Camaro
has stolen the hearts of muscle car fans from the moment it was debuted in 1966. The Camaro underwent numerous redesigns carrying the vehicle into the early 2000s but production was terminated after the 2002 model year. Fortunately for muscle car enthusiasts, Chevrolet returned a retro designed Camaro in 2010, filling the pony car void in their lineup.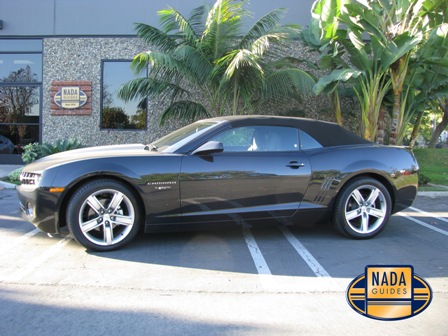 The
2012 Chevrolet Camaro 2LT Convertible
combines everything drivers love about the original Camaro with the excitement of a drop (soft) top convertible. Exterior design boasts aggressive throwback styling with plenty of muscular attitude that is sure to make heads turn. A 45th anniversary package adds 20-inch alloy wheels, HID headlamps with LED halo rings, and stainless steel dual exhaust. Making your Camaro stand out from the crowd should be a breeze with the plethora of color options and stripe packages. Overall exterior elements have a good fit and finish but the materials could stand a more durable feel.
Under the hood of the Camaro is a 3.6L direct injected SIDI V6 engine that produces 323 hp and 278 lb-ft of torque. The V6 engine is suitable for day-to-day driving but still offers more than enough power, and with the 6-speed (tap shift) automatic transmission, gaining and maintaining speed is easy. The 4-wheel ABS with 4-wheel disc brakes provides ample braking distances for reasonable driving. Power output is not smooth in every condition and although handling is very good for sportier driving conditions, drivers should look to the tighter suspension of the SS trim level.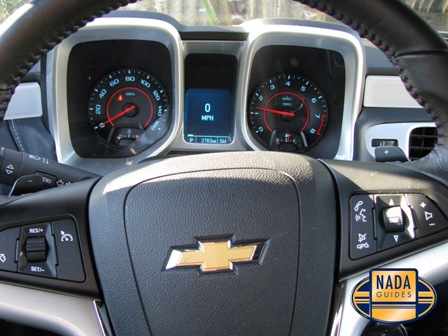 Interior elements show attention to detail with features like a leather trimmed shift knob and accent stitching with 45th (anniversary package) logos. Leather appointed front bucket seats are very comfortable due to heated seats and 6-way power controls. All comfort/audio controls are very intuitive, and thanks to the heads-up display, it's easy to keep your eyes on the road while reading gauges. The interior leaves something to be desired; inexpensive "plastic-type" materials don't give the car enough credit and fail to match the interior elements of competing sports cars. Other drawbacks include an uncomfortable steering wheel design, a 2" high digital display, minimal trunk space, and small backseat.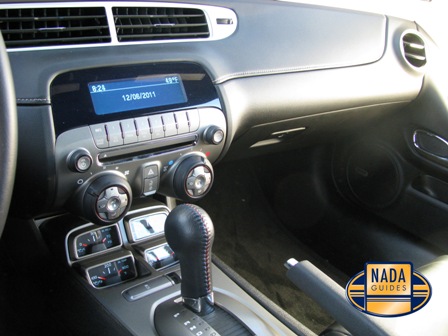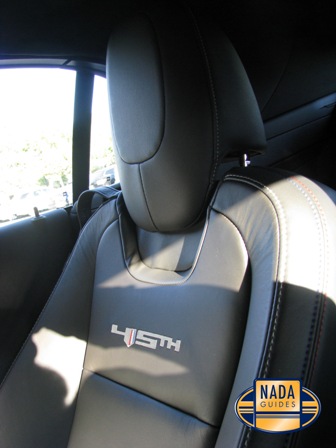 Parking features include a rear camera with inside rearview mirror display and Ultrasonic Rear Park Assist, both aid in maneuvering this wide vehicle into small spots. Other features include hands-free phone capabilities, Universal home remote, remote keyless entry, Satellite radio, Boston Acoustics® premium eight-speaker stereo system, Personal Device Interface Module (PDIM), steering wheel mounted controls, 3 USB ports, tire pressure monitoring system (TPMS), battery rundown protection, air filtration system, 2 auxiliary power outlets, 6 months of Onstar directions and connections with automatic crash response/turn-by-turn navigation, and remote trunk release.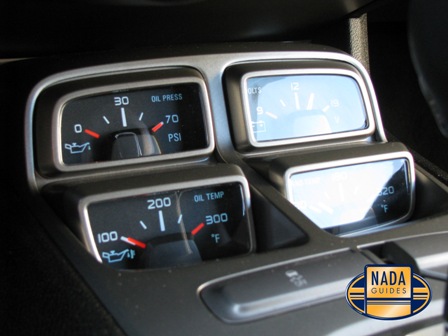 When turning corners, there is a slight rolling feeling, mostly due to the convertible frame. Despite the minor roll, the Camaro feels pretty safe as a result of a stiffened driveshaft tunnel, rear braces under the body, and traction control aided by the Stabilitrak Stability Control. Blind spots can be reduced with the top down but a high hip line does impede driver visibility around the rear of the vehicle. Overall, this fun-to-drive, mean-looking, eye-catching machine is an exciting car that you will enjoy over and over.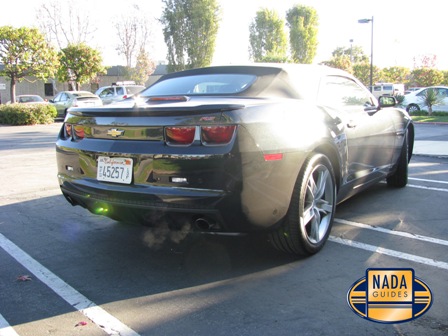 Search Local Cars for Sale
Vehicle History Report
Get answers to buy with confidence
Check for accidents
Confirm the reported mileage
Purchase multiple reports and save
Car Buying and Selling Resources