2011 MINI Cooper Countryman Reviews and Ratings
Wagon 4D Countryman
When shopping for a car, how important is fuel efficiency?
Consumer Reviews
Own this vehicle? How would you rate it?
Please complete all star ratings before submitting.
Type your review and click the Submit button
to post your comments
600 of 600 character remain
Thank you for submitting your review of the 2011 MINI Cooper Countryman
Customer Review
Be the first to review this 2011 MINI Cooper Countryman.
Expert Reviews ( 2 )
2011 MINI Cooper Countryman
G.R. Whale
Introduction
The Mini Countryman is an all-new model for the brand, larger than any Mini before, with four doors and available all-wheel drive. Everything outside looks new, but many of the basic bones of the car are identical to or derived from other Mini Cooper models, including the engines. It's as much a car for new buyers as for Mini owners with new friends, a larger dog, or another offspring.

The rear seats are a bit more spacious in the Countryman than they are in the regular Mini Coopers. All Mini Coopers have four seats, but the Countryman is a realistic four-adult car.

The Countryman has also four conventional doors, so it's easier to get in or load kids, and can handle 41 cubic feet of cargo space behind the front seats or a third of that in the deep trunk.

Both the standard 121-hp four-cylinder and the 181-hp turbocharged engine of the S model are proven in Coopers. The 2011 engines are slightly more powerful than the 2010 versions. The turbo's primary advantage isn't so much the 60-hp bump as is the additional torque available over a much broader engine speed range, which makes the car more responsive in everyday driving.

Both the 6-speed manual and 6-speed automatics work well and are offered with either engine; all-wheel drive comes only with the turbo.

Fuel economy ratings range from an EPA-estimated 27/35 mpg City/Highway for a front-wheel-drive Countryman with the manual gearbox to 24/31 mpg for a Countryman ALL4 automatic.

Agility has always been a Mini hallmark, one frequently likened to kart-like handling. Perhaps that's why they designed to roof to resemble a helmet. The Countryman is no different, with crisp handling and response to driver direction that is the envy of most other crossovers. Indeed, we found the Countryman jolly good fun to drive, though it hasn't the razor-sharp reactions of a Cooper hardtop or Clubman.

Any Mini driver will find the cabin familiar, with a few additions and revisions. Recurring styling themes with unusual controls and instruments highlight the space and it remains functional and quite useful. With some options, the electronic interaction with an iPhone will send tweets automatically and offer a soundtrack to suit the conditions and your driving style.

There isn't a lot in the way of competition to the Countryman, although Nissan's Juke, some Scion products, and Kia's Soul do have similar traits and quirkiness. BMW's upcoming X1 may be similar in size and some dynamics, but it is a completely different vehicle and shares nothing but corporate ownership with the Countryman.

In years past, the wagon version of the Mini was called Countryman and built by Austin, among others. Was it just coincidence the 2011 Countryman was introduced to the U.S. in Austin, Texas?
Model Lineup
Mini Countryman ($21,650) comes standard with a 121-hp 1.6-liter engine and front-wheel drive. It includes leatherette upholstery, air conditioning, power mirrors, locks and four auto-up/down windows, alloy wheels, six-way manual front seats, sliding and reclining rear seats, tilt/telescoping steering wheel, pushbutton start, rear wash/wipe, adjustable-color ambient lighting, trip computer, center rail storage, and AM/FM/CD/satellite radio with one-year subscription.

All models come with a 6-speed manual or optional 6-speed automatic ($1250). (All New Car Test Drive prices are Manufacturer's Suggested Retail Prices, which do not include destination charge and may change at any time without notice.)

Mini Cooper S Countryman ($25,250) features a 181-hp turbocharged 1.6-liter engine and front-wheel drive. Countryman S adds traction control and sport seats to the standard equipment list, and is distinguished by mildly different trim and grille.

Mini Cooper S Countryman ALL4 ($26,950) upgrades the S with all-wheel drive.

Four option packages are available for all Countryman models: A Convenience Package ($1,250) adds a universal garage-door opener, Comfort Access keyless entry, auto-dimming rearview mirror, rain-sensing wipers and auto headlights, Bluetooth and USB/iPod adapter. A Cold Weather Package ($750) includes power folding heated mirrors, heated windshield washer jets and heated front seats. A Premium Package ($1,750) features a dual-panel moonroof, automatic climate control, and harman-kardon premium audio.. The Sport Package adds 18-inch wheels, rear spoiler, fog lights, traction control and hood stripes.

Options that are standalone include piano black cabin trim ($250); flat load floor ($250); rear park sensors ($500); rain-sensing wipers and auto headlights ($250); adaptive xenon headlamps ($600); climate control ($500); harman-kardon audio ($750); Bluetooth/USB iPod ($500); Navigation system ($1,750) includes Mini Connected; white signals ($100); metallic paint ($500); parallel lines cloth/leather upholstery ($1,000); Gravity leather ($1,500); Lounge leather ($2,000). Numerous other options and accessories are available.

Safety features standard include six airbags, stability control, anti-lock brakes with cornering brake control and brake hold. Traction control is standard on S and ALL4 and optional on Countryman. All-wheel drive on the ALL4 enhances safety in slippery conditions.
Walkaround
Countryman looks like a Mini on steroids. The basic pyramid stance of all Minis continues, growing wider as the eye descends from roofline to window sills through wheel openings. In profile the shape is reminiscent of Toyota's FJ, and the helmet lip turndown behind the back doors is readily apparent regardless of color combinations between roof, car, and cabin. Unlike other Coopers, the door windows are fully framed.

Up front headlights remain larger than life, more squarish than other Coopers, and bi-xenon lights are optional. It has the same pouting-lip smirk but is broader and taller at the hood-line, partially for government regulations regarding pedestrian safety and also for the machismo factor a societal requirement for vehicles to appear off-road worthy (even though the Countryman is not).

Countryman S and ALL4 models have extra openings in the matrix grilles, one a slot above the bumper that replaces the hood scoop on other Coopers to feed cold air to the intercooler, and chrome-surrounded squared openings near the fog lights for directing cooling air to the front brakes.

Apart from wheels, the Countryman S is distinguished by a badge on the side scuttle, the chrome slice that extends from the windshield pillar to the front wheel opening and houses the turn signal repeater. All-wheel-drive models have the same scuttle and an ALL4 badge on the front doors. While the standard Countryman has a single tailpipe and black license plate panel, Countryman S and ALL4 models have a single outlet on each side with a hex-patterned panel in between above a chrome strip, and fake air extractors behind the rear wheels with a horizontal-slat pattern for the insert.

Unlike the Clubman's swing-out barn doors, the Countryman has a conventional hatch, opened wirelessly by the key fob or manually by swiveling the Mini center of the wings logo. Bits and pieces resemble other Coopers but are unique to the Countryman.

We couldn't help but notice a sort of insect quality viewed from behind or overhead, with the single center antenna and the various curved muscular sections reminding us of biology-class labs. It is playful, different and seems quite appropriate for this maximum Mini. All of the roof pillars are black so the roof appears to be floating.

A rear wiper/washer comes standard and we found it clears virtually all the window you can see in the mirror.

Countryman is available in plenty of colors, some unique to it, with contrasting roof sections; we recommend the lighter shades if you live in a sunny area. Eleven exterior colors are more than average in this class, and you can accessorize almost indefinitely with chrome, dark light housings, stripes bordering on wallpaper, and Union Jack, Black Jack and checkered flags for the roof. Using only exterior paints, cabin trim and upholstery there are more than 10,000 permutations. If that's not enough individualism, you can add accessories for further personalize your Countryman.
Interior
Relative most cars a Mini cabin is sometimes infectious, distinct, curious, just plain odd, and some even said overdone. We don't find it over the top and there are no surprises so you'll know immediately if it's not your style. It's very centralized because it's easy to do left- and right-hand drive versions that way.

Upholstery is cloth, leather (artificial or real) or a combination of cloth inserts and leather side bolsters on the seats. Piping is available for the seats. Door panel inserts have some soft-touch surfaces, the floor is carpeted and the roof a fuzzy fabric, and most of the trim pieces are plastic. Nothing looks out of place nor a cost-cutting measure, the texturing neither fine sand nor fish scales in style, and no sharp edges on mold lines or where pieces meet.

The front seats are reasonably comfortable, and the available sport seats are up to the car's capability. The cushions are adjustable for height but not angle, so longer legs may find thigh support minimal and tend to submarine, sliding down and forward over time. Only one passenger wished for more lateral support in the upper backrest, this after being flung about like a puppet for half an hour. Driver and passenger benefit from wide footwells with no wheelweel intrusion to make your outboard leg shorter than the other one.

Rear seats are also buckets though not as heavily bolstered so it's easy to slide in and out, and the door opening is generous. Rear seats slide forward for more cargo room behind short occupants, and also recline using the same pull strap that drops the backrest for maximum cargo space. It feels like there is more than the claimed 33 inches of rear legroom, but doesn't feel like a big car and has limited toe space under the front seats.

A tilt/telescoping steering wheel and shifter properly placed ensure decent driver positioning and the pedals are nicely placed for fancy footwork if your shoe size isn't too big. The handbrake is a horizontal bar attached on the right side of the console; it works fine for the driver but sometimes made it difficult to find the passenger's belt, and when performance motoring it will be one of the first things the passenger grabs to hang on.

Cabin trim is not quite limitless, with dark silver, black, faux carbon fiber, and wood among the choices. Door panel inserts and some control surfaces are available in matching colors or contrasting with the interior. Most switches and controls are black with white labeling, and the chrome rings on everything from shifter to tachometer are rarely flat so glare issues are minimal. Instruments and controls are bathed in deep amber at night, while door handles and ambient lighting get a rainbow of color.

The tachometer is directly ahead of the driver and most of it can be viewed through the wheel. It includes a digital speed display which is handy because the parallax error in the central speedo can be up to 5 mph. The tach also has the display for miles and trip data, and like the audio display in the bottom of the speedometer, it can wash out with polarized sunglasses.

The huge speedometer has an orange flower-shape for fuel level that draws the eyes, and audio controls are the bottom. On cars with optional electronics, the speedometer has a stubby needle on the outside ring, a TFT center display (not affected by polarized lenses) and the fuel gauge arcs across the bottom like so many pieces of candy corn.

Below that are the CD slot, ventilation controls, toggle switches for the four auto-up-and-down windows, and door locks. The lock toggle does not correlate push-down with lock and lift-up for unlock, it just moves the locks to the other position whenever you move the switch. The toggles may be an issue with long fingernails. And the rear window toggles in the rear doors can be awkward to operate; a dog paw may easily break it off. Along the bottom are controls for fog lights, sport mode, and stability control off right next to the passenger.

A center rail system runs the length of the cabin (but can be ordered in two sections at no charge) and offers various attachments for, among other things, cupholders, ashtrays, electronics mounts, glasses case and an armrest; you should be able to mount a second armrest for the rear seats but we could not verify this. Audio system inputs are behind the shifter but the only concealed cabin storage is in the glovebox and a small space within the armrest.

The optional navigation system is run via two buttons and a small rotary controller just behind the shifter, an arrangement that works better than it sounds. Menu logic and programming is much like BMW's latest iteration of iDrive, so be thankful all the bugs were worked out before Mini got it.

The Mini Connected system brings IOS 4.2 iPhone or Touch or 6G nano features into the car with a free iPhone app. You can listen to Web radio, have your Mini automatically tweet your approximate location and temperature while you're motoring and can read RSS or tweets aloud to you. Since the iPhone et al have a stable platform with hardware and software by the same maker it is the only system for Connected initially but we expect it will expand to Droid and others in the future. It also has the ability to make you a more efficient driver or provide audio accompaniment based on your driving style, speed, weather and so on.

Cargo room is better than you think because the floor level with the hatch opening can be removed to expose a substantial well. There are tie-down points in the back and a pair on the rear floor for seats-folded securement, the load area isn't far off the ground, but, despite that, the hatch opens high enough that our 6-foot, 4-inch test-dummy didn't whack his head.

Outward visibility is very good. Windshield pillars aren't too wide and are relatively far away, the edges of the hood can be seen by the driver, none of the other pillars is too big, the rear wiper is very effective, and the side mirrors are available with power fold for rare neighborhoods where a Mini is wide. There are map lights at the inside mirror and another pair right over the front seatbacks, really useful for only a reclined passenger.
Driving Impressions
The Countryman is for the most part enjoyable to drive, eager to sprint off into a corner like a rabbit bounding into a vegetable patch. It's quite possible Mini Cooper drivers will be the only ones possibly not thrilled by the Countryman because any non-Mini owner is perhaps unaware you can have this much fun in a small crossover.

Note we said possibly not thrilled for existing Mini owners. And that's because Mini owners are used to a certain level of response and performance, both of which are somewhat diminished by the added weight and/or a higher center of gravity with the Countryman. A Countryman weighs about 400 pounds more than the respective Cooper Hardtop, or 250 pounds more than the respective Clubman or Convertible. And the Countryman ALL4 adds another 130 pounds on top of that. Those are significant weight differences for a 3200-pound car.

A Countryman's 121 horsepower will get the job done but needs revs to do it best, so don't be shy with the gas pedal. Both transmissions are geared properly, though on anything but highway cruise control we left the automatic in Sport mode to get the best of it. Since we were using a lot of the engine a lot of the time, we can say the Mini four-cylinder never felt or showed any sign of stress and is among the smoothest out there; engine noise or vibration never became annoying.

The turbocharged engine in the Countryman S and ALL4 is well worth a premium price and the minimal hit you'll take in real-world gas mileage. Matching 181 horsepower with 3200 pounds is typical four-cylinder family-sedan stuff, but the torque, up to 192 pound-feet for passing and merging, that starts to come on below 2000 rpm and is pulling full-steam by 2500 is far more important. Only extra exhaust whoosh in the rear seat under full throttle makes the S notably noisier than the standard car; in most cases it's quieter because it needs fewer revs to get the job done.

On winding roads or grades the S can run a gear or two higher than the standard car and go quicker to boot, and our quarter-tank test drives showed the standard manual 1 mpg ahead of the automatic and the S manual, and the ALL4 auto the hog of the bunch almost 4 mpg behind the S manual.

But an ALL4 lets you do something no other Mini does: accelerate hard from a standing stop with no tire squeal and no torque steer tugging your hands through the steering wheel. It runs as front-drive normally and adds rear-drive only when needed, and it's predictive so if you mash the gas pedal when the on-ramp signal turns green it engages rear drive as fast as the engine makes power and you're off.

All Countryman models (Countrymans? Countrymen?) come with a Sport button that makes the engine respond to the throttle faster, though engine response is so good the only time we found this advantageous was for blipping the manual's throttle on downshifts.

The Sport mode button also affects the effort needed to steer, making it unnecessarily heavy because it doesn't add any feel. The Countryman's steering is a bit numb on center, a characteristic shared by many cars with similar systems, but the Countryman's directional stability, it's ability to stay on the intended track without steering correction, is first rate.

And when you turn the wheel the fun begins because it responds immediately. The initial bite is crisp which makes more steering lock seem to produce milder results, yet the Countryman does handle better than most compact crossovers and a few cars, going exactly where you point it. Stability control is standard, as is cornering brake control that uses the braking system to help direct the car where you aim it, but both these systems stay in the background and you really have to screw up to engage them.

Brakes work just the same as a Mini Cooper, responding immediately as the pedal begins to move, and you don't need to press it very far to get a high rate of retardation. Turning or braking, or both simultaneously, the Countryman stays planted and doesn't lean sideways or forward. Given it's built on a widened version of other Mini chassis this comes as no surprise.

The ride quality is fairly good, the standard 17-inch tires a wee bit smoother than the wider 18-inch versions. Every one of the eight examples we tried, with 17- or 18-inch wheels, was equipped with Pirelli P7 tires, a label once associated with Porsche turbos, Lamborghinis and the like.

The P7s stick very well and would help stay on top of beach sand rather than digging into it, but are otherwise just one very good reason that graded dirt roads are as far in the countryside a Countryman should go. If you like the Countryman's size and want all-wheel drive but don't want the power or price of the turbocharged model, a second set of wheels with dedicated winter tires will get you just as far, probably farther, than an ALL4 on the standard tires.
Summary
The Countryman is a logical extension of the Mini Cooper line. It remains true to the character and style of Mini, and offers the same array of personalization avenues to ensure yours is as unique as a Rolls-Royce. And it delivers the performance and driving engagement you expect from Mini, while offering more space, practicality, and the option of all-wheel drive.

G.R. Whale filed this NewCarTestDrive.com report after his test drive of the Countryman near Austin, Texas.
Model as tested
Mini Countryman ALL4 ($26,950)
Basic Warranty
4 years/50,000 miles
Assembled in
Graz, Austria
Destination charge
700
Gas guzzler tax
N/A
Base Price
21650
Price as tested
34950
Options as tested
Parallel lines cloth/leather upholstery ($1,000); convenience package ($1,250); premium package ($1,750); sport package ($1,000); cold weather package ($750); reverse sensing sensors ($500); Mini Connected with navigation ($1,750)
Model Line Overview
Model lineup
Mini Countryman ($21,650); Countryman S ($25,250), ALL4 ($26,950)
Safety equipment (standard)
frontal airbags, front side-impact airbags, side curtain airbags, tire pressure monitors; electronic stability control, ABS, Cornering Brake Control
Safety equipment (optional)
N/A
Engines
1.6-liter dohc 16-valve I4 turbo
Transmissions
6-speed manual
Specifications as Tested
leatherette upholstery, air conditioning, all-wheel drive, power mirrors/locks, auto-up/down power windows, six-way manual front sport seats, sliding and reclining rear seats, tilt/telescoping steering wheel, pushbutton start, rear wash/wipe, adjustable-color ambient lighting, AM/FM/CD/satellite radio with one-year subscription, center rail storage, cruise control, trip computer, alloy wheels
Engine & Transmission
Engine
1.6-liter dohc 16-valve I4 turbo
Drivetrain type
all-wheel drive
Horsepower (hp @ rpm)
181 @ 5500
Transmission
EPA fuel economy, city/hwy
25/31
Torque (lb.-ft. @ rpm)
N/A
Suspension
Brakes, front/rear
vented disc/disc with ABS, EBD, brake assist
Suspension, front
independent, coil springs, antiroll bar
Tires
225/45VR18
Suspension, rear
independent, coil springs, antiroll bar
Accomodations
Seating capacity
4
Head/hip/leg room, middle
N/A
Head/hip/leg room, front
39.9/NA/40.4
Head/hip/leg room, rear
37.5/NA/33.8
Measurements
Fuel capacity
N/A
Trunk volume
41.3
Wheelbase
102.2
Length/width/height
161.8/70.4/61.5
Turning circle
38.1
Payload
N/A
Towing capacity
N/A
Track, front/rear
60.0/61.1
Ground clearance
N/A
Curb weight
3208
2011 MINI Cooper Countryman
NADAguides Test Drive Review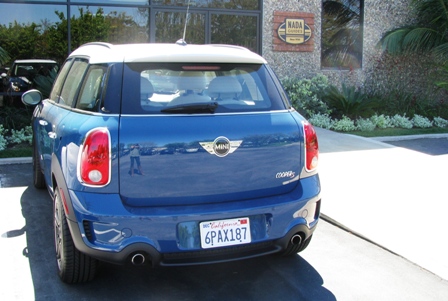 • The 2011 MINI Countryman takes fuel efficiency, coupled with ample space, sporty performance, attractive European styling and safety features that scored a "Top Safety Pick" from the Insurance Institute for Highway Safety (IIHS) to provide a great vehicle for it's value.
• MINI introduced the Countryman as a compact crossover, offering the same MINI Cooper styling but with the convenience of four doors and capacity for four adults. The analysts at NADAguides feel MINI more than delivered on that goal by offering a more rugged and competent MINI Cooper body style with the Countryman, providing additional comfort and space without losing the original MINI Cooper look and feel.
• The MINI Countryman has a starting MSRP of $21,650. Add in all-wheel drive, a turbocharged engine and additional features such as heated seats, adaptive xenon headlamps and performance suspension, and the MINI Cooper S Countryman ALL4 starts at $26,950.
2011 MINI Countryman Highlights

• Engine: The sporty and fun to drive MINI Countryman comes in three engine options including the Cooper Countryman with a 16-valve, 4-cylinder Aluminum Alloy Engine offering 121 horsepower and 114 lb-ft of torque, the Cooper S Countryman with a twin scroll turbocharged, 16-valve, 4-cylinder Aluminum Alloy Engine offers 181 horsepower and 177 lb-ft of torque, while the Cooper S Countryman ALL4 comes with the same engine as the Cooper S model but also includes all-wheel drive. The MINI Countryman achieves up to an estimated 35 MPG highway, 27 MPG city and 31 MPG combined.
• Interior: For driver comfort the MINI Countryman offers an alert ergonomic driving position, with six-way adjustable manual seats and height adjustable headrests. With color-adjustable ambient lighting, leatherette upholstery, and a three-spoke leather sport steering wheel with fingertip cruise control and audio controls, and multiple interior color options the analysts at NADAguides feel the MINI Countryman offers both comfort and style. The rear cargo space is twice the size of the original MINI Hardtop and the rear seats independently fold down to allow for optimum storage. NADAguides analysts found the unique four bucket seats comfortable and spacious enough for even the longest of road trips.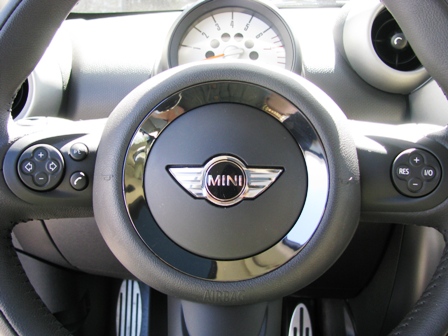 • Technology: The 2011 MINI Countryman comes with a free one-year subscription to Sirius Satellite Radio, and offers HD Radio™ Technology and a toggle switch instrument control. The Countryman also comes standard with a sport button with accelerator and steering programs, a start/stop button for turning the vehicle on and off, and remote entry, including two-step unlock and remote trunk release. Options also include auto-leveling, adaptive Xenon headlamps, heated seats, a panoramic sunroof, rain sensing wipers, a Harman/Kardon sound system, Bluetooth and USB/iPod adapter, MINI Connected that allows for Smartphone integration and voice recognition as well as navigation. The analysts at NADAguides found the MINI Connected with Navigation system to be a necessity, providing everything the driver needs at their fingertips.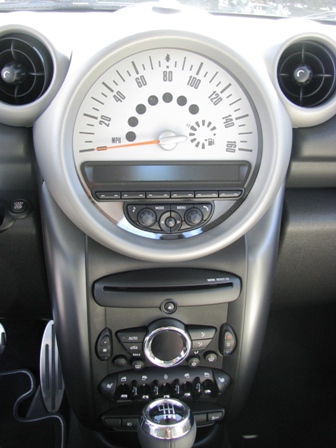 • Safety: The MINI Countryman comes standard with a seven-airbag system with side-seat and side-curtain airbags, four-wheel anti-lock disc brakes, cornering brake control, electronic brake force distribution, dynamic stability control, and an optional park distance control. The MINI Countryman received a "Top Safety Pick" from the Insurance Institute for Highway Safety (IIHS) with a rating of "good" in frontal offset, side impact, and roof strength.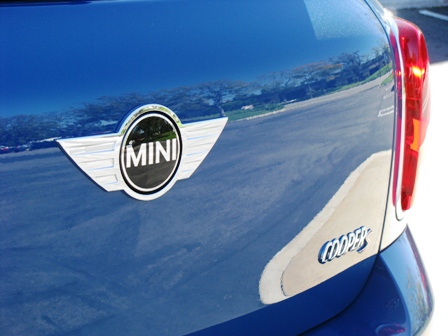 • Price/Warranty: The 2011 MINI Countryman starts at $21,650, the 2011 MINI Countryman S starts at $25,250, and the 2011 MINI Cooper Countryman S ALL4 starts at $26,950. All three options come with a basic warranty of four years, 50,000 miles, along with a four year, unlimited mile roadside assistance program. The vehicle also comes with a three-year, 36,000 mile Boot to Bonnet No Cost Maintenance Program.