2011 Ford Taurus Reviews and Ratings
Sedan 4D SHO AWD
Consumer Reviews
Own this vehicle? How would you rate it?
Please complete all star ratings before submitting.
Type your review and click the Submit button
to post your comments
Thank you for submitting your review of the 2011 Ford Taurus
Customer Review
Be the first to review this 2011 Ford Taurus.
Expert Reviews ( 2 )
2011 Ford Taurus
Christina DesMarais
Introduction
The Ford Taurus was all-new for 2010 and continues into 2011 with no substantive changes. 2011 is the year of the Taurus for those who believe the best time to buy a car is in its second year of production, the theory being all the bugs have been worked out.

The Taurus is impressive, well-equipped and extremely competent, a charismatic full-size sedan that could establish Ford as America's premier auto manufacturer. It is powered with a Duratec V6, delivering a generous 263 horsepower and 249 pound-feet of torque.

At the top of the 2011 Taurus line is the high-performance Taurus SHO, with a twin-turbocharged EcoBoost V6 rated at 365 horsepower and 350 pound-feet of torque. The SHO, which stands for Super High Output, delivers enough power and cornering poise to leave pricier import sport sedans coughing in the dust.

All-wheel drive is available, making Taurus AWD models a good choice for foul weather.

Dramatically different and advanced in comparison with the previous version, the Taurus offers brisk performance, precise and reassuring handling, lavish comfort, and a comprehensive occupant-safety package. The Taurus and Taurus SHO are the flagships of Ford's entire line. And since, at long last, sedans are once again outselling trucks nationally, Ford has every reason to be optimistic about the Taurus's role in Ford's future.

We found the Taurus to be a responsive, comfortable, and protective family sedan, whether in SE, SEL or Limited trim. But this car is far more than a dull, utilitarian appliance.

Ford refers to Taurus's world-car styling as emotive and bold. Its looks have magnetism and a sleekly contemporary appearance designed to win owners who take seriously how they appear to the outside world. Judged on price alone, this is no luxury car. Yet its visual impact will go a long way toward making its occupants feel very good about themselves. This is a car to be seen in.

The Taurus is packed with innovative technology and electronics, beneficial driver-assistance provisions, and safety packages that outstrip import sedans costing half again more. Among these packages are comprehensive warning systems programmed to alert the driver to obstacles front, side and rear, a boon in crowded parking lots. A brilliant adaptive cruise control system lets the driver relax on the highway, while it automatically controls the gap to the car ahead. Beyond the new technology, impressive as it is, it will still be the car's over-the-road driving character that determines its ultimate appeal.

We drove Taurus and Taurus SHO models on freeways and backroads in the twisty hill country of Tennessee and checked them over further in Southern California. We found the Taurus to be an altogether exemplary world sedan, while the SHO is a full-bore, high-revving demon, taming difficult roads with racecar grace.
Model Lineup
The 2011 Ford Taurus comes standard with a 3.5-liter V6, 6-speed automatic transmission and front-wheel drive.

Taurus SE ($25,170) comes with cloth upholstery, air conditioning manually controlled with air filter, six-way driver seat, 60/40 split-folding rear seat, tilt/telescoping steering wheel with audio and cruise controls, AM/FM/CD/MP3 audio with six speakers, three auxiliary power points, message center with trip computer, programmable performance-limiting key, illuminated visor mirrors, power windows with driver one-touch up/down, black exterior mirrors, rear window defroster, capless fuel filler, chrome exhaust tips, halogen headlamps with automatic windshield wiper activation, remote keyless entry, keyless entry keypad, floor mats, and 17-inch wheels.

Taurus SEL ($27,370) adds paddle shifters for the 6-speed automatic, body-color heated exterior mirrors, 18-inch wheels, Sirius Satellite Radio, message center with trip computer and compass, auto-dimming mirror, leather-wrapped shifter knob and steering wheel, and anti-theft perimeter alarm. The Taurus SEL AWD ($29,220) is equipped the same but includes all-wheel drive.

Taurus Limited ($31,770) upgrades with leather-trimmed seats with 10-way power in both front seats, driver seat memory, leather-wrapped steering wheel with wood inlay, woodgrain applique, SYNC hands-free communications and entertainment, 6CD changer, universal garage opener, global-open window controls, chrome mirrors and taillamps, ambient interior lighting, cargo net, mirror with microphone, reverse sensing system, and 19-inch chromed aluminum wheels. The Taurus Limited AWD ($33,620) adds all-wheel drive.

Options include voice-activated navigation with Sirius Travel Link ($1,850), adaptive cruise control ($1,195), leather-trimmed seats for SEL ($1,395), multi-contoured front seats ($595), rear window power sunshade, auto high beam headlamps, rain-sensing wipers, power moonroof ($895), cargo organizer ($160), remote start ($425), all-weather floor mats ($75), 12-speaker Sony audio, and adjustable pedals with memory.

Taurus SHO ($37,770) features a 3.5-liter twin-turbocharged EcoBoost V6, all-wheel drive, electric power-assist steering, sports suspension, high-intensity discharge headlamps, rear spoiler, 19-inch premium wheels, door-trim color matched to seats, SHO floor mats, push-button start, aluminum pedals, leather seats with Miko suede inserts, and leather steering wheel with perforated insert. The SHO Performance Package ($995) includes performance brake pads, EPAS-calibrated steering, ECS Track Mode/True Off, 3.16:1 final drive ratio, and 20-inch painted wheels with 245/45YR20 performance summer tires.

Safety features include dual front airbags, front-seat side-impact airbags, canopy airbags, collision warning with brake support, blind spot information system with cross-traffic alert, tire-pressure monitoring system, electronic stability control, anti-lock brakes, SOS post-crash alert, traction control, reverse sensing system, and anchors for child seats. Optional all-wheel drive enhances safety in slippery conditions.
Walkaround
The Taurus is a thoroughly American design, yet it owes almost nothing to the long, ponderous line of over-styled American sedans of the past. Its styling is exciting and chic, more than a match for any foreign competitors in its price class or even for competitors that cost a good deal more. Even in its most mundane models, it has an aggressive, ready-to-go demeanor.

The signature three-bar grille on the Taurus wraps around to sleek, swept-back headlamp complexes. The expression on this car's face is a wry glint that says this car knows what it's doing.

The side panels are muscular and handsomely sculpted, while the side profile shows a distant similarity to the currently fashionable Audi family. The only peculiarity is the odd bullet-head of chrome on the front fender sides just ahead of the front-door cut. Isolated where it is, it's a tic that Ford styling could do without.

At the rear, the car's lines feature another pair of sleek lamp complexes, tied together with a gleaming horizontal chrome strip. On the Taurus SHO, the upper lip of the trunk is adorned with a spoiler; with the speed the SHO can generate, the added downforce is appropriate.

Particularly in the upper reaches of the model line, handsome wheels bring the Taurus's profile brightly to life. In the Limited and SHO versions, big 19-inch wheels and tires give the Taurus a resolutely competitive look.

A key element of the SHO formula is the subtlety of its unique exterior design cues. The SHO is distinguished from other Taurus models by special wheels, the decklid spoiler, twin exhaust tips, unique grille work and unique parking lamp bezels.
Interior
Inside, the Ford Taurus is roomy, comfortable, and quiet. The dashboard takes an unusual form. Its upper surface is a broad, downward-curving shape that behaves almost like a sunshade over the dash's cascade of equipment and gauges. The gauges have a fresh, modern look, and all instrument lights are fully lit at all times. This is important, because so many cars dim their instruments in daylight, enough so that in high sun, the gauges and readouts are unreadable. For this bright decision, give Ford an A-plus.

The Taurus paddle shifters are based on the BMW paradigm, with shifters on both sides of the wheel, a pull granting an upshift and a push yielding a downshift. The six-speed transmission, present in all models, works remarkably well, especially in the SHO, where it is programmed to provide still-faster gear changes than with the normal Taurus. However, this writer prefers the Ferrari paradigm, where the paddle on one side of the wheel summons an upshift, and downshifts are summoned at the opposite side of the wheel. This is simpler and more intuitive. Functionally speaking, however, the Ford system works beautifully.

The Taurus is fully equipped with the usual Ford interconnectivity. Sirius Satellite with Travel Link provides a broad range of information about the environment, everything from weather radar to gas prices to movie start times.

Onboard radar gives you collision warning on the road when you are getting too close to a car ahead of you, then automatically executes full braking force the instant you step on the brake pedal. Similarly, it warns you when a car is in your blind spot on multi-lane roads, preventing lane-change accidents. And, backing out of a spot in a parking lot, the car warns you if any car is approaching from the rear or either side, or if a child or small object is behind where you can't see it.

Adaptive cruise control lets you set your speed in highway traffic while it measures your distance to cars ahead and automatically slows to prevent a collision. Then, when your way ahead is clear, the cruise control automatically returns you to your programmed cruising speed. This full range of technologies is offered in no other family sedan within the Taurus price range.

The seats are lavishly comfortable, with one exception: In order to achieve its full five-star rating in crash protection, which it successfully did, the front seat headrests lean slightly forward. (In the crash test, this position yields zero head movement, a requirement of the five-star rating.) We resorted to reclining the seat a little more than normal to get the headrest away from the back of our head. This is not our preference. To soothe our nerves, we indulged in the excellent Active Motion massage cycling, delivered by massagers within the seat cushions and seatbacks.

The climate-control system was vigorous and more than adequate, and the optional Sony 12-speaker audio was superb. In addition, an available CD Jukebox system allows storage of over 100 CDs. The controls switchgear was uniformly excellent, with a luxurious soft touch that connotes luxury.

The voice-operated navigation and other prompts took a moment to get used to (you need to learn the right vocabulary) but it worked really well when operated as designed.

This is a roomy car. In the matter of interior volume, the Taurus earns its standing as a full-size sedan, delivering total passenger volume of 102.2 cubic feet. It's big on the outside, too, though its deft styling makes it seem slightly less so. All in all, the Taurus interior is generous, comfortable, extremely quiet and pleasing to be aboard.

Cargo space is a massive 20.1 cubic feet of trunk volume.
Driving Impressions
While driving, we found the Ford Taurus to be a thoroughly satisfying family sedan. It is not fast by street-racing standards, but it is by no means underpowered, either. For daily driving and the commuter wars, it more than holds its own. And taken out into canyon country where the roads weave and wind, its handling has the alert, sporty liveliness that has recently become a Ford trademark.

Power from the 263-horsepower 3.5-liter Duratec V6 is smooth, progressive and entirely suitable for daily transportation. It's even been exhaust-tuned to deliver a satisfying little growl under acceleration, confirming to the driver that this is a serious road car. And there is no awkward sudden throttle tip-in here.

Taurus ride quality is nicely damped and comfortable. It transmits information from the road accurately to keep the driver informed, but it soaks up road irregularities skillfully. And taken through a series of corners, the Taurus exhibits only moderate roll. It feels well planted and ready for your next move at any instant.

Large four-wheel disc brakes bring the Taurus to a powerful halt. Admirable. The name Audi keeps coming up around the new Taurus, but that is unavoidable. The Taurus has an Audi-like feel on the road, which is a very good thing. Better still, it costs about $20,000 less than the luxury Audi A6 it refers to.

The Taurus SHO offers an entirely different world. Every one of the Taurus's virtues is doubled in this mighty performance sedan. It's the ultimate sleeper in today's market. With standard all-wheel drive, twin turbocharging and a nearly instantaneous 365 horsepower and 350 pound-feet of torque on tap from the EcoBoost V6, the SHO simply rages ahead.

Touch the shift paddles, and it switches gears in the blink of an eye. Then turn the car into a corner at high speed, and its specially calibrated shock absorbers and minimal body roll instill a feeling of precise control, something that could not be said of early SHO models.

Veering into the next corner, the SHO's brakes, with standard ABS, electronic stability control and traction control, give the car phenomenal poise and tightly controlled dynamics. This blue-blood American performance sedan is a worthy competitor when pitted against any others, from Audi up or down.

Perhaps the most enticing thing about the SHO is that it doesn't wear the boy-racer outfit of so many performance sedans. Indeed you must know where to look simply to identify this car as the special Taurus. We like that.
Summary
The Ford Taurus is a full-size sedan that should make Detroit proud of itself once more. This is a mature, comprehensively engineered, and lavishly equipped world car. And its faster version, the SHO, is one of the great performance sedans of the day.

Ted West filed this report to NewCarTestDrive.com after his drive of the Taurus and SHO models in North Carolina and Tennessee.
Model as tested
Ford Taurus SEL ($27,370)
Basic Warranty
3 years/36,000 miles
Assembled in
Chicago
Destination charge
825
Gas guzzler tax
N/A
Base Price
25170
Price as tested
32980
Options as tested
Option Group 202A ($2,800) includes SYNC hands-free communications and entertainment system, reverse-sensing system, ambient interior lighting, intelligent access with push-button Start, power-adjustable pedals, Sony 12-speaker audio, 19-inch aluminum wheels with P255/45VR19 all-season tires; power moonroof ($895); multi-contour massage seats ($595); metallic paint ($495)
Model Line Overview
Model lineup
Ford Taurus SE ($25,170); SEL ($27,370); SEL AWD ($29,220); Limited ($31,770); Limited AWD ($33,620); SHO ($37,770)
Safety equipment (standard)
frontal airbags, side-impact airbags, safety canopy with rollover sensor; keyless entry; SOS post-crash alert; electronic stability control; ABS; traction control
Safety equipment (optional)
N/A
Engines
3.5-liter dohc 24-valve V6
Transmissions
6-speed automatic
Specifications as Tested
dual-zone climate control, cloth upholstery, leather-wrapped shifter and steering wheel with audio/cruise control, tilt/telescoping wheel, power mirrors, power door locks, power windows with driver one-touch up/down, six-way power driver's seat, two-way manual passenger's seat, auto-dimming interior mirror, cruise control, remote keyless entry, entry keypad, push-button Start, Sirius Satellite Radio, message center with trip computer, compass, outside temperature display, programmable performance-limiting key, three auxiliary power points, cabin air filter, lower anchors for child seats, passive anti-theft system, rear window defroster, capless fuel filler, halogen headlamps with automatic windshield-wiper activation
Engine & Transmission
Engine
3.5-liter dohc 24-valve V6
Drivetrain type
front-wheel drive
Horsepower (hp @ rpm)
263 @ 6250
Transmission
EPA fuel economy, city/hwy
18/28
Torque (lb.-ft. @ rpm)
N/A
Suspension
Brakes, front/rear
disc/disc with ABS, ESC, traction control
Suspension, front
independent, Macpherson struts w/ lower control arms
Tires
P255/45R19
Suspension, rear
independent, multilink, coil over shocks
Accomodations
Seating capacity
5
Head/hip/leg room, middle
N/A
Head/hip/leg room, front
39.0/56.3/41.9
Head/hip/leg room, rear
37.8/55.8/38.1
Measurements
Fuel capacity
N/A
Trunk volume
20.1
Wheelbase
112.9
Length/width/height
202.9/76.2/60.7
Turning circle
39.7
Payload
N/A
Towing capacity
1000
Track, front/rear
65.3/65.5
Ground clearance
N/A
Curb weight
4015
2011 Ford Taurus
NADAguides Test Drive Review
Ford keeps pushing the envelope by creating a brand and lineup high in demand and always ahead of the competition. They take classic success models and turn them into powerhouses time and time again. The
2011 Ford Taurus Limited
(as test driven) is the ultimate package. With a strong, yet graceful exterior look that makes you wonder if it classifies as sporty or luxurious, and jam packed with advanced technology in its class, this vehicle left the drivers at NADAguides fighting for the driver's seat.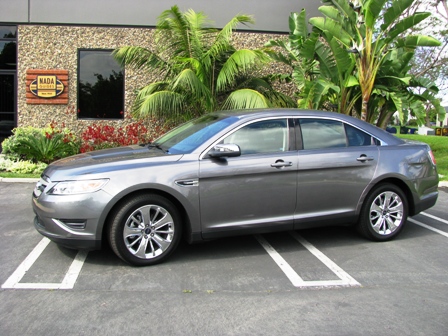 Equipped with a V6 3.5L engine and 263 horsepower under the hood, the Ford Taurus drives smoothly and is very easy to handle. It is equipped with a six-speed automatic transmission with SelectShift. The rear suspension is multi-link fully independent suspension with coil-over shocks and a stabilizer bar and the front suspension is independent, MacPherson struts with rear-facing lower L-arms with a stabilizer bar; this makes for a pretty solid ride. The Ford Taurus gets about 18city/28hwy which isn't the best fuel efficiency in its class, but unless you want to spend more money, you can't really beat this at this trim level when compared to other vehicles. As for safety, this vehicle made it a priority with complete airbag coverage, Post Crash Alert System, Rear Camera with Reverse Sensing, Personal Safety System, Safety Canopy for both front and back row passengers, Tire Pressure monitoring system, Blind Spot Monitoring and MYKEY which allows you to set a specific speed and alert you when you hit that speed. Another added safety feature is the Adaptive Cruise Control with Collision Warning which will slow your vehicle and warn you with lights on the windshield if it senses a collision or slower traffic and will resume the previous speed once traffic clears; how is that for advanced technology?!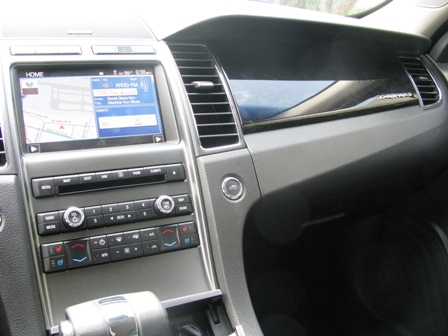 The overall interior design is very attractive with blue ambient lighting and blue illumination around the dashboard cluster, woodgrain and chrome accents throughout with dark leather stitched seats and side door accents; the Ford Taurus really has a perfect blend of sport meets luxury powered by the best technology in its class. It comes with the option of the SYNC Voice Activated System which I found very intuitive but while the entire system is voice activated for safety purposes it definitely can become a nuisance. The SYNC system controls important settings for things like temperature, entertainment, navigation, phone and much more for convenience. However, it is not voice trained which means anyone in the vehicle can send a voice command; quite the flaw if you have kids or friends that find this kind of thing entertaining. Connecting your cell phone to the SYNC system is extremely easy and connects automatically without a problem each time you get back into the vehicle; some Bluetooth systems require you to connect manually on your phone each time. Connecting your phone allows you to make hands free phone calls, receive and send text messages by voice activation and stream music as well. The Ford Taurus also has a 10GB hard drive to store up to 2,400 songs to enjoy on the 12 speaker Sony audio system.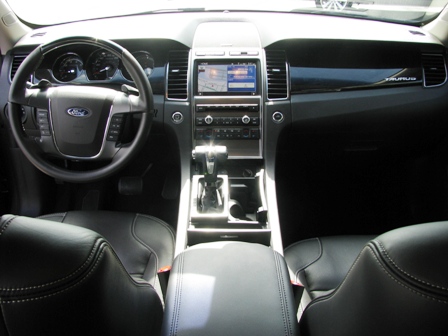 Getting comfortable in the Ford Taurus wasn't difficult with 10-way power leather seats, not to mention the added comfort of the heated and cooled seat feature; which by the way has THREE settings for heated and cooled. The Limited and
SHO
trim levels are the only trims that have this comfort feature, which can also be accompanied by the rear heated seat feature; a definite step above the competition. If you want to take it even further and enjoy the complete package, the Active Motion Multi Contour Seats are available in these trims as well which provide a 6-way lumbar and rolling pattern massage option for front passengers. Dual temperature control also helps create a pleasant driving experience allowing a variety of temperatures to co-exist nicely. Many manufacturers leave the comfort up to the lumbar and power seat adjustments; however Ford keeps in mind all types of drivers by allowing the adjustment of the three things that matter most: steering wheel, pedals and seat. After tilting the wheel as necessary and finding just the right setting for the seat, it was a nice option to be able to bring the pedals forward or set them back further for an even more comfortable driving experience. Another nice feature to note was the rear window power sunshade which provides ample shade for rear passengers at the push of a button.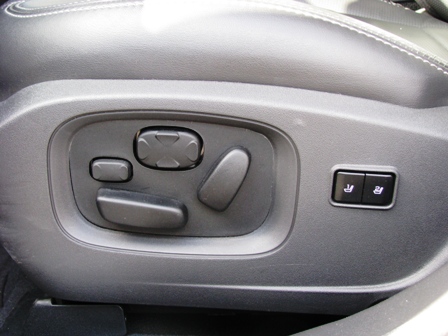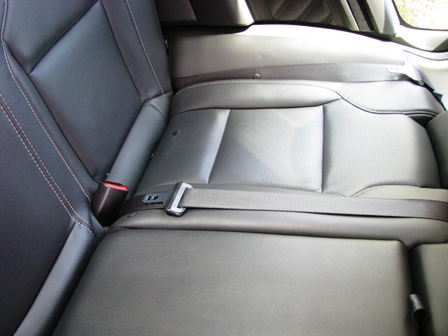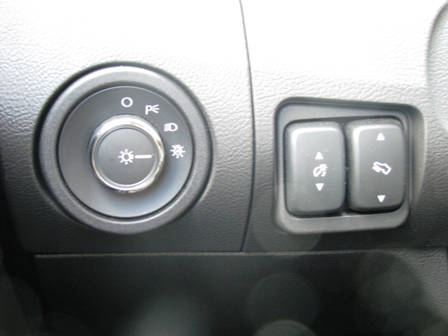 The Ford Taurus has good looks, unbeatable technology, and has an MSRP that starts at $25,420 for the SE FWD trim and goes up to $38,020 for the SHO AWD. With 6 trims to choose from you are bound to find one you can enjoy for a very long time. For more information on the 2011 Ford Taurus please visit
www.NADAguides.com
.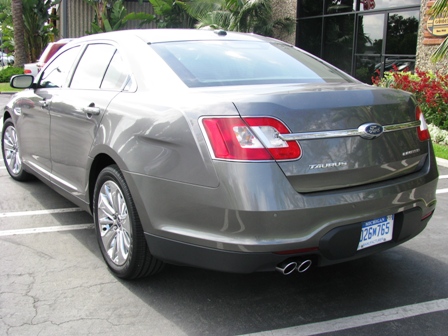 Search Local Cars for Sale
Vehicle History Report
Get answers to buy with confidence
Check for accidents
Confirm the reported mileage
Purchase multiple reports and save
Car Buying and Selling Resources