2011 Chrysler 300 Reviews and Ratings
Sedan 4D Limited
When shopping for a car, how important is vehicle safety?
Consumer Reviews
Own this vehicle? How would you rate it?
Please complete all star ratings before submitting.
Type your review and click the Submit button
to post your comments
600 of 600 character remain
Thank you for submitting your review of the 2011 Chrysler 300
Customer Review
Be the first to review this 2011 Chrysler 300.
View All Car Reviews
Expert Reviews ( 2 )
2011 Chrysler 300
Bob Plunkett
Introduction
The Chrysler 300 has been redesigned for 2011, and the new model offers improved ride and handling, and it comes with a new V6 engine that's smooth and powerful. The result is an American luxury car with room, comfort, power and presence.

The 2011 Chrysler 300 succeeds a model that was enormously successful, a big sedan with rear-wheel drive that served as the brand's flagship. The outgoing Chrysler 300 was the most awarded, most recognized car in the history of the industry, and the most customized Chrysler model ever, the first Chrysler to adapt oversize wheels and tires, custom grilles, and other aftermarket custom touches. Replacing it during a period of grave uncertainty at Chrysler was a three-and-a-half-year program during which ownership changed three times, from Cerberus to the federal government, through bankruptcy and then to Fiat's control. Under those circumstances, it's something of a miracle that the replacement for the 300 came out as well as it did.

For 2011, Chrysler 300 looks much slicker. Aided by a new windshield design laid back three inches farther than the windshield on the original model, the 2011 Chrysler 300 achieves a drag coefficient of only 0.32. It looks bolder and classier than the previous version. Every body and underbody panel has been changed from the ground up to the roof, with a smoother, rounder front end, new headlamps, a new, rounder grille, a new hoodline and aluminum hood, new bumpers, larger windows with bright trim around them, more heavily sculpted fenders, a completely new treatment at the rear, with new Chrysler winged badges, and beautiful new LED lamps front and rear.

Underneath, nearly everything has been changed, stiffened, reinforced, or otherwise made stronger so that the four corner suspension systems can operate independently and accurately and provide a much better ride, quicker steering, and more responsive handling.

The Chrysler 300 competes with the Cadillac CTS, Lincoln MKS, Lexus GS, and Infiniti M. The Lexus LS 460, Mercedes-Benz E-Class, BMW 5 Series, and Hyundai Genesis were aspirational targets during development.

The Chrysler 300 and 300 Limited come with a V6 engine and 5-speed automatic.

The Chrysler 300C features a 5.7-liter Hemi V8 engine and 5-speed automatic.

The 2011 Chrysler 300C AWD model features a new, more effective and more efficient part-time, computer-controlled all-wheel-drive system with modified suspension pieces that allow the AWD version to ride much lower than earlier versions, at about the same ride height as rear-wheel-drive 300C models.
Model Lineup
The 2011 Chrysler 300 ($27,170) comes standard with cloth upholstery, automatic air conditioning with rear outlets, humidity sensor and air filtration, multi-function steering wheel, driver information center, keyless entry, automatic halogen lamps, power windows, mirrors, and locks, cruise control, Uconnect dashboard display and control system for audio, Sirius satellite radio, USB port with iPod control, and a pair of 12-volt outlets.

Chrysler 300 Limited ($31,170) upgrades with leather upholstery, eight-way power driver seat, more exterior brightwork, halogen fog lamps, remote starting, 18-inch wheels and tires, heated front seats, rear seats with lighted cupholders, a premium Alpine AM/FM/CD satellite radio with eight channels, six speakers, and 276 watts of power, plus Uconnect voice command with Bluetooth. The Luxury Group ($3,250) includes luxury leather trimmed bucket seats, climate controlled front seats, heated rear seats, wood and leather wrapped heated steering wheel, power adjustable pedals, trunk mat, power tilt/telescoping steering wheel, power rear sunshade, 160-amp alternator, auto-dimming exterior mirrors, heated/cooled cupholder, driver memory for radio, seat, mirrors, pedals.

Chrysler 300C ($38,170) and Chrysler 300C AWD ($40,320) add Garmin navigation, Sirius Travel Link, power adjustable pedals, 12-way power front seats, heated front and rear seats, power tilt and telescope steering column, a performance brake package, and other features.

Options include the Safety Tec Package ($2,795) with adaptive HID headlights, forward collision warning, adaptive cruise control, blind-spot monitoring with rear cross-path detection, park assist, HomeLink, rear foglight. The Sound Group ($650) includes the Alpine stereo system with 506 watts of power, nine speakers, 12 channels, and 7.1 matrix surround sound.

Safety equipment on the Chrysler 300 includes front, side and roof curtain air bags, and ABS disc brakes with both EBD and Brake Assist, traction control, tire pressure monitoring system and stability control. All-wheel drive is available for more stable handling in slippery conditions. The Safety Tec Package adds several safety features.
Walkaround
The new, 2011 Chrysler 300 looks like a large sedan version of the Chrysler 200 midsize sedan and Town & Country minivan, with many of the same visual cues in the grille, headlamps, air intakes and front bumper. It's much sleeker and more rounded at the nose, but carries a much lower aerodynamic drag coefficient because of the rounded elements and the very laid-back windshield angle. Neither the windshield nor the rear window carries any bright moldings at all, unusual for a luxury car, but it works on the 300.

The profile view of the new Chrysler 300 shows much more pronounced wheel lips front and rear, and they are connected by a sharp new body line that starts at the trailing edge of the front wheel well and rises continuously to finish at the side of the tail lamps. That line, coupled with the larger side windows, narrower pillars, and a new sculpted line at the bottom of the doors, does wonders to slim down and muscle up the new look of the 300.

At the rear, there's a cross-car chrome bar running across the bottom edge of the decklid between the new vertical LED taillamps and a tall, flat rear bumper between the exhaust outlets that widens the look of the car at the rear. The execution of the LED daytime running lights at the front and the LED rear lamps is excellent.
Interior
The 2011 Chrysler 300 instrument panel, seat trims, door panels and door pockets have all been redesigned for more comfort and utility. The instrument panel, center stack, switches and controls have all been redone for the 2011 models.

One of the more pleasant surprises in the new Chrysler 300 is the amount of light entering the car through the larger windows and their thinner pillars. Chrysler says outward vision has been improved by 15 percent over the gun-slit side window design of the last 300, and that makes a huge difference in the enjoyment of just driving or riding in the car. This is a big car, and the interior roominess and dimensions front and rear are generous, to say the least. The interior environment is classy without being chromy, and the lighting and instrumentation are spot-on.

Although the seats and seat coverings have been redesigned for a more luxurious feel and appearance, the interior cube is the same as the outgoing 300, just over 122 cubic feet, making it a large car under EPA rules. As for storage, the rated trunk capacity of the Chrysler 300 is 16.3 cubic feet.

The instrument panel contains a bright new two-round-gauge package, and is much more pleasing to the eye after the redesign, with much-improved graphics and ice-blue accent lighting that is brilliantly legible day or night. The center portion of the instrument panel is dominated by the industry's largest touch-screen control system, an 8.4-inch screen that comes in base and Limited versions with audio and climate functions, but in 300C and 300C AWD versions comes with a brilliantly colorful, large-icon Garmin navigation system (optional on Limited versions, not available on 300). This system, because of its size, graphics, and capabilities, may be the best all-around nav system currently available, easy to read, easy to use, and readable from the back seat.

The 300's new four-spoke padded steering wheel has a nice, thick leather-wrapped rim and a thickly padded hub flanked by redundant switches for the voice-activated telephone, cruise control, sound system, and driver information center.

All the materials in the seats, door trim panels, headliner and instrument panel are softer, more luxurious and more pleasing to the eye, and the seats feel much more luxurious, supportive and long-drive comfortable than before.
Driving Impressions
The standard engine in the Chrysler 300 and Limited models is the new 292-horsepower, 260-foot-pound, 3.6-liter double-overhead-cam 24-valve Pentastar V6 engine with variable valve timing that gives it more flexibility in delivering low-rpm torque and high-rpm horsepower while delivering good fuel economy. The Chrysler 300 with the 3.6-liter V6 is rated 18/27 mpg City/Highway by the federal government on Regular gas.

The Chrysler 300C comes with the 5.7-liter Hemi V8 engine, generating 363 horsepower and 394 foot-pounds of torque, with a 5-speed automatic transmission. Fuel economy is an EPA-estimated 16/25 mpg; Midgrade gasoline is specified.

We concentrated our driving efforts on a 300 Limited V6 model, but we also drove the cloth-upholstered base model briefly and both the rear-wheel-drive and all-wheel-drive versions of the 300C, with the muted but brutally torquey Hemi V8 on board.

Most drivers will find the V6 more than adequate even in this heavy car. It's long on horsepower and high on torque for its size, very flexible and driveable in town and out on the highway with none of the roughness or graunchiness formerly associated with V6 engines. The V6 delivers 63 percent more power and 36 percent more torque than the old 2.7-liter V6, and 42 more horsepower and 10 foot-pounds more torque than the old 3.5-liter V6. Plus it sounds good at wide-open-throttle.

We exercised, pushed and stressed a Chrysler 300 Limited in the hills and valleys east of San Diego and found it to be a wonderful traveling companion. The new variable-ratio electro-hydraulic power steering system has a lovely, heavy feel to it, as though it's actually connected to and directing something down there on the road surface, and the car turns in with authority and without objectionable body roll.

The ride delivered by the new suspension system is smooth, comfortable and quiet, and the cabin itself has been quieted down considerably with the addition of an acoustic bellypan under the car, acoustic material in the wheel wells and pillars, and an acoustic wrap around the complete interior to block out noise from the mechanical systems, the wind and the tires.

The anti-lock brake package with electronic brake-force distribution has everything you could ask for in terms of power, pedal modulation, and emergency capabilities, and is the largest component of a very complete safety package that includes traction control, stability control, and front, side, roof and driver knee air bags.
Summary
We think the new Chrysler 300 is the finest sedan that Chrysler Corporation has ever built. There is a model here for every purse and purpose, from base car to 300C Hemi AWD, and the list of options and option packages is very generous. This is an American luxury car with room, comfort, power and presence that you might think seriously about adding to your shopping list.

Jim McCraw filed this NewCarTestDrive.com report from San Diego, California.
Model as tested
Chrysler 300 Limited ($31,170)
Basic Warranty
4 years/50,000 miles
Assembled in
Brampton, Ontario, Canada
Destination charge
825
Gas guzzler tax
N/A
Base Price
27170
Price as tested
31995
Options as tested
Model Line Overview
Model lineup
Chrysler 300 ($27,170), Limited ($31,170); 300C ($38,170), 300C AWD ($40,320)
Safety equipment (standard)
front and side airbags, side air curtain, ABS, traction control, yaw control
Safety equipment (optional)
N/A
Engines
3.6-liter dohc 24-valve V6
Transmissions
5-speed automatic
Specifications as Tested
leather upholstery, automatic dual-zone climate control, power windows, power mirrors, power locks, heated seats, eight-way power driver seat, tilt telescoping steering wheel, AM/FM/CD MP3 with six speakers, USB port, auxiliary jack, UConnect Bluetooth hands-free, auto-dimming rearview mirror, accessory delay
Engine & Transmission
Engine
3.6-liter dohc 24-valve V6
Drivetrain type
rear-wheel drive
Horsepower (hp @ rpm)
292 @ 6350
Transmission
EPA fuel economy, city/hwy
18/27
Torque (lb.-ft. @ rpm)
N/A
Suspension
Brakes, front/rear
vented disc/solid disc with ABS, EBD
Suspension, front
independent, coil spring gas shocks, stabilizer bar
Tires
P225/60R18 Firestone FR710
Suspension, rear
independent, multi-link, coil springs, gas shocks, stabilizer bar
Accomodations
Seating capacity
5
Head/hip/leg room, middle
N/A
Head/hip/leg room, front
38.6/59.5/41.8
Head/hip/leg room, rear
37.9/57.7/40.1
Measurements
Fuel capacity
N/A
Trunk volume
16.3
Wheelbase
120.2
Length/width/height
198.6/75.0/58.5
Turning circle
37.7
Payload
N/A
Towing capacity
1000
Track, front/rear
61.7/62.7
Ground clearance
4.7
Curb weight
4006
2011 Chrysler 300
NADAguides Test Drive Review
Power, Design, and Technology Combine to make the 2011 Chrysler 300 a Vehicle Worth Considering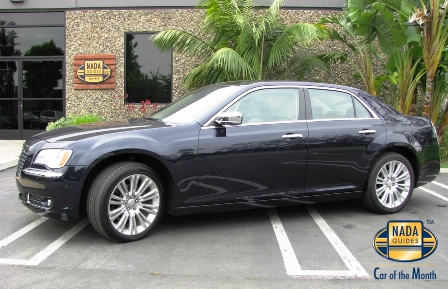 • The
2011 Chrysler 300
has a sleek new elegant design and overall appearance, ample space, smooth driving performance, a plethora of intuitive technology features and an extensive list of safety features which scored the vehicle a "Top Safety Pick" from the Insurance Institute for Highway Safety (IIHS).
• The 2011 Chrysler 300 has a starting MSRP of $27,170. Add in all-wheel drive and the 5.7 liter HEMI V8 engine and the 2011 Chrysler 300C AWD starts at $40,320.
• Engine: The 2011 Chrysler 300 comes with the new 3.6L Pentastar® V6 engine that offers 292 horsepower and 260 pounds –feet of torque or Chrysler's legendary 5.7L HEMI® V8 engine that offers 363 horsepower at 5200 rpm and 394 pounds-feet of torque at 4200 rpm. The V8 option also comes standard with Fuel Saver Technology that utilizes sensors to detect when full power is not necessary and actually shuts off four of the eight cylinders. Both engine options come with a five-speed automatic transmission with AutoStick™ which allows for manual or automatic gear selection without use of a clutch for smooth shifts and excellent performance. The 2011 Chrysler 300 achieves up to an estimated 18 MPG city and 26 MPG highway. With speed control, an available all-wheel drive option, and newly tuned suspension the analysts at NADAguides found the 2011 Chrysler 300 to offer a smooth, stable and comfortable drive.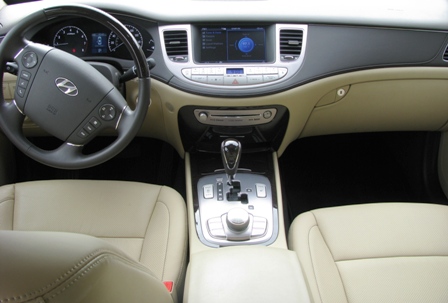 • Interior: The entire interior of the Chrysler 300 has been overhauled now offering premium materials and state-of-the-art connectivity features. New interior ambient lighting and the wood accents add a luxurious touch and feel to the interior design. Eight-way power driver's seats help the driver customize the ride for added comfort, while heated/vented front seats and back heated seats allow for even more customization for every passenger. An available dual pane panoramic sunroof allows for plenty of sunlight for all passengers and the Chrysler 300 also offers plenty of space to comfortably seat five adults.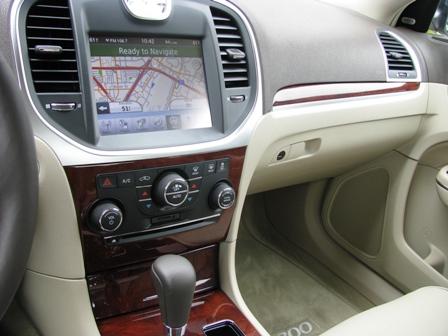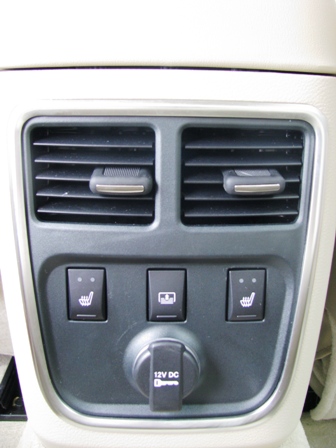 • Technology: Available UConnect® voice command with Bluetooth®, capless fuel fill, Uconnect™ Touch 8.4" touch screen radio, available ParkSense® front and rear park assist system and ParkView® rear back up camera, and an Alpine six-speaker or nine-speaker sound system with Sirius Satellite Radio combine to make the Chrysler 300 a state-of-the-art, feature-packed vehicle. The analysts at NADAguides found the multimedia center to be intuitive and one of the best on the market, providing the driver with useful information such as miles until empty and average MPGs the driver is achieving.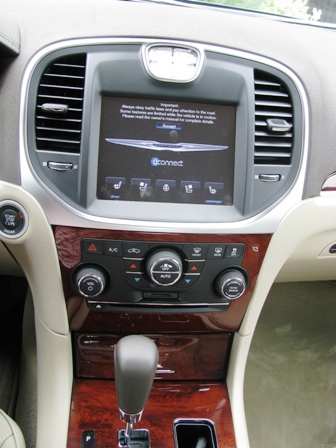 • Safety: The Chrysler 300 offers extremely impressive safety features such as standard advanced front multistate airbags, supplemental side curtain and front seat-mounted side bags, driver's side knee airbag, reactive front head restraints, and a strong steel structure. Chrysler's SafetyTec safety and security package includes adaptive speed cruise control, forward collision warning system, blind spot monitoring –a system NADAguides analysts felt surpassed some of the systems offered by the competition – and rear cross path detection. The package also includes ParkSense® front and rear park assist system, adaptive Bi-Xenon High-Intesity Discharge headlamps and automatic headlamp leveling system, SmartBeam® Intelligent headlamps, rain-sensitive wipers, rear LED fog lamps, a universal garage door opener, multi-functional power exterior mirrors with supplemental signals and courtesy lamps. The 2011 Chrysler 300 earned a Top Safety Pick from Insurance Institute for Highway Safety earning a "good" rating in frontal offset, side impact, and roof strength.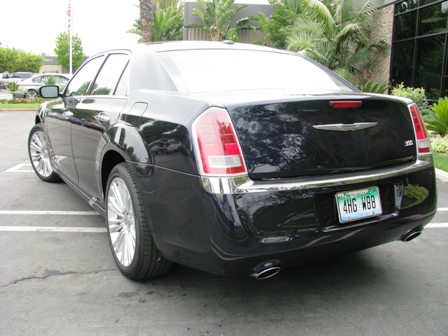 • Price/Warranty: MSRP for the 2011 Chrysler starts at $27,170 for the 4 door Sedan RWD and goes up to a starting price of $40,320 for the 4 door Sedan 300C AWD. Chrysler offers a five year, 100,000 mile powertrain limited warranty, and three year, 36,000 mile basic limited warranty. Chrysler coverage also includes free towing to the nearest dealership.
Search Local Cars for Sale
Vehicle History Report
Get answers to buy with confidence
Check for accidents
Confirm the reported mileage
Purchase multiple reports and save
Car Buying and Selling Resources