2011 BMW 5 Series Reviews and Ratings
Sedan 4D 535i
Would you be interested in knowing the best time to buy a particular car?
Consumer Reviews
Own this vehicle? How would you rate it?
Please complete all star ratings before submitting.
Type your review and click the Submit button
to post your comments
600 of 600 character remain
Thank you for submitting your review of the 2011 BMW 5 Series
Customer Review
Be the first to review this 2011 BMW 5 Series.
Expert Reviews ( 2 )
2011 BMW 5 Series
Ted West
Introduction
The BMW 5 Series is all-new for 2011. Virtually no hardware was carried over directly to the 2011 BMW 5 Series from the previous models. The all-new 2011 5 Series lineup includes the BMW 528i and BMW 535i with six-cylinder engines, and the BMW 550i with a V8.

You'll never hear it from BMW. But with no less than nine new models arriving all at once in the 2011 line, to a significant degree, BMW is starting over. Not surprising. Under the guidance of controversial American Design Director Chris Bangle during the past decade, BMW took an excursion into doing some very un-BMW things. Contour by contour, the Ultimate Driving Machine became overstuffed looking, given BMW's famously aggressive design language, downright frumpy. Simultaneously, with the debut of the first-generation iDrive system several model years ago, Munich offered to the world the single most counter-intuitive, infuriating cockpit management system ever brought to market. Ever since that bleak debut, the revered company has been backtracking at a stubborn, no-we-never-screw-up rate. But at last, the news is spectacular; 2011's fourth-generation iDrive is wonderfully intuitive, a pleasure to use.

There are further good tidings. The broad line of new 2011 BMWs, far from looking frumpy, has regained the aggressive, exciting enthusiasm that had been the company's trademark since long before these difficulties began. From 7 Series to 5 Series to 3 Series, 2011 models are back to the reliable old BMW formula: Same sausage, in three different lengths. But oh, what sausage!

Dead center in the BMW sausage case is the 5 Series, always a strong choice for buyers who want vigorous acceleration and crisp handling, but not the limited interior space of the 3 Series, nor the girth, weight and fee-fye-foe-fum price of the 7 Series. As a luxury midsize sedan, the 5 will hit the sweet spot for many families that include a driver or two with a strong taste for performance accompanied by all the latest safety provisions.

In comparison with the previous 5 sedan, the 2011 version is two inches longer, with a three-inch longer wheelbase. That translates to one inch less frontal overhang than in any previous 5. This will certainly be helpful in tight parking situations, but far more than that, it give the 5 its stunning visual impact. With its forward-lunging shapes, muscular flanks, and low, road-hugging front end, the 5's appearance accurately communicates its racerly velocity and apex-strafing agility. Said agility is aided and abetted by the new 5's near-perfect 49/51 front/rear weight distribution. This package delivers levels of handling that have inherent stability, with no sudden surprises. Very, very BMW.

Sliding into the new 5's interior, you will find a typically German environment. The BMW representatives we spoke to describe the cabin as contemporary but warm, and so it is. The dashboard surfaces of our test BMW 550i were a combination of bright tan and matte black, highlighted by the expected graceful brushstrokes of wood. The instrumentation is thorough and easy to use, and the seats are covered in either leatherette, for the 528i and 535i, or leather in the 550i. As has been the case from nearly the beginning, cloth interiors will not be imported to North America.

And somewhat surprisingly, comparing content to content in the 2011 5 Series versus its predecessor, the 5 Series furnishings represent a drop in prices.
Model Lineup
The 2011 BMW 5 Series is available in three models: the BMW 528i ($44,550) with 3.0-liter inline-6, the BMW 535i ($49,600) with more powerful 3.0-liter inline-5, and the 550i ($59,700) with 4.4-liter V8.

The 528i and 535i come standard with leatherette upholstery, automatic dual-zone air conditioning with micron air filter, 205-watt AM/FM/CD/MP3 audio with 12 speakers, redundant steering wheel controls, pre-wired for satellite radio and CD changer, iDrive, power moonroof, Bluetooth, wood trim. The 550i comes standard with leather trim.

Options: The Active Ventilated Seat Package ($2,950) adds front ventilated seats, active front seats, multi-contour seats, heated front seats; Convenience Package ($1,700) adds power tailgate, keyless entry, soft-close automatic doors; Cold Weather Package ($1,050) includes heated steering wheel, heated front seats, heated rear seats, retractable headlight washers; Driver Assistance Package ($1,750) supplies automatic high beams, lane departure warning, active blind spot detection, parking assistant; Dynamic Handling Package ($2,700) adds electronic damping control, active roll stabilization, adaptive drive.

The Premium Package for 528i and 535i ($1,800) upgrades to Dakota leather and includes universal garage-door opener, auto-dimming mirrors, ambiance lighting; Premium Package 2 for 550i ($2,800), 528i and 535i ($4,900) adds navigation, rearview camera, satellite radio, premium audio, power rear sunshade with manual side windows, heated front seats, park distance control, iPod and USB adapter. The Sport Package ($2,200) features 19-inch alloy V-spoke wheels (18-inch on 528i), increased top-speed limiter, leather steering wheel, multi-contour seats, shadow-line exterior trim.

Safety provisions in the 5 Series are lavish: two-stage front airbags, side-impact airbags and curtain front-to-rear head protection, active head restraints, LATCH child seat mounts, three-point seatbelts with force limiters and front-seat emergency pre-tensioners. Seatbelts are your first line of defense in an accident, so we recommend wearing them.

Optional rearview camera's wide-angle view and tracking lines make parking easier and safer; Top View combines views from side mirrors with rear-view to provide full picture of vehicle surroundings; Side View monitors side traffic, viewed from front bumpers. Active cruise control adjusts speed to maintain safe interval to car ahead, with provision to stop the vehicle completely if required; collision warning indicates an imminent collision, primes the brakes for full stopping power, and will automatically apply the brakes. Active blind spot detection monitors safe lane reentry when overtaking another car; a backup visual signal and a recognizable vibration in the steering wheel provide further warning. Lane departure warning monitors lane markers; when a lane change begins and turn signals are not activated, the system warns the driver with vibration in the steering wheel. Automated headlights follow curves in winding roads, and automated high-beam controls switch high beams on and off as required when drawing close to another car or meeting oncoming cars up to 440 yards ahead. Adaptive brake light system flashes bright taillights when ABS is engaged or brakes are applied strongly. Night Vision with Pedestrian Detection, provides early detection of objects and pedestrians in the night; warning is provided by the Control Display and is displayed on the inner surface of the windshield if fitted with head-up display. Head-up display delivers vehicle speed and other data without requiring a glance away from the road ahead.
Walkaround
The outward appearance of the 2011 5 Series is unmistakably BMW. It has no odd rear horizontal surfaces or Bangle bustles in its profile, adhering instead to the strictly functional appeal that has long been BMW's signature. The traditional kidney grille is present, and the 5's short frontal overhang, a BMW trademark, is accompanied by a traditional long hood and long, segment-leading 116.9-inch wheelbase.

The cabin is set considerably to the rear, giving the profile a slightly wedged, coupe-like forward-thrust shape that, given the car's performance, is in no way misleading. Handsomely flared wheel openings filled with stylishly modern wheels and large tires underline the car's muscularity and its rear-wheel drive layout. And the signature kink in the rear side window's aft edge confirms that this is a bona fide BMW.

At the nose, the 5 Series features BMW adaptive xenon headlights (optional on the 528i) for powerful, safe forward illumination. And in daytime running, the headlight complex is illuminated by LED rings of light. The new turn indicators, as well, are illuminated by LED. And following Audi practice, new taillight clusters are illuminated in an LED pattern distinctive to BMW.
Interior
The cockpit of the 2011 BMW 5 Series is all business, deferring in every way to the driver. The dashboard is angled towards the driver, while the horizontal lines of the dash add to a feeling of spaciousness for both front-seat occupants. And as expected, all controls are well placed, with the driver-only functions situated to the left of the steering column or on the wheel itself. The steering wheel contains 12 fingertip adjustments for audio, phone and adaptive cruise control. It also has a convenient tilt-away provision for easy ingress and egress.

The front seats are supportive and grippy, with unobtrusive but firm side bolstering. Both front seats have 10-way power adjustment, though with the Sport Package, for maximum comfort and driver alertness, the driver's seat is provided with deluxe 18-way multi-contour seats. The rear seats offer decent side bolstering, while rear seat legroom is generous, a half-inch greater than in the preceding 5.

Instrumentation includes four classic circular gauges set against a black panel for optimal legibility. The optional navigation system, located in the center console, proved easy to use, delivering a fine three-dimensional display and excellent, well-timed verbal instructions even in the most complex of multi-lane maneuvers. Combined with the navigation option, this entirely user-friendly fourth-generation iDrive is contained in a large and legible 10.2-inch screen. (Without navi, a 7-inch console screen is standard.) The display is transreflective, sunlight beating on it actually enhances its legibility. And if the head-up option is included, relevant navigational instructions are added to the head-up display.

Six different two-tone interior color schemes are available in the interior, and the standard Dakota leather can be replaced by optional, more luxuriant Nappa leather. The strokes of wood that give the 5 interior its deluxe feel are available in three colors, with Ash Anthracite and Fineline Matte optional.

Climate controls and ventilation are as expected: superb.
Driving Impressions
We drove both the 535i and 550i on the racetrack and were stupefied by how extremely competent and balanced this midsize performance sedan really is. The chassis of both models had exceptional poise and pace.

The 550i's front/rear weight balance was slightly more nose heavy, at 52.4/47.6 percent, than the 335i's 50.9/49.1, but it would take Mario Andretti to notice the difference, which he no doubt would. For the rest of us, merely bringing our game up sufficiently to fully exploit the real potential of the two different 5s was an all-day exercise.

So what does racetrack performance have to do with everyday driving in these 5s? Absolutely everything. Virtually any emergency maneuver in normal traffic demands near maximal use of a car's balance and grip. On the racetrack, a car's balance, grip and maximum performance and being assessed constantly. We found the two 5s to be extremely controllable at massive levels of acceleration, stopping and cornering. Compared with their competition, the BMWs should provide excellent performance in accident avoidance maneuvers.

One of the singular components of the new 5 is a superb new eight-speed automatic transmission, up from six speeds last year. This eight-speed, combined with newly intense weight-saving provisions with aluminum doors, hood, front side panels and suspension components, produce good fuel mileage for such a strong performer, in part because gears seven and eight are both overdrive.

Fuel economy are an EPA-estimated 20 City/29 Highway for the 535i and 17/25 mpg for the 550i. Not bad for a racing sedan. The 535i and 550i, after all, achieve 60 miles per hour in 5.7 seconds and 5.0 seconds, respectively.

Much as we admired the new eight-speed gearbox's quick shifts and energy efficiency, the shifter had a bit of the first-generation iDrive about it. It has a P button on top for Park and an unlock button on the left side. To get out of Park, you depress the unlock button and move the shifter forward or backward for Reverse or Drive. Sounds simple enough. You can only go from Drive to Reverse, and vice versa, by first pressing the unlock button. If you move the shifter left, you get manual selection of the eight gears. To return to Park, you must place the lever between D and R, in neutral, and press Park on the top of the lever. It takes a bit of self-training, and a goodly number of mistakes, to master the three simple goals of D, R and P. Like some other German carmakers, BMW thinks it's important to do things their way, even when there is absolutely nothing about their way that is superior to the utterly conventional PRNDL auto-shifter. On the plus side, the manually selected eight-speed did its very best to give us the shift we wanted every time.

The new 5's steering is electronic, variable ratio and feels seamless and precise. And breaking with longtime BMW practice, the new front suspension eschews struts in favor of a proper multi-link system.

To heighten controllability and give the driver an improved platform, available dynamic damping control constantly adjusts shock rates to match the current road surface. The system is so fast that when a front wheel senses a pothole a highway speed, the rear shock can adjust before the pothole arrives. In addition, active roll stabilization curtails body roll in hard cornering, giving the driver a heightened sense of command. As we found on the racetrack, these advanced electronics work wonderfully well.

The new BMW brake system is combined with the other stability control systems, pre-setting the brakes in heavy braking, drying the brakes in wet driving, and compensating for brake fade in vigorous driving. And the brakes have a regenerative-energy feature, not unlike in a pure hybrid, that captures electric energy and recharges the battery during slowing. This reduces the net amount of time the alternator must regenerate charge, cutting engine drag and improving fuel efficiency. You can actually feel the regenerative feature engaging during gradual braking. Nice.
Summary
The BMW 5 Series is dramatically updated and improved for 2011. If you've held back because you've heard complaints about some of BMWs' cockpit controls, the waiting is over. The 5 is unquestionably one of the premier performance sedans in the world.

Ted West filed this NewCarTestDrive.com report after his test drive of the BMW 5 Series at New Jersey Motorsports Park and around greater Philadelphia.
Model as tested
BMW 550i ($66,900)
Basic Warranty
4 years/50,000 miles
Assembled in
Dingolfing, Germany
Destination charge
875
Gas guzzler tax
N/A
Base Price
44550
Price as tested
66900
Options as tested
Active Ventilated Seat Package ($1,950) includes front ventilated seats, active front seats, multi-contour seats, heated front seats; Cold Weather Package ($650) includes heated steering wheel, heated rear seats, retractable headlight washers; Premium Package ($2,400) includes rearview camera, power rear sunshade, satellite radio with one-year subscription, premium audio, iPod and USB adaptor; Sport Package ($2,200) includes leather wrapped steering wheel, 19-inch alloy sport wheels with performance run-flat tires, Shadowline exterior trim, upgraded 150-mph top speed limiter
Model Line Overview
Model lineup
BMW 528i ($44,550); 535i ($49,600); 550i ($59,700)
Safety equipment (standard)
two-stage front airbags, side-impact airbags, curtain front-to-rear head protection, seatbelt force limiters and front-seat pre-tensioners, active head restraints, LATCH child seat mounts; ABS, electronic traction/stability control
Safety equipment (optional)
N/A
Engines
4.4-liter twin-turbocharged dohc 32-valve V8
Transmissions
8-speed automatic
Specifications as Tested
leather upholstery, 10-way power driver and front passenger seat, wood trim, park distance control, xenon headlights, fourth-generation iDrive cockpit control system, navigation system, power tilt/telescope/tilt away steering wheel, climate control, universal garage door opener, ambiance lighting, one-touch up/down power windows, auto-dimming inner and outer mirrors, non-metallic or metallic paint
Engine & Transmission
Engine
4.4-liter twin-turbocharged dohc 32-valve V8
Drivetrain type
rear-wheel drive
Horsepower (hp @ rpm)
400 @ 5500-6400
Transmission
EPA fuel economy, city/hwy
17/25
Torque (lb.-ft. @ rpm)
N/A
Suspension
Brakes, front/rear
disc/disc w ABS, EBD
Suspension, front
multi-link
Tires
245/40R19 front, 275/35R19 rear
Suspension, rear
multi-link
Accomodations
Seating capacity
5
Head/hip/leg room, middle
N/A
Head/hip/leg room, front
40.5/na/41.4
Head/hip/leg room, rear
38.3/na/36.1
Measurements
Fuel capacity
N/A
Trunk volume
14
Wheelbase
116.9
Length/width/height
193.1/73.2/57.6
Turning circle
39.2
Payload
N/A
Towing capacity
N/A
Track, front/rear
63.0/64.1
Ground clearance
N/A
Curb weight
4376
2011 BMW 5 Series
NADAguides Test Drive Review
Yet Another "Ultimate Driving Machine" From BMW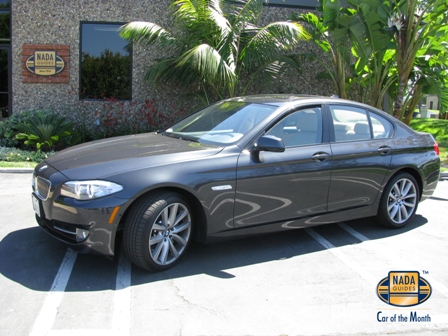 • The 2011 BMW 535i has an exceptional overall design inside and out, smooth power, controlled and comfortable drive, responsive handling, and intuitive ahead-of-the-curve technology and safety features. Additionally, NADAguides analysts note that even with such ample under-the-hood power, the BMW 535i offers pretty impressive fuel efficiency.
• The 2011 BMW 535i RWD offers a starting MSRP of $50,100 while the 535i xDrive AWD starts at $52,400.
2011 BMW 535i Highlights
• Engine: The 2011 BMW 535i RWD comes standard with a 3.0 liter, 6-cylinder engine with TwinPower Turbo technology, 300 horsepower, and achieves as impressive 28 MPG highway. BMW also offers the xDrive all-wheel-drive system which brings a rear wheel bias to ensure footing and grip without sacrificing the feel. The 535i xDrive AWD offers 29 MPG highway. NADAguides' analysts commented that the engine provides plenty of continuous power, responsive and tight handling, a comfortable ride on all types of driving surfaces, and typical of the 5 Series, the 535i still allows you to feel the road in a controlled and very comfortable manner. As part of BMW's Dynamic Handling Package, the BMW 535i includes Adaptive Drive which offers Active Roll Stabilization and Dynamic Damping Control – allowing the driver to experience greater contact with the road and the passengers to experience a more level ride.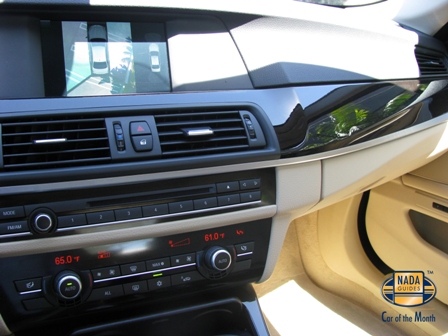 • Interior: The 2011 BMW 535i offers quality, detail and an ergonomic design throughout its interior. Wood grain accents and soft plush leather seats combined with the leather wrapped steering wheel add to the overall luxurious feel of the vehicle. The analysts at NADAguides feel the BMW 535i is logically arranged, making it intuitive for the driver and passengers master all vehicle controls. The 535i also offers 18-way power Multi-contour front seats that conform to the body and provide optimum support and comfort. The vehicle comes standard with a convenient start/stop button, 2-way power moonroof with remote, and many more features that offer comfort and convenience.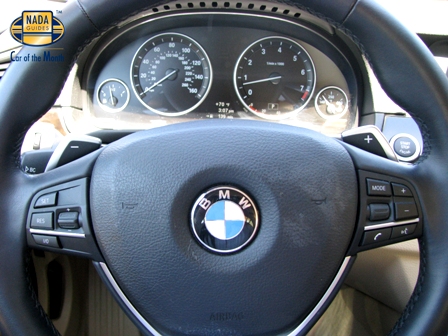 • Technology: BMW's iDrive System controls all information, entertainment and comfort features of the BMW 535i. With a 10.25-inch, high-resolution display, an integrated Hard Disk Drive with 12 GB of storage, and superior ergonomics the system beats out the competition. The BMW 535i offers premium sound through a 16-speaker surround system with a nine-channel amplifier and 600 watts of power. By partnering with Google™ the iDrive system allows users to send a destination from the internet directly to the vehicle from any computer or handheld device, or by signing up for the BMW Assist Convenience Plan consumers can search Google maps from within the vehicle. Additionally, MyInfo allows drivers to upload personal business listing, street addresses, and phone numbers to the system. The BMW 535i also offers the Parking Assistant which searches for a parking space and parks the vehicle for the driver. BMW's ConnectedDrive system keeps the driver connected through a Mobile Office which can display smartphone emails and text messages on the iDrive screen and/or read them out loud if the vehicle is in motion. The system also allows the user to view album titles, artwork and wirelessly stream music from a Bluetooth compatible phone or MP3 player.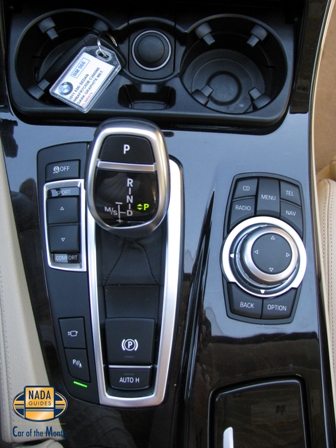 • Safety: Through the iDrive system, users can access the BMW Assist® services which is a safety plan offered for four years at no extra cost – trained response specialists are available at the touch of a button to provide enhanced roadside assistance. BMW also offers an optional Head-Up Display, which gives the driver the ability to see speed and navigation directions through a projection on the windshield – ensuring they never have to take their focus off of the road. Additionally, the 535i comes with Active Blind Spot Detection which uses radar sensors to monitor traffic surrounding the vehicle and alerts the driver if a vehicle is in their blind spot. The BMW 535i comes standard with a driver's and passenger's front airbag supplemental restraint system with advanced technology, as well as front-seat side-impact airbags, Active Head Restraints for both the driver and passenger, and a crash sensor that when triggered activates Battery Safety Terminal disconnect of the alternator, fuel pump and start from the battery as well as automatically unlocks doors and turns on the hazard and interior lights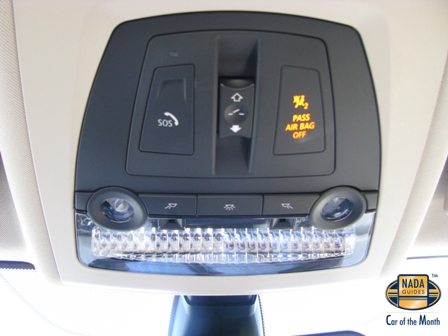 • Price/Warranty: MSRP for the 2011 BMW 535i RWD starts as $50,100 while the 535i xDrive AWD starts at $52,400. The BMW Unlimited Service program provides four-year, 50,000 mile warranty, the BMW Maintenance Program which covers all factory-recommended maintenance services during the four-year, 50,000 mile period, the BMW Assist Safety Plan which allows the vehicle to contact the dealership directly when it needs service or maintenance and a four-year, unlimited mileage roadside assistance program.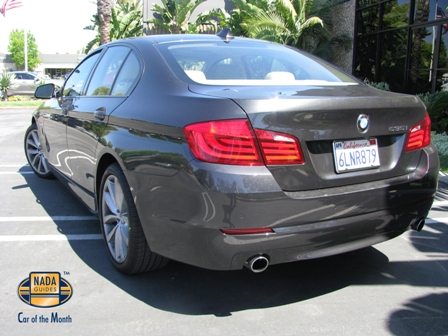 ---
Overall Quality - Mechanical
Powertrain Quality - Mechanical
Body & Interior Quality - Mechanical
Features & Accessories Quality - Mechanical
Powertrain Quality - Design
Body & Interior Quality - Design
Features & Accessories Quality - Design
---
Overall Dependability
3.5 / 5
Body & Interior Dependability
Feature & Accessory Dependability
---
* The J.D. Power Ratings are calculated based on the range between the car manufacturer or car model with the highest score and the car manufacturer or car model with the lowest score. J.D. Power generates a rating of a five, four, three, or two. If there is insufficient data to calculate a rating, a dash (—) is used in its place.
J.D. Power Ratings may not include all information used to determine J.D. Power awards, visit the Car Ratings page to learn more about awards and ratings.
Search Local Cars for Sale
Vehicle History Report
Get answers to buy with confidence
Check for accidents
Confirm the reported mileage
Purchase multiple reports and save
Car Buying and Selling Resources