2006 Hyundai Tiburon Values
A carry-over from 2005, the Tiburon is a two-door four-passenger sport coupe offered in GS, GT, GT Limited and SE trim levels. The GS features a 16-valve 138 horsepower four-cylinder engine with the other models featuring a 2.7-liter 24-valve V6 that increases the output to 172.
Read more
Read less
Hyundai Resources:
Select a 2006 Hyundai Tiburon trim level
Tiburon-4 Cyl.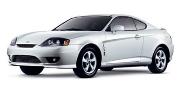 TIBURON-V6